An Irish Ferries ship that was caught in Storm Imogen earlier this week has been unable to sail from Holyhead due to safety concerns.
About 60 cars and 20 trucks and other vehicles were damaged after when the Epsilon roll-on roll-off ferry was caught in heavy seas while sailing from Cherbourg to Dublin.
The incident happened on Sunday 7 February as the Epsilon ferry encountered Storm Imogen off the coast of Devon in England.
More than 100 passengers were on the ferry, but no one was injured in the storm.
Tonight the vessel was told by authorities in Holyhead that it could not sail as scheduled after it was discovered that one of the lifeboats on board was damaged.
The company says it discovered a crack on one of the lifeboats on board tonight before it was due to sail.
It informed the Italian authorities as the Epsilon is registered in Italy and the Holyhead authorities.
Irish Ferries says it plans to repair the lifeboat overnight and the repair will then have to be inspected by authorities in Holyhead before the ship can sail.
It is understood the ship was heavily booked with lorries carrying freight.
The company says it will accommodate as many customers as possible on its other vessel, Ulysses, which is also sailing from Holyhead tonight, and says some customers may be able to travel with other companies such as Stena which also travels from Holyhead to Dublin.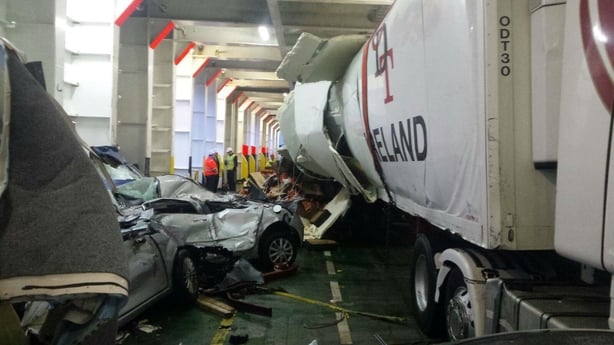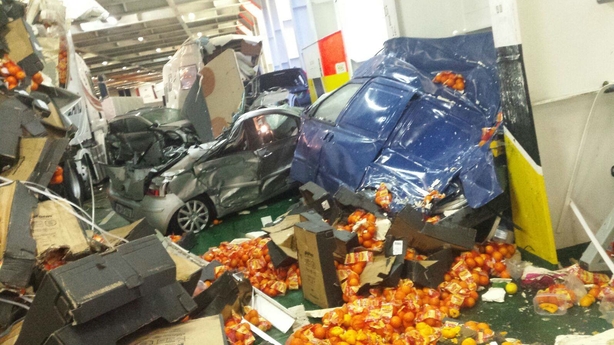 Hauliers complain about company response
In a statement,Irish Ferries said the conditions on Sunday night caused a number of freight units to shift position on the car deck, resulting in damage to a number of vehicles.
By the time it arrived in Dublin Port at lunchtime on Tuesday a number of vehicles were seriously damaged.
Some hauliers who were onboard contacted the Irish Hauliers' Association complaining about how the company dealt with the incident.
They described the experience as traumatic, some saying they would never go on a ferry again. Some alleged the ferry company had not allowed their insurance assessors onboard - they want to make claims to recover the costs of the damage to their lorries and cargoes.
Irish Ferries says it ensured that all passengers were fully cared for.
It says a dedicated team of customer service representatives attended the ship to receive passengers and provide all possible supports.
The company says it and its insurers are currently assessing damage suffered by their customers.
It says it has contacted and written to all customers affected inviting those that have suffered losses to set out details of any claim.
It adds that in the interim, Irish Ferries have offered rental cars to passengers whose vehicle has been damaged.