There have been contradictory claims over who was responsible for the gun attack in Dublin on Friday during which one man was killed and two others were wounded.
An initial statement made to the BBC this morning by a man who said he was speaking on behalf of the leadership of the Continuity IRA claimed the dissident group was responsible for the attack.
However, a second statement made this evening, also believed to be from the Continuity IRA, has denied any involvement in the attack.
"The Continuity IRA wish to make it clear that we did not have any involvement in Friday's shooting at the Regency Hotel," it said.
"We have absolutely no involvement in criminal feuds. We see the false claim that the CIRA were involved in this act as another attempt to tarnish the name of the organisation."
Des Dalton, president of Republican Sinn Féin, said he had spoken to republican sources who had confirmed the second statement and rejected the claim of responsibility.
"I have been told that it was a bogus statement and an attempt to smear the Continuity IRA," he said.
The initial statement made to the BBC alleged the attack at the Regency Hotel was carried out in retaliation for the killing of Alan Ryan in Dublin four years ago. He had been linked to another dissident IRA group, the Real IRA.
At the time he was said to be involved in a feud with major gangland criminals.
Earlier, gardaí investigating the shooting at the hotel in Drumcondra said they believe at least two of the six attackers - some of them armed with AK-47 rifles - may have travelled from outside the country.
David Byrne, 33, was shot dead and two other men were seriously wounded in the gun attack which took place as a boxing weigh-in was being held.
Armed gardaí, including the Emergency Response Unit, are on duty at checkpoints in Dublin city in the wake of the attack.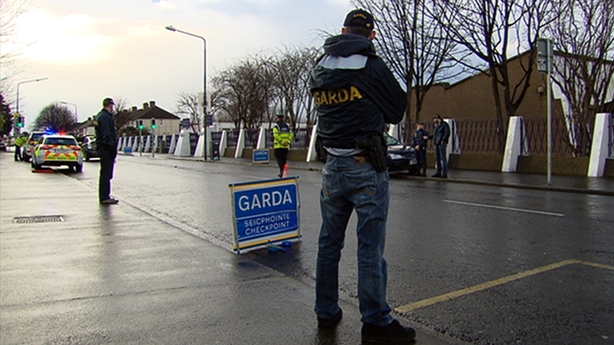 They believe that two gunmen attackers may not be from Ireland and may have arrived from the UK or from mainland Europe.
Investigators have been making international inquiries through Interpol, Europol, and through Garda liaison officers in the the United Kingdom and Spain.
Gardaí remain on high alert and fear there may be other shootings.
Increased surveillance has been placed on known gang members.
Perpetrators had no regard for 'life and limb' - Kenny
Taoiseach Enda Kenny has said the perpetrators had no regard for law and order or for "life and limb".
Mr Kenny said the security of the State and our society was at stake.
He also criticised Sinn Féin plans to abolish the Special Criminal Court and said the party's leader, Gerry Adams, had "better address the issue".
Tániaste and Labour leader Joan Burton has said she found reports that the Continuity IRA may have been involved in the gun attack as "deeply disturbing".
She said it was time that people associated with the republican movement, particularly the leadership of Sinn Féin, send out a message that paramilitarism of any kind was not acceptable.
Meanwhile, Mr Adams has said the group who carried out the fatal attack should be brought to justice, and it did not matter whether or not it styled itself as the Continuity IRA.
Fianna Fáil leader Micheál Martin said the claim of responsibility by dissident republicans represents a very sinister turn in a barbaric murder.
Speaking in Cork, Mr Martin also said a proposal by Sinn Féin to abolish the Special Criminal Court would give great solace to the people who carried out the gun attack.
He said people were shocked at the weapons that were used and the manner in which many people were put at risk.
Earlier, Minister for Justice Frances Fitzgerald described the attack as an extraordinary affront to civilised society.
Speaking on RTÉ'S Today with Sean O'Rourke, Ms Fitzgerald said gardaí are following a number of lines of inquiries and no effort will be spared in tracking down those responsible.
MD of Regency Hotel describes moment of shooting
Regency Hotel Managing Director James McGettigan said that he was in the bar of the hotel when he heard "a commotion" in the reception area.
Speaking on RTÉ's News At One, Mr McGettigan said that three men who were in garda uniforms, came into the bar and told everyone to lie down on the floor and put their hands behind their heads. He said the men claimed they were members of the gardaí.
Mr McGettigan said there were a number of shots fired and he saw a man, through the window of the bar, being assassinated.
He said it was shocking to watch and it happened very quickly, adding "I knew at this point they weren't guards and I started to panic".
He said he walked to the residence lounge, closed the door, locked it and tried to contact gardaí.
"I couldn't get through, but I did eventually get through and I explained what happened and was put through to the Dublin division. 25 seconds (waiting on the line) felt like an eternity to me."
He said he then rang a detective he knew and within about two minutes gardaí had arrived.
He also said he did not know who the person who had been shot was adding "he was just a guest in our premises ... and we were trying to just take care of him."
A sound engineer who was working at the weigh-in has also described the scene as the gunmen opened fire at the event.
Speaking to RTÉ Raidió na Gaeltachta, Daithí Ó Nuanáin said that as the last boxer at the event was standing on stage "the room exploded" and people began to run.
Mr Ó Nuanáin said "I wasn't sure what was happening. I thought maybe a fight had broken out between two boxers."
He then saw men with guns in the room and "realised there was something very wrong.
"I could see a man in the middle of the room looking around. He was wearing a bulletproof vest with 'Garda' written on it. He had a black helmet on."
Mr Ó Nuanáin and a 16-year-old girl who was working with him on work experience sought refuge behind a curtain near the sound desk until the gunmen had left.
When asked why he did not leave straight away, he said "I wasn't really thinking straight, I was just worried about the young girl who was with me, I couldn't think of anything else."
Asked how he was now, he said that he was alright after resting over the weekend and trying to come to terms with what had happened.
Hotel reopens for business
John Glynn, manager of the Regency Hotel, has said the hotel is back open for business and is looking forward to welcoming all of its customers back.
Speaking on the Six One, he said that on the day of the shooting, at around 1.30pm, he heard a bang and saw people running out of the function room.
He said he then noticed three men dressed as gardaí entering the premises through the main entrance. He said, within seconds, he noticed they were armed.
Mr Glynn said two shots were fired at a man, who ended up lying beside him covered in blood.
He said the men then entered the main ballroom and a number of shots were fired.
He said the gardaí were at the scene in a matter of three to four minutes.
He described the ordeal as an horrific experience.
---
Further reporting - Paul Reynolds, Crime Correspondent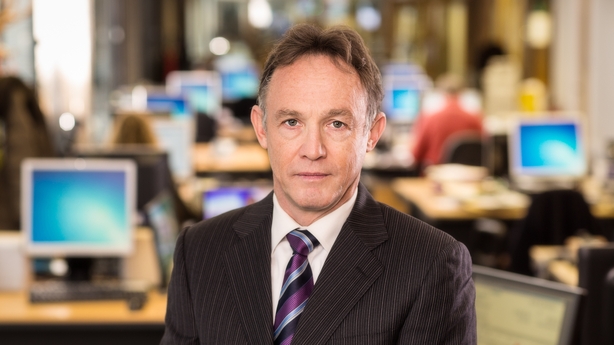 Gardaí say they have made substantial progress in this investigation – they say they have testimony from many witnesses, they have a lot of CCTV footage gathered, and they have television footage and still photographs.
They say the people involved have not yet been identified but gardaí believe they will be able to do so.
Because they have not been identified yet, it leads gardaí to believe they were not from this country as they weren't immediately recognisable to detectives investigating organised crime.
Gardaí believe the main target was Daniel Kinahan. They believe David Byrne, the man who was shot dead, and the two other men that were injured, were aligned to an international drugs cartel from Spain.
Gardaí said this was a targeted, focused attack on people who were at the weigh-in, one of whom was Daniel Kinahan, who was fortunate enough to get away.