4,000 Institute of Technology lecturers and researchers in the country's 14 Institutes of Technology held a work stoppage in protest over what staff say is the detrimental impact of funding cuts in the sector. 
No classes took place as a result of the strike, which is supported by the Union of Students in Ireland.
The strike was organised by the Teachers' Union of Ireland (TUI), which represents academic and research staff in the sector.
In a statement the TUI said funding for the sector fell by 35% or €190m between 2008 and 2015.
It said student numbers have risen by one-third since 2008, but full-time staff numbers have fallen by almost 10%.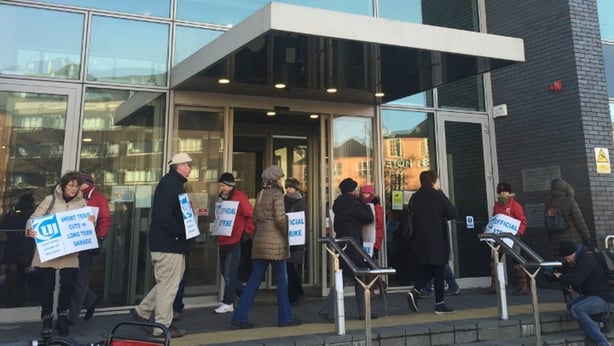 'Staff are at breaking point' - Dr Tom O'Connor
A lecturer at Cork Institute of Technology has said academic staff were going on strike because their jobs are becoming increasingly intolerable.
Dr Tom O'Connor (who is also a member of the TUI) said the casualisation of part-time lecturers and shortage of essential lab equipment, funding cuts and an increase in students since 2008, have pushed staff to breaking point. 
Speaking on RTÉ 's Morning Ireland Dr O'Connor said the country's Institutes of Technology have an excellent reputation but they are being sabotaged by the cutbacks from central government.
He said IT lecturers wanted to eliminate causal, short-term contracts which do not offer proper pay and conditions.
Dr Tom O'Connor said this move is a last resort and that lecturers have already been through many levels of industrial relation, adding that there will be an escalation in action unless something is done.