Two ministers are recommending that the next government establish a statutory Commission of Investigation into events in a foster home in the southeast.
Minister for Primary Care Kathleen Lynch, supported by Minister for Health Leo Varadkar, made the recommendations in a statement this evening.
Ms Lynch said: "We need to be precise and focused on the questions that remain unanswered. I strongly believe it is in the public interest that we establish the facts surrounding vulnerable people who were placed in this foster home."
She also said work already under way by Senior Counsel Conor Dignam "will greatly inform the drafting of the terms of reference" for the Commission of Investigation.
Mr Dignam was asked by Government to review the allegations in December.
She said additional resources have been approved in order to allow Mr Dignam accelerate his review and it is anticipated this will be completed by the end of April.
Ms Lynch said the investigation would also need approval from Cabinet and the Oireachtas. It is expected Ms Lynch and Mr Varadkar will outline their proposals for its establishment at Cabinet tomorrow morning.
She said that a criminal investigation could be conducted at the same time as the inquiry as long as it didn't interfere with the work of gardaí.
Ms Lynch confirmed that the case would still be discussed at PAC tomorrow.
Speaking on RTÉ's Six One News, Ms Lynch said she is sure some of the people that were acting in positions of responsibility at the time are still in those positions.
"That's one of the things that the commission of investigation will have to look at, but most definitely, the people that worked in the area still continue to work in the area, not all of them - some have retired, some have moved on, but most definitely some are still there, but that's not to say that everyone who was there at that time did a bad job," she said.
Ms Lynch added that this does not necessarily mean everyone involved had a direct input into the neglect of those vulnerable.
She said she has decided to recommend a Commission of Investigation because it has been difficult to establish the facts in the case.
Ms Lynch said she doubts any incoming government would renege on a commitment to establish the investigation.
She also said she does not believe anyone should step aside pending the outcome of an investigation.
She said the whistle-blowers have played a big role in what has transpired.
In a statement, the HSE said it welcomes the announcement by Minister Lynch that a recommendation has gone to Government for the establishment of a statutory Commission of Investigation.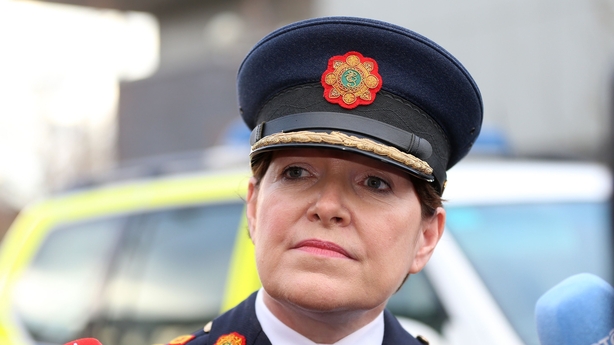 Earlier, Garda Commissioner Nóirín O'Sullivan ordered an investigation by senior officers into allegations State employees may have acted in a criminal manner when placing vulnerable individuals with a foster family.
In a letter to the commissioner last week, the Public Accounts Committee made allegations of possible criminal misconduct by State employees citing evidence that social workers had raised concerns inside the health service about placements in the home.
It relates to the case of a young woman, known as 'Grace', who spent 13 years in a foster home despite it being subject to serious sex-abuse allegations.
The Health Service Executive has confirmed another young person remained in the home at the centre of these allegations after the removal of 'Grace' in 2009.
It believes this placement ceased in October 2013 following advice from the HSE that there were historical concerns relating to the care of children in the home.
In a written response to the PAC sent last Friday, and seen by RTÉ News, the commissioner's private secretary said the matter has been forwarded to the deputy commissioner with responsibility for operations.
The Dáil committee had asked for the actions of the employees to be investigated for allowing vulnerable adults to remain in the home, despite concerns being raised.
The TDs had also pointed to the HSE's receipt of information on the foster family from UK authorities.
Commissioner O'Sullivan's office said deputies will be kept informed of developments.
Welcoming the news, PAC member and Fine Gael TD for Waterford John Deasy said it was necessary the people responsible for what allegedly happened in the foster home accounted for themselves.
Mr Varadkar has said he spoke to one of the whistle-blowers last night.
He said he had asked for all of the documentation in his department on the case and for the Resilience and Devine reports from the HSE.
This afternoon, Mr Varadkar and Ms Lynch met with Director General of the HSE Tony O' Brien and others.
Speaking after the meeting, Ms Lynch said "It is clear that there have been failures in protecting vulnerable people in our care. For a number of reasons, it has been difficult to establish the facts with certainty.
"This has been acknowledged and I am confident that through the Commission of Investigation we can resolve this.
"While this is very much in the public interest, it is also in the interest of those vulnerable people who are directly affected and their families."
Insufficient safeguards to prevent abuse - IASW
Earlier, Chairperson of the Irish Association of Social Workers Donal O'Malley said he is not confident there are enough safeguards in place to prevent another case like that of 'Grace' happening again.
Yesterday, HSE Director General Tony O'Brien told RTÉ's This Week that the person was placed there privately.
In a statement, the HSE said the young adult was removed in 2013, after her family was contacted by the HSE and gardaí and told of "historical concerns in relation to the care of children in the home".
Speaking today on RTÉ's Morning Ireland, Mr O'Malley said it is shocking to think that vulnerable women were left in foster-care settings after concerns for their well being were raised.
He said: "Until we implement the recommendations out of the various different reports that have been published in the past and three reports that are coming on the back of this situation, I think we are going to be waiting on yet another situation where a child or a young person is left in a very risky situation."
Mr O'Malley said the vast majority of foster care is excellent and has been vetted by both TULSA and the HSE.
However, he said there were some unfortunate cases where foster carers were not suitable.
Mr O'Malley said the caseloads of social workers were of serious concern and that children in care deserve the best of services but not all those children have a social worker.
He said 92% of children in care have an allocated social worker but that still leaves a couple of hundred who do not have a dedicated social worker.
Mr O'Malley added that large amounts of new graduates were entering TULSA and he felt the organisation had a problem with retaining staff once they had gained experience.
Inclusion Ireland calls for commission of inquiry
Meanwhile, the CEO of Inclusion Ireland has said there should be a commission of inquiry into cases of vulnerable women with intellectual disabilities who were left in the foster care home for years despite the allegations of abuse.
Paddy Connelly said the fact that a second woman - who remained in the same home for some years after 'Grace' was removed - was left there in a "private capacity" does not take away responsibility from the HSE.
He said he was unaware of any respite situation or referral that is not made by the HSE or by a voluntary organisation that is funded by the HSE.
Also speaking on Morning Ireland, he said there is very little openness in HSE investigations, so an oversight system should be put in place.
Mr Connelly said that Inclusion Ireland has been calling for the commencement of the 2007 Citizens Information Act, which would give statutory power to independent advocates.
He said Inclusion Ireland is concerned there has not been adequate support for children who had been in the home and their families, following their removal.
He said he would like to know what level of support has been provided by the HSE.
Mr Connelly said there are almost certainly other abuse cases and the system we have requires serious reform.
Environment Minister Alan Kelly said, meanwhile, he would not rule out the possibility of a public inquiry being held into the abuse case.
He described the case as "shocking" and said he was "very surprised" at the manner in which the case was being dealt with.