Former Ivory Coast president Laurent Gbagbo has pleaded not guilty to war crimes at the International Criminal Court in The Hague.
Mr Gbagbo is the first former head of state to be brought to justice at the ICC since it was set up 13 years ago.
He faces charges relating to the West African country's civil conflict that erupted after he lost elections in 2010, killing 3,000 people.
Mr Gbagbo and his co-accused, former militia leader Charles Ble Goude, both denied charges of organising "a common plan" which led to "widespread" murders, rapes, persecution and other "inhumane acts".
The war began in early 2011 after Gbagbo refused to accept the result of the 2010 elections.
Hundreds of Gbagbo's supporters gathered outside as the hearing began, demanding the release of a man they say is a victim of neo-colonial meddling by former colonial power France.
Presiding Judge Cuno Tarfusser insisted the court would not be used for political grandstanding during the trial.
"This is not a game," Judge Tarfusser said.
"The chamber will not allow this trial to be used as a political instrument in any way whatsoever."
ICC chief prosecutor Fatou Bensouda said her office had collected a "vast body of evidence" against Mr Gbagbo and Mr Ble Goude.
Mr Gbagbo remains a divisive figure in the Ivory Coast and his trial in The Hague could rekindle tension in the world's largest cocoa grower.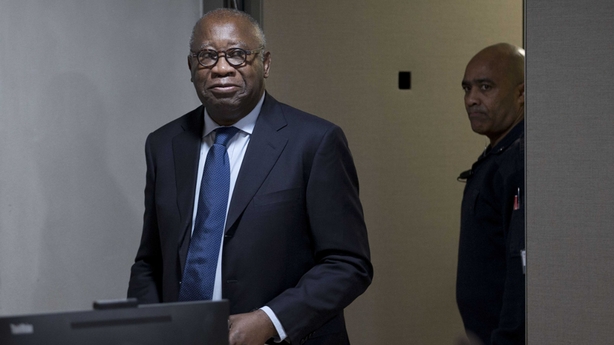 The case is a test for the credibility of the global war crimes court, whose previous attempt to press charges against a top politician, Kenya's President Uhuru Kenyatta, ended in disarray amid a fierce diplomatic lobbying effort from Kenya and its African allies.
The court, set up to prosecute the gravest international crimes, has so far handed down just two convictions, both against little-known African warlords.