The Cabinet has agreed the terms of reference for the River Shannon coordinating group.
Earlier, Minister of State for the Office of Public Works Simon Harris brought a proposal to Cabinet and it was agreed the group will publish an immediate programme of work by St Patrick's Day.
The longer term programme of works for the Shannon and other areas of the country are due in the summer.
The coordinating group will publish a quarterly progress report and will conduct an audit of the role and responsibilities of all the agencies involved, it will also seek legal clarities on any issues that may arise regarding works.
Other bodies and farming organisations will also be consulted, it will be chaired by the OPW and comprised of CEOs of all the agencies involved.
The group will report back to Government through a cabinet sub-committee.
It is understood that insurance companies have responded to the Government with increased insurance cover in areas, however further meetings and engagements are due to take place.
The interdepartmental group report which is looking at this area is to issue its final report in summer.
Almost eight weeks after Storm Desmond hit the country, residents in the midlands have accused the Government and local authorities of abandoning them in the flood water and failing to provide relief.
8 weeks later - rural Ireland still suffering from floods pic.twitter.com/AfMEFA0CwW

— Ciaran Mullooly (@ciaranmullooly) January 26, 2016
Dozens of home owners claim their applications for financial support have been turned down by the Red Cross.
Residents of the village of Castleplunkett, Co Roscommon have said they are still cut off because emergency funding, promised for new roads, has not been delivered in areas where the water is still rising.
Insurers do not respond positively to Govt request
It has emerged that insurers have not responded positively to request from the Government to take 'demountable', or temporary works, into account when considering whether or not to provide insurance in areas affected by flooding.
This feeling was relayed in a letter to the Taoiseach over the last few days.
Enda Kenny recently met representatives of the main insurance companies and had asked them to look at the cover they provide to those living in areas where works had been carried out.
The industry has committed to further engagements.
A Government spokesman said the industry had offered to enhance the memorandum of understanding which takes works carried out by the OPW into account when considering insurance cover. 
€750,000 paid out to assist small businesses
Elsewhere, Secretary General of the Irish Red Cross Liam O'Dwyer has said over €750,000 has been paid out to assist small businesses not insured against flooding.
He said that 268 people have applied for aid under the flood-relief scheme to date, but 51 have not met the criteria set out by Government.
Mr O'Dwyer said some people were refused on the grounds they had flood insurance, but the vast bulk were refused because they were not ratepayers.
He said all of the unsuccessful applications have been referred back to Government.
Applications for the flood-relief scheme close on Sunday.
Weather warnings in place for most of the country
Meanwhile, a number of wind and rainfall warnings remain in place today.
Met Éireann's Status Yellow Wind Warning is forecasting gusts of up to 90km/ph, with the possibility of higher gusts in some exposed Atlantic coastal areas.
The high winds and locally heavy rain, is causing spot flooding in places and leading to dangerous driving conditions.
There is also a Status Yellow Weather Advisory warning is in place for a number of coastal counties, including Wexford, Galway, Clare, Cork, Kerry and Waterford.
A combination of strong winds, high tides and heavy rains means there is an enhanced risk of coastal flooding.
Flood waters are slowly receding in the Salthill area of Galway, following heavy rain and tidal surges this morning.
A number of cars were partially submerged in water at a car park opposite the sea front.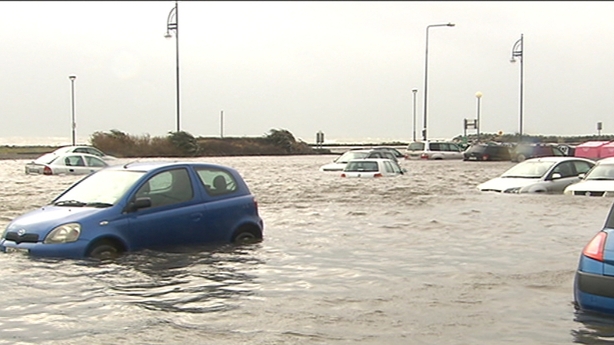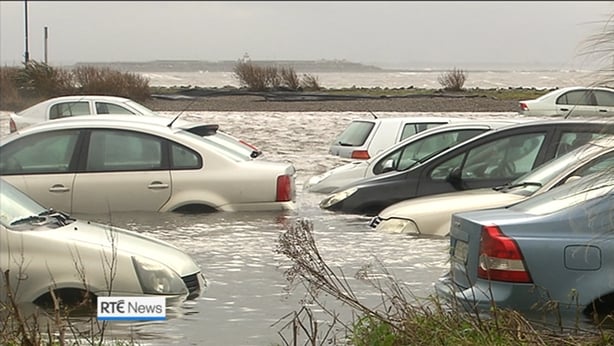 Galway City Council has repeatedly warned motorists about the risks of parking in the area in question during adverse weather conditions.
Gardaí said a section of the promenade from Seapoint towards the city remains closed but water levels are slowly falling.
Spot flooding was also reported on roads around Dunmore, Milltown and Tuam, in the north of the county.