A winter storm dumped 60 cm (two feet) of snow on the suburbs of Washington DC before moving on to Philadelphia and New York, paralysing road, rail and airline travel along the US East Coast.
At least 10 states declared weather emergencies, aiming to get a handle on highways made impassable by the drifting snow and to shore up coastal areas where the blizzard conditions raised the danger of flooding.
The heaviest snow engulfed New York City today and is not expected to stop until tomorrow.
At least 13 people have been killed in weather-related car crashes in Arkansas, North Carolina, Kentucky, Ohio, Tennessee and Virginia.
Elsewhere, one person died in Maryland and three in New York while shoveling snow.
The worst appeared to be over for Washington, although moderate snow was expected to keep falling this evening.
All white on the night: This time-lapse video shows streets in Washington DC getting buried under a blanket of snow https://t.co/RYL5QiqZJS

— RTÉ News (@rtenews) January 23, 2016
"Records are getting close - we're getting into the top five storms," said meteorologist Greg Gallina of the National Weather Service.
The record high of 71 cm (28 inches) of snow in the US capital was set in 1922 and the deepest recent snowfall was 45 cm in 2010.
Many stores were left with bare shelves as residents stocked up on food, water and wine, preparing to spend the weekend indoors.
The governors of several states, including New Jersey, Pennsylvania, Maryland, Virginia, North Carolina and Georgia, as well as the mayor of Washington, declared states of emergency. Officials warned people not to drive.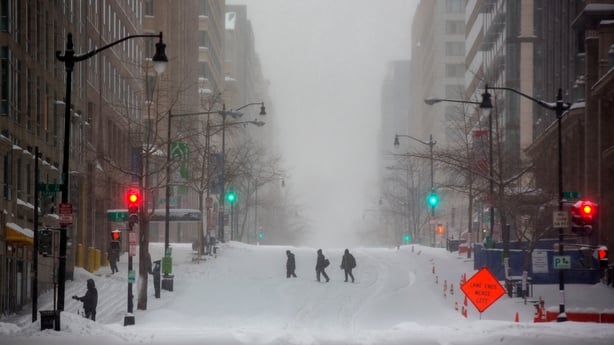 The storm developed along the Gulf Coast, dropping snow over Arkansas, Tennessee and Kentucky yesterday.
On the East Coast, warm, moist air from the Atlantic Ocean collided with cold air to form the massive winter system, meteorologists said.
The storm was forecast to move offshore in southern New England early next week. Philadelphia and New York were expected to get 30-50cm of snow before the storm abated.
Low-lying areas of New York and New Jersey - some still rebuilding after Superstorm Sandy in 2012 - might see flooding during high tides this weekend, officials said.
More than 4,200 US flights were cancelled today, most of them at airports in New York, Philadelphia and Washington, according to tracking website FlightAware.com.
This is what was outside my front door this morning.For scale,that's the top of a 34" hurley.#blizzard2016 @rtenews pic.twitter.com/NuRhDQSOx8

— Caitriona Perry (@CaitrionaPerry) January 23, 2016