Female prisoner escapes from custody
A 25-year-old female prisoner has escaped from custody at Ennis courthouse in Co Clare.
A spokesperson for the Prison Service said that gardaí have been informed.
The Prison Service is investigating the incident.
Apple staff in Cork evacuated over bomb threat
Up to 4,500 Apple staff were evacuated from buildings at Hollyhill and Lavitt's Quay in Cork following a security threat.
A spokesperson said gardaí at Gurranabraher received what they described as a "very vague threat" via email just after 8.30am.
A risk assessment was carried out in conjunction with Apple management and a decision was made to err on the side of caution and evacuate both sites.
Both sites were searched but no viable device was found and staff later returned to work.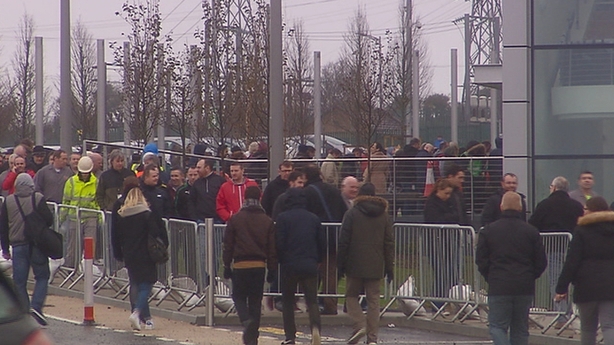 New campaign aims to lower fishermen fatalities
A new campaign aiming to reduce the numbers of fishermen dying at sea is being launched.
Bord Iascaigh Mhara's 'Live to Tell the Tale' campaign comes in the wake the deaths of more than 50 fishermen in the past decade.
The campaign is being launched with a survey that shows that almost half of Ireland's 3,500 fishermen do not wear their lifejackets at all times when they are working.
International tourism figures rise by 4.4%
The number of international tourists rose by 4.4 percent worldwide in 2015 to hit a record 1.18 billion despite concerns over terrorism, the United Nations World Tourism Organisation said.
Tourism arrivals were up by 5% in Europe, Asia-Pacific and the Americas but fell by 8.0% in North Africa where nations like Tunisia were hit by terrorist attacks, the Madrid-based body said in a statement.
Ex-Auschwitz medic, 95, to stand trial
A 95-year-old former medic at the Auschwitz death camp will go on trial next month on at least 3,681 counts of accessory to murder, German authorities said.
Hubert Zafke was a medical orderly at the camp from 15 August 1944 to 14 September 1945, when 14 trains carrying prisoners - including the teenage diarist Anne Frank - arrived at Auschwitz-Birkenau where many would eventually be killed in the gas chambers.
Ahead of proceedings due to begin on 29 February, prosecutors said Mr Zafke was "aware of the purpose of the Birkenau camp as an extermination camp" as well as of its structure.
The trial at the northeastern town of Neubrandenburg comes after an appeals court overturned an earlier ruling that Mr Zafke was unfit to stand trial.
Minister disappointed over planned TUI strike
Minister for Education Jan O'Sullivan has said she is disappointed with the decision of secondary school teachers who are members of the Teachers' Union of Ireland to go on a one-day strike before the general election.
She said the fixing of the economy did involve some cuts in a number of areas, but the State is beginning to re-invest in education.
Speaking in Limerick, the minister said she did not think the strike served any purpose as it would be disruptive for pupils and parents.
Ms O'Sullivan also said she hoped teachers' unions would find a way of engaging with the Department of Education about their issues or concerns.