The first Syrian asylum-seekers to be relocated to Ireland under the European Union's troubled relocation programme are due to arrive within the next week to ten days.
The Department of Justice confirmed a Syrian family would arrive "before the end of January."
The Government originally made provision for around 20 refugees to be relocated to Ireland at the beginning of December.
However, the process has been held up by logistical problems at the so-called hotspots in Greece and Turkey where large numbers of refugees have been arriving.
It is understood the Syrian family will have originally arrived in the Greek island of Lesbos from Turkey.
"Following a request from the Greek authorities Ireland has now agreed to accept our first Syrian family who are not refugees but asylum seekers in Greece under the relocation programme," a department statement said.
Transport arrangements are being finalised by Greek authorities and "it is expected that the family will arrive in the State before the end of January," the department added.
"Following their arrival and registration they will be accommodated in the Hazel Emergency Reception and Orientation Centre in Monasterevin while their application for refugee status is being assessed."
Under the European Commission's relocation programme it was envisaged up to 160,000 refugees would be relocated to other EU member states after they had crossed into Greece and Italy.
So far less than 300 have been relocated.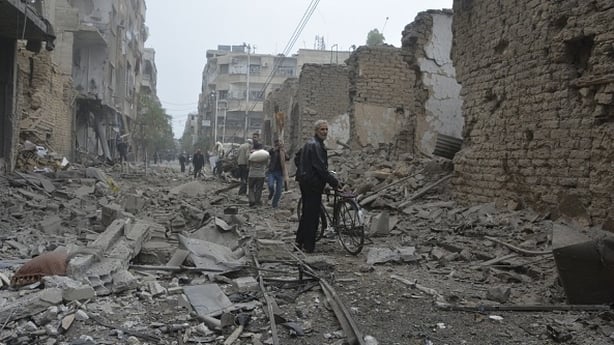 Ireland agreed to take an initial 600 people under the relocation programme, but increased that number to 2,900.
Under the resettlement programme, where those already granted refugee status in countries neighbouring Syria are offered a new life inside the EU, the total number will rise to 4,000 overall.
Under the current procedure, EU migration officials canvas asylum seekers either in Greece or Italy.
Those selected are then transferred to Athens, where the Greek authorities match them with offers of relocation from member states.
It's understood two Irish migration officials will travel to Athens next week to arrange the relocation.
RTÉ News also understands that in the selection process, member states have expressed a preference for families, as opposed to single males.
The relocation process comes amid more controversy surrounding the refugee crisis in Europe.
The sexual assaults carried out in the German city of Cologne on New Year's Eve, allegedly by men of Arab and North African origin, have heightened political turmoil regarding the handling of the refugee situation.