Fine Gael TD resigns from Dáil
Fine Gael backbencher Brian Walsh has resigned as a TD
The Galway West Deputy, who earlier announced he would not be standing again due to ill health, informed Ceann Comhairle Sean Barrett of his resignation.
His resignation takes effect immediately. Under normal circumstances the vacancy would prompt a by-election but with the country due to go to the polls within weeks his seat will be filled then.
Five arrested during garda operation in Dublin
Four men, aged from their early 20s to early 40s, and a woman in her late 20s have been arrested during searches by gardaí in Baldoyle in Dublin.
A firearm, a quantity of suspected stolen property and a large amount of cash was also seized during the search.
One of the men was charged and remanded in custody to appear before Cloverhill District Court on 21 January 2016. Two men and the woman were brought before the District Court on unrelated matters.
The fourth man was released without charge.
Paris suicide bomber was Belgian-Moroccan - prosecutor
A suicide bomber who blew himself up during a police raid following the attacks in Paris was a Belgian-Moroccan man who is also suspected of being one of the 13 November gunmen.
Chakib Akrouh, 25, was identified from DNA matched to his mother, Paris prosecutor Francois Molins said in a statement.
Akrouh was holed up in an apartment in the suburb of Saint-Denis with the suspected ringleader of the Paris attacks, Abelhamid Abaaoud, who is also a Belgian of Moroccan origin.
Both men were killed in the dawn raid on 18 November. A woman, Hasna Aitboulahcen, who is thought to have been Abaaoud's cousin, also died.
Labour would reduce cost of childcare if re-elected
Labour TD for Waterford Ciara Conway has said, if returned to power, the party would dramatically decrease the cost of childcare for parents over a five-year period.
She said subsidies would be given to childcare providers - including, for the first time, registered childminders - who meet certain criteria, which would also incentivise quality provision of childcare.
In the first year Labour proposes to increase the State subsidy by 50 cent, which would be a cap and would mean that childcare providers would not receive the investment if they raised prices above €4.75 per hour.
Over the following four years Labour proposes to cap the cost of childcare – currently around €170 per week – and increase State investment until the cost of childcare is reduced to €2 per hour.
Seven dead migrants washed up on Turkish beaches
Turkish authorities discovered the bodies of seven would-be migrants to Greece on western Turkish beaches, the official Anatolia news agency said.
Police opened an enquiry into the drownings, discovered barely a week after the bodies of 36 migrants, including several children, were found after boats carrying them across the Aegean Sea to EU member Greece sank.
Police said the latest bodies were found early today in Izmir province, which lies opposite a cluster of Greek islands, as migrants continue to flee war and hardship in the hope of finding a new life in Europe.
Turkey, now home to some 2.2 million refugees from Syria's civil war and some 300,000 Iraqis, has become a hub for migrants seeking to reach Europe.
Palestinian shot dead after stab attempt at Israeli checkpoint
A Palestinian attempted to stab an Israeli at a checkpoint in the northern West Bank but was shot dead, officials said, in the second such incident of the day.
"Stabbing attempt north of Nablus," the army statement said, without providing details of whether he had injured anyone.
The Palestinian health ministry announced that a man had been killed by Israeli fire near an army checkpoint.
Thousands gather in Tunisia for fifth anniversary of uprising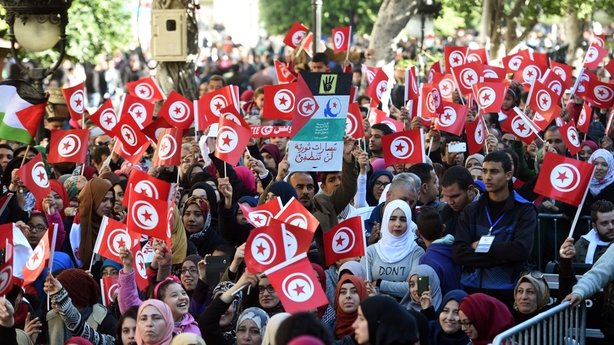 Thousands of people gathered in the Tunisian capital to mark the fifth anniversary of the overthrow of longtime dictator Zine El Abidine Ben Ali in the uprising that inspired the Arab Spring.
Tunisians thronged Habib Bourguiba Avenue, the main thoroughfare in central Tunis and the centre of the country's revolution five years ago.
Some attended political rallies, chanting revolutionary slogans like "Work! Freedom! Dignity!", while others listened to concerts or reminisced about the uprising.
For many the anniversary raised mixed feelings, with fierce pride at the revolution tempered by concerns over continued economic problems and a rise in jihadist violence.