Six held over Mullingar incident
Six people were arrested following an incident in Mullingar, Co Westmeath.
A number of people were involved in an altercation on Oliver Plunkett Street.
A number of them sustained minor injuries and one person was taken to the Midlands Regional Hospital in Mullingar for treatment.
The six are being held at Mullingar Garda Station.
Independent Alliance launches election campaign
The Independent Alliance has launched its election campaign with a pledge from its leader that it will be radical but responsible in its conduct.
Shane Ross unveiled a list of 21 candidates including Councillor David McGuinness, formerly of Fianna Fáil in Dublin West.
Other candidates include former Green Party TD Paul Gogarty in Dublin Mid West, and a number of sitting independent TDs.
Mr Ross said that if elected his group would support any government that it backed in votes of confidence but would speak out on individual issues, and his members would not accept any whip system.
Mervyn Storey appointed new NI Finance Minister
Mervyn Storey has been appointed as Northern Ireland's Finance Minister, replacing Arlene Foster, who vacated the post when appointed First Minister.
Mr Storey, a DUP member, had been Minister for Social Development since 2014. The 51-year-old he is an Assembly member for the North Antrim constituency.
67-year-old party colleague Maurice Morrow is filling the vacancy in the Department of Social Development.
Drink-driving cases struck out while loophole examined
A judge has struck out or dismissed a total of 45 cases related to drink-driving while an apparent loophole in the legislation is being examined.
Solicitors at Waterford District Court were told that 34 of their drink-driving cases were ordered to be struck out, while 11 were dismissed.
The cases relate to cases where gardaí used breathalysers to detect drink drivers, but did not provide the accused with a certificate with the details in both English and Irish.
The certificate, known as "a Section 13 print out" according to solicitor Kenneth Cunningham, needs to be provided in both Irish and English as laid out under the Road traffic Act 2010.
Train service suspended after doors open mid-journey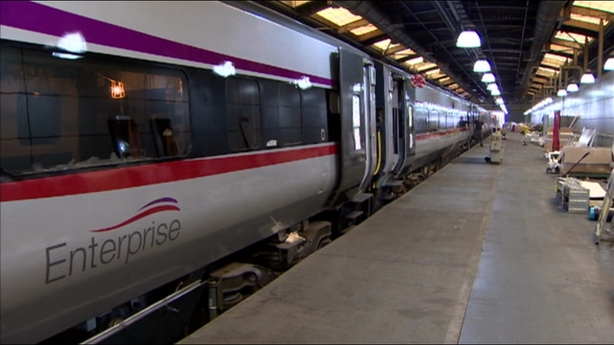 The newly refurbished Enterprise trains which operate a return service between Dublin and Belfast have been suspended after passenger doors opened without warning mid-journey.
The Railway Safety Commission has served a prohibition on Translink banning the operation of the trains until safety concerns relating to the issue are addressed.
The issue first occurred a week before Christmas and happened again on 6 January.
Substitute trains are being used for the service.
New multi-denominational school for Dublin
The Minister for Education Jan O'Sullivan has announced the establishment of a new multi-denominational secondary school for Dublin's north city area.
The school will be run by multi-denominational group Educate Together, along with City of Dublin Education and Training Board.
Clonturk College will open next September in Whitehall with an expected initial intake of 75 first year students.
Parents in north Dublin have campaigned for several years for the establishment of such a school.
N Korea says test no threat, then threatens to wipe out US
North Korea said its nuclear test was not intended to be a provocation or threat, as it laid out plans for a weapons system capable of obliterating the entire United States.
A lengthy commentary by the official KCNA news agency underlined the North's claim that last Wednesday's test was of a powerful miniaturised hydrogen bomb which marked a "new high stage" in the country's search for a credible nuclear deterrent.
Experts have largely dismissed the claim, saying the test yield was far too low for a full-fledged thermonuclear device and was similar to the simple fission implosion devices it has tested three times in the past.
Wild elephant kills Thai woman, injures child
A wild elephant trampled a woman to death in Thailand and left her two-year-old son badly injured, the second deadly attack in recent months.
Police said the 34-year-old woman was found yesterday a road near a rubber plantation in eastern Thailand.
Her body was found next to her motorcycle and injured son.
"She was killed instantly at the site, her son sustained a broken leg and is now in hospital," police said.
The officer said the elephant is believed to have retreated back into a nearby national park after the incident.
New laws around imprisonment for non-payment of fines 'common sense'
The Executive Director of the Irish Penal Reform Trust has said the commencement of a law which sees imprisonment as a last resort for non-payment of fines is "common sense."
Speaking on RTÉ 's Morning Ireland, Deirdre Malone said the move means imprisonment is now a last resort which will free up the prison system.
She added that delays to the introduction of the legislation was due to a lack of technology in the courts system.
Saudi Arabia executes citizen for murder charge
Saudi Arabia has put to death one of its citizens convicted of murder, bringing to 51 the number of locals and foreigners executed this year.
On 2 January, the kingdom executed 47 men convicted of "terrorism", including Al-Qaeda-linked Sunni militants and Shia cleric Nimr al-Nimr, whose death sparked a diplomatic crisis with Iran.
Last year Saudi Arabia executed 153 people, most of them for drug trafficking or murder, according to AFP tallies.
90,000 asylum claims in Austria in 2015
Austria registered 90,000 asylum claims in 2015, according to government figures, a rise of more than 200 percent compared to 28,000 the year before and just 11,000 in 2010.
Afghans topped the list of requests by nationality with 25,202 asylum claims closely followed by 25,064 fleeing the civil war in Syria and 13,258 Iraqis, the interior ministry data showed.
Austria last year became a major transit country for hundreds of thousands of migrants from the Middle East and elsewhere travelling up from Greece through the Balkans.