An occupation of the 1916 site on Dublin's Moore Street has halted restoration works.
Around 30 people remain in occupation of the site, earlier today a crowd of 200 had gathered outside the site in support of the occupation.
Last night approximately 30 activists gained access following concerns that some buildings on the terrace were to be demolished.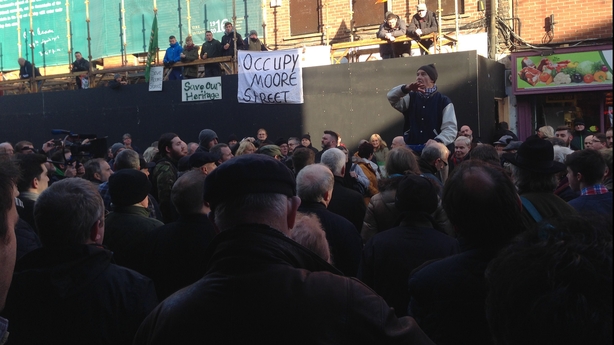 The Government purchased buildings 14 to 17 on the street which includes the site where the last council of war was held by the rebellions leaders.
Works had commenced to restore the buildings and preserve original features in time for this year's centenary celebrations.
However, buildings on either side of the national monument site will be demolished as part of the works.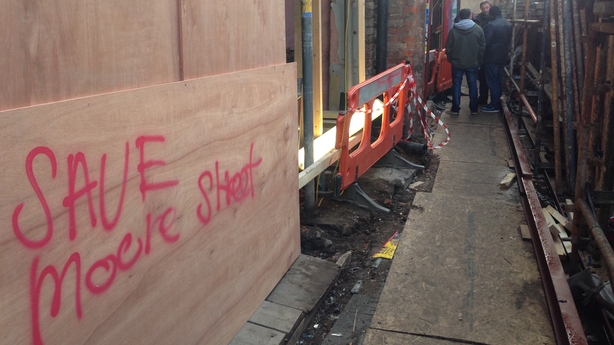 A spokesperson for the protesters, Damien Farrell from the Éirigí party, said the occupation will continue until reassurances are given about the site.
Minister for Arts Heather Humphreys said she is "very disappointed" at the interruption to the restoration works.
A statement from her department said she believed the delay will jeopardise having the buildings ready for centenary celebrations.
It added that building numbers 13, 18 and 19 which are due to be demolished as part of the works are not historically significant.
A spokesperson for the department denied claims that original features in numbers 14 to 17 are being removed.
Meanwhile another group, the Save Moore Street Campaign, is launching a High Court application next Monday to halt the works.