The body which represents the insurance industry has said the Government must build adequate flood defences in unprotected areas of the country before insurers will agree to any new scheme to help victims of flooding.
Insurance Ireland made the comments ahead of a meeting with Taoiseach Enda Kenny, due to take place early next week.
Mr Kenny will hold what he said would be "frank discussions" with insurance companies next week, calling on them to do more to help victims of flooding.
But Insurance Ireland, the body which represents the industry has rejected claims that it is not doing enough.
Insurance Ireland's Michael Horan said: "The flood problem has been caused by inadequate investment in flood defences over the years combined with development on flood plains.
"That has made it more difficult for insurance companies to provide insurance in areas of repeat flooding."
He said it would not be logical for insurers to pay out in areas where there is repeated flooding.
"In areas of repeat flooding you are talking about inevitable events, and insurance is about the risk of something happening, not about covering inevitable events, because if you did that the cost of premiums would skyrocket," Mr Horan said.
However Labour TD for Longford-Westmeath, Willie Penrose said pressure needs to be put on insurance companies in relation to cover for those living in flood prone areas.
Speaking on RTÉ's Morning Ireland, Mr Penrose said the Government has to intervene in the situation but that a levy on insurance companies should be the last resort.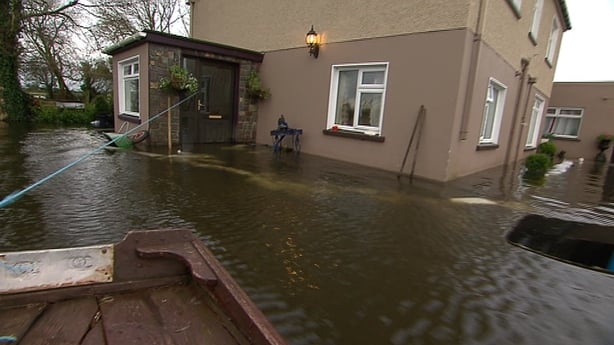 Mr Penrose also mooted the idea of a State-backed insurance company for those affected.
"The State has a duty to come in now and ensure that there's an appropriate scheme put in place.
"The insurance compensation fund is there, some of that should be diverted and ultimately the State may well have to put in a significant amount of money themselves to ensure against the risk that those people have suffered."
Insurance Ireland rejected claims by Mr Kenny that the industry makes big profits in Ireland and should do more to help flooded homeowners and businesses, Mr Horan said: "I don't agree that the industry makes profits. Property insurers lost €35m in 2014."
The body also rejected claims by Minister for the Environment Alan Kelly that many people in areas protected by flood defences cannot get flood insurance.
"The vast majority of people living in areas protected by flood defences can get flood insurance, 98% of homeowners have flood cover," said Mr Horan.
The industry representative body also issued a note of caution about proposals coming from brokers and others that a levy should be placed on insurance premiums to pay for flood repairs.
"The idea of a levy needs to be thought through, any scheme needs to be sustainable and affordable, and the number of properties kept in such a scheme needs to be kept to a minimum. In order to do that, you need adequate flood defences.
"There is no getting away from flood defences no matter how politicians try to dress it up. You can talk about levies and schemes until you are blue in the face, but you need to build flood defences in unprotected areas.
"It is not the job of the insurance industry to build flood defences, it's the job of the Government," said Mr Horan.
Policies being sold 'too cheaply'
Meanwhile, an insurance claims specialist has told RTÉ that some household policies are being sold too cheaply and therefore the service cannot follow through.
Speaking on RTÉ's Today with Sean O'Rourke, Eamon Downey of Owens McCarthy said in addition there has been a change in the claims pattern in the past number of years.
"What we have done in the last five to six or seven years is we've tried to cut back because the income of the insurance companies has been reduced.
"They're selling household policies for under €200. It wouldn't cover the carpet in the smallest room in your house."
Mr Downey said flood victims were being treated appallingly by insurance companies and that the Taoiseach needs to ensure his meeting with them is productive.
Elsewhere, the level of the River Shannon in Athlone is falling and is now back to the maximum level recorded in 2009, according to Westmeath County Council.
It expects that trend to continue but said the rate of decline in the level of the river will be very slow at about 2cm per day.