The United States has rejected North Korea's claim of having successfully tested a hydrogen bomb for the first time.
"The initial analysis that has been conducted ... is not consistent with North Korea's claim of a successful hydrogen bomb test," White House spokesman Josh Earnest said.
"There is nothing that has occurred in the last 24 hours that has caused the United States government to change our assessment of North Korea's technical and military capabilities," he added.
The North Korean claim was broadcast on state television in Pyongyang, which declared that the republic's first hydrogen bomb test" had been "successfully performed at 10.00 am (12.30am Irish time GMT)."
"We have now joined the rank of advanced nuclear states," it said, adding that the test was of a miniaturized device.
Mr Earnest said US President Barack Obama would speak later in the day with Japanese Prime Minister Shinzo Abe and South Korean President Park Geun-Hye.
US Secretary of State John Kerry meanwhile said he had been in contact with his counterparts, reaffirming US security commitments to its allies in East Asia.
"This highly provocative act poses a grave threat to international peace and security and blatantly violates multiple UN Security Council resolutions," he said in a statement.
"We do not and will not accept North Korea as a nuclear armed state, and actions such as this latest test only strengthen our resolve," he said.
Meanwhile, the UN Security Council has agreed to prepare further measures against North Korea after it carried out a fourth nuclear test.
The 15-member council including China, North Korea's ally, "strongly condemned" the test and described it as a "clear threat to international peace and security."
UN Secretary-General Ban Ki-moon condemned the test, saying it was "deeply troubling" and "profoundly destabilising for regional security".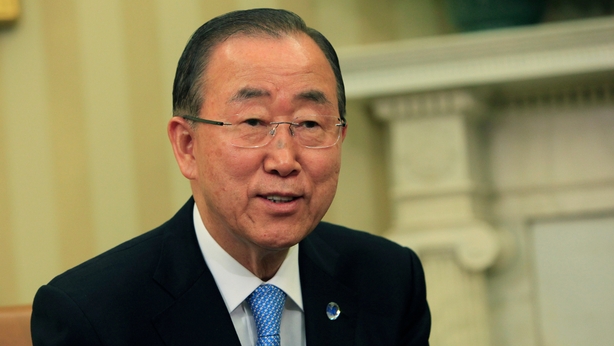 "This test once again violates numerous Security Council resolutions despite the united call by the international community to cease such activities," he told reporters.
"It is also a grave contravention of the international norm against nuclear testing."
"I demand the DPRK [North Korea] cease any further nuclear activities and meet its obligations for verifiable denuclearisation," he said.
The UN Security Council will hold an emergency meeting tomorrow to discuss North Korea's reported test of a hydrogen bomb.
A spokeswoman for the US mission said: "The United States and Japan have requested emergency Security Council consultations for tomorrow morning regarding North Korea's alleged nuclear test.
"While we cannot confirm at this time that a test was carried out, we condemn any violation of UNSC (UN Security Council) Resolutions and again call on North Korea to abide by its international obligations and commitments," she added.
North Korea has been under UN Security Council sanctions due to its nuclear weapons programme since it first tested an atomic device in 2006.
One Western diplomat said that if the latest North Korean nuclear test was confirmed, council members would seek to expand existing UN sanctions against Pyongyang.
The White House rejected North Korea's claim.
"The initial analysis is not consistent with North Korea's claims" of a successful hydrogen bomb test, White House spokesman Josh Earnest said.
#NEWSGRAPHIC Timeline of nuclear North Korea #NKorea @AFP pic.twitter.com/pUqs97ziGl

— Agence France-Presse (@AFP) January 6, 2016
#NEWSGRAPHIC North Korea's nuclear explosions compared pic.twitter.com/jXjJRwqNRn

— Agence France-Presse (@AFP) January 6, 2016
North Korea nuclear test a 'provocation', says Britain
British Foreign Secretary Philip Hammond has described North Korea's nuclear test as a "provocation" and a "grave" breach of United Nations Security Council resolutions.
If North Korean H-bomb test reports are true, it is a grave breach of #UNSC resolutions & a provocation which I condemn without reservation

— Philip Hammond (@PHammondMP) January 6, 2016
The announcement, which met with scepticism among nuclear experts, sparked a flurry of international criticism.
Mr Hammond, who is on an official visit to key North Korean ally China, said London and Beijing would coordinate their reaction to the test.
"I have discussed this matter today in Beijing with my Chinese counterpart, State Councillor Yang Jiechi, and we have agreed to work with other members of the UN Security Council towards a robust international response," Hammond said in a statement.
Mr Hammond is due to speak with his Japanese and South Korean counterparts today and visit Tokyo for meetings later this week, the statement said.
China is a key diplomatic protector of Pyongyang, though relations have been strained in recent years, partly due to North Korea's continuance of its nuclear programme despite international opposition.