The Minister for Communications, Energy and Natural Resources has given final approval to Shell to operate the Corrib gas pipeline and terminal in Co Mayo.
In a statement this evening, Alex White confirmed that he had given consent to the pipeline subject to 20 conditions relating to environmental management, operation, control and monitoring.
It is expected the first gas could be brought ashore as soon as tomorrow.
Shell applied for ministerial consent to operate the pipeline and the onshore terminal last August.
After the Environmental Protection Agency (EPA) granted a revised industrial emissions licence for the facility in October, the consent from the Department was the final approval needed to bring gas from the Corrib field ashore.
A spokesperson for Shell E&P Ireland said the company was pleased with the minister's decision to approve the operations in Mayo.
Extensive tests were carried out at the facility in Bellanaboy for a number of months and it is expected that the company will start operations and bring the first gas from the Corrib field ashore in the coming days.
Tonight, a Shell spokesperson said he was hopeful the ambition to process gas in 2015 would be achieved. 
This evening's decision is the latest chapter in a long-running saga of confrontation, protest and division that has surrounded the development in Co Mayo and further afield.
It is almost 20 years since the discovery of gas off the west coast by Enterprise Oil sowed the seeds for the project.
Initially, gas was expected to flow by 2004 and it is estimated the development has already cost in the region of €3bn.
Many locals have had long-standing concerns about the impact the pipeline and associated developments will have on the landscape, both during the development and operational phases.
Shell has committed to implementing an extensive biodiversity plan for the area and the company said standards have been thoroughly verified during all stages of the project.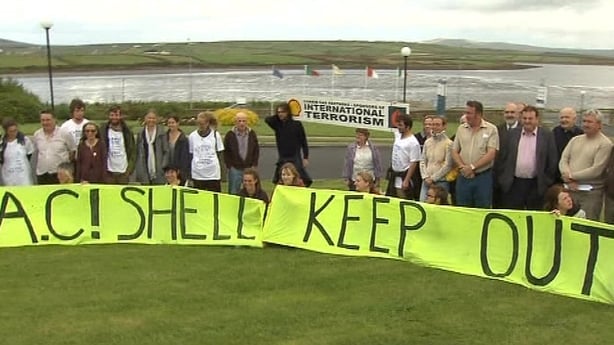 Protests came to a head in the summer of 2005 when five local men were jailed for breaching a court injunction not to interfere with the construction of the gas pipeline. The 'Rossport Five' were released after serving 94 days in prison.
After initial pipeline routes were rejected, an application to construct a tunnel under Sruwaddacon Bay was approved in 2011.
That was completed in 2014 and marked the completion of a pipeline stretching from the terminal in Bellanaboy to the gas field, some 85 kilometres offshore.
Shell said that when the pipeline is operating at full capacity it would provide more than half of the country's gas requirements.
However opponents of the development have raised questions as to how long that level of supply will be for in the overall lifespan of the Corrib field.