The Government has announced that businesses affected by the flooding will be able to get forms to apply for funding for compensation in the coming days on the Red Cross website.
The Minister for Defence Simon Coveney has announced the details of the scheme to provide emergency humanitarian support to small businesses that have been unable to secure flood insurance and have been affected by Storm Desmond.
The first phase will involve claims of up to €5,000 and while there will be a checking system it will be "based on trust", according to Mr Coveney.
He said payments which will be delivered before Christmas will be electronically transferred into people's accounts.
The second phase of the scheme will involve compensation of up to €20,000 and it will take several months for those claims to be processed.
The total level of support available for both stages combined will be capped at €20,000.
So far it is estimated that 100 businesses have been affected by the flooding but this will probably rise.
Mr Coveney also said that the Government may have to look at the size of the €5m fund for businesses at a later stage.
"I hope this scheme will go some way towards alleviating the hardship suffered by small businesses adversely affected by flooding throughout the country," said Mr Coveney.
"I have seen at first hand the effects of this flooding and the costs that businesses must incur in order to get back up and trading," he added.
Minister for the Environment Alan Kelly has said that he will be bringing a memo to Cabinet next Tuesday in relation to the flood damage which has been experienced in the west and the south west parts of the country.
He said that the memo would be aimed at securing Government funds to help repair some of the damage to roads, sewers, and other infrastructure that has resulted from floods over the past week.
He said that the Government, along with local authorities, was putting together plans to do as much as possible to respond to the situation.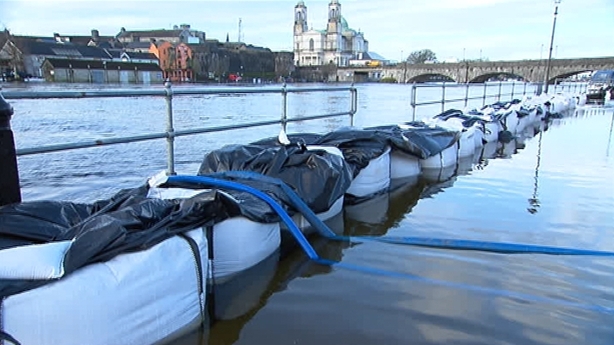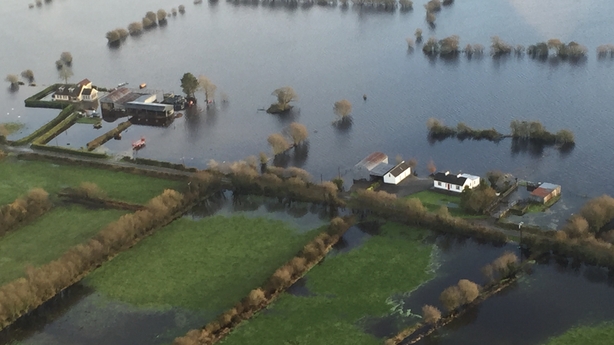 President Michael D Higgins praised statutory and voluntary groups who have been assisting people affected by the floods.
Speaking in Lisbon, Mr Higgins said he has been briefed by the National Emergency Co-Ordination Committee on the situation and is being kept informed of developments.
He expressed concern for families whose homes are under continual threat of being flooded.
Elsewhere, a number of families in the Springfield townland near the village of Clonlara in Co Clare have decided to leave their homes as river waters rise nearby.
One family has left because of difficulty with access, while another has decided to leave because of safety concerns.
Geraldine Mason, who lives about 2.5km from the river, said she has been through this situation many times before.
Ms Mason said she is very frustrated and feels as though the problems are being ignored.
She and her son have had to leave their home in case it floods, saying the last time they left the house under similar conditions they were out for three weeks.
She said the conditions they were living in were horrific, there is power and light in the house but no access to running water.
Another resident, who is staying in her home, but is very concerned that it may flood as water levels rise, has appealed for the Red Cross to help families cover the cost of petrol to fuel the pumps which are keeping flood waters away.
It is a considerable cost for families affected.
County Council has issued a severe flood warning for the whole county ahead of forecast heavy rainfall on Saturday.
It said river levels are approaching those experienced in November 2009.
The Defence Forces and personnel from both Limerick and Clare county councils are continuing their flood defences in the areas in anticipation that flood waters will continue to rise, particularly on Sunday night.
The National Emergency Co-Ordination Group has warned that water levels in the River Shannon are expected to peak this weekend.
Speaking after this morning's NECC meeting, the OPW said the highest increase in the Shannon has been in the mid-catchment area around Athlone where around 8cm has been seen in the past 24 hours and 15cm in total over the past 48 hours.
Flood levels have continued to rise in the areas between Lough Derg and Limerick city. It will peak there early next week, around Monday or Tuesday.
Met Éireann said there will be a respite in the rain today and tomorrow but heavy rain is due again on Friday night and Saturday, especially in Munster.
It said 5-8cm was expected then in some parts of Munster, Connacht and possibly Donegal. This compares to 10cm last weekend.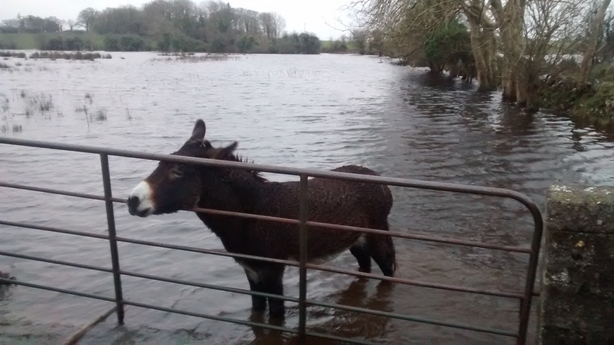 Gallery: Flooding Fallout
Share your pics and clips via yourphotos@rte.ie
Westmeath County Council has activated its flood emergency response to assist homeowners whose properties are at risk after the Shannon overflowed its banks in Athlone last night.
Up to 100 homes in the town are expected to be flooded in the coming days.
Locals say the levels have gone up by 9cm. It is expected the Shannon will flood in lower lying areas if it goes up over 30cm more.
The Irish Farmers' Association has been trying to assist land owners moving livestock from flooded farms at Clonown, south of Athlone, where thousands of acres are underwater.
Meanwhile, the Chairman of the IFA Flood Protection Team has said the handling of water level management on the Shannon needs to be taken away from the ESB.
Speaking on Today with Sean O'Rourke, Tom Turley said everyone knew this weather was coming and while the ESB is doing its best, the response has been too slow.
An ESB engineer has said water at the Parteen Weir can be controlled by gates, but the water has to be allowed through when it comes.
Also speaking on Today with Sean O'Rourke, Tom Browne said the ESB is dealing with a very large water system.
Mr Browne said all the water that finds its way into the Shannon ultimately flows out through Limerick.
He said while they know the water is coming and the water will rise, the ESB cannot do anything with it until it physically rises.
Mr Browne said the ESB is maintaining the water at Parteen Weir as low as it can and the only way to get more water through Ardnacrusha would be to raise that level of water, which would be counterproductive in terms of management of the overall system.
The ESB said this afternoon that the flow of water down the River Shannon through Parteen Weir will remain at 375 cubic metres per second today.
The ESB earlier said it expects to continue to release water at Inniscarra Dam in Co Cork over the coming week to draw down reservoir levels.
The company has warned there may be associated flooding of roads, land and property adjacent to the banks of the River Lee downstream of Inniscarra.
The town of Bandon is also on high alert after a code yellow flood alert was issued.
Met Éireann has said there will be some respite from the bad weather today and tomorrow, but further heavy rain is expected across south Munster at the weekend.
Above average rainfall is also predicted for next week.
A code yellow (high alert) flood warning was issued for #Bandon, Co #Cork at 03:56hrs today. @rtenews pic.twitter.com/luo3XbupBe

— Paschal Sheehy (@PaschalSheehy) December 10, 2015