Anti-Syrian refugee protesters who staged a demonstration in Belfast were significantly outnumbered by people who turned up to support those fleeing the war-torn country.
Around 30 people took part in the "Say no to refugees" picket outside City Hall this morning.
An adjacent counter-demonstration, whose main message was one of welcome for Syrians arriving in Northern Ireland later this month, was attended by around 200 people.
There was a major security presence in front of City Hall as police stood between the opposing groups, but there was no trouble.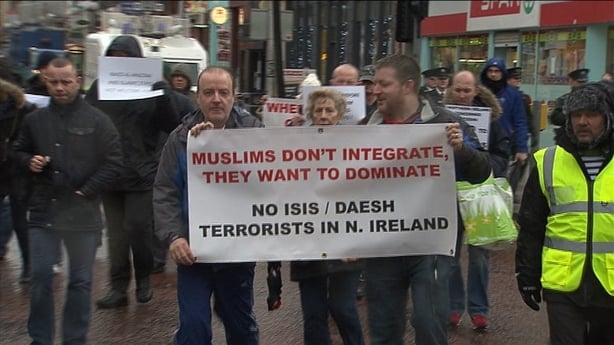 A group calling itself the Protestant Coalition organised the anti-refugee demo.
The plan had been heavily criticised by Northern Ireland First Minister Peter Robinson and Deputy First Minister Martin McGuinness as well as church leaders and trade unions.
A group named Belfast Anti-Fascists was involved in the counter-demonstration called "Refugees welcome, bigots not".
Around 50 Syrians will arrive in Northern Ireland on 15 December as part of the UK-wide resettlement programme.