Taoiseach Enda Kenny has predicted that Dublin's latest cold weather initiative means there should be no homeless people sleeping rough in the capital this Christmas.
Mr Kenny was speaking as around 400 protesters marched on Leinster house to mark the first anniversary of the death nearby of homeless man Jonathan Corrie.
Mr Corrie's death sparked national outrage, and emergency measures were introduced by the Government.
However, 12 months later, homeless campaigners say the crisis has worsened.
Despite emergency beds being opened, campaign groups have said the situation has deteriorated further since then.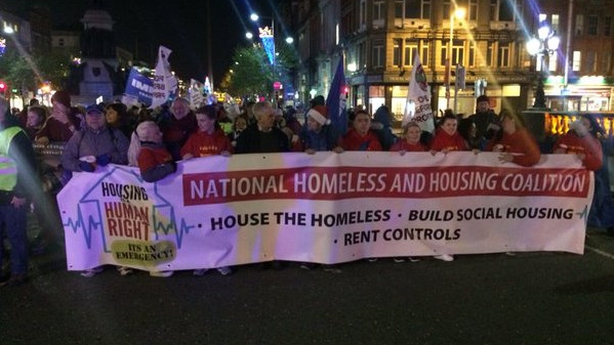 Opposition leaders accused the Government of 'bungling' its response to homelessness.
A protest organised by the National Homeless and Housing Coalition took place this evening.
It got under way outside the GPO at 5pm and demonstrators marched to Leinster House for a rally.
Campaigner Father Peter McVerry said the crisis is "much, much worse", than a year ago, and that in the long-term the focus had to be moved to building social housing.
Speaking on RTÉ's Morning Ireland, he said: "The empty local authority buildings that exist, and there's a huge number of them around the country, ought to be brought back into operation as rapidly as possible.
"And I can't understand why they are not being renovated and used again as quickly as possible."
He said that most of the emergency accommodation that is available is of an appalling quality where people feel intimidated and are often attacked and that the least that should be done is to provide everyone with a room of their own.
However, Minister for the Environment Alan Kelly said that tonight in Dublin there are 4,600 beds available and being used by people who find themselves homeless.
He said there are beds available for every single person in Dublin if they want a bed tonight.
Mr Kelly said that 200 social housing sites are being developed across the country.
Speaking on RTÉ's Six One, Mr Kelly said that it is still his intention that the first modular houses would open before Christmas.
He described protests against modular housing in Dublin as "absolutely unacceptable".
He also said that he expected to see that changing in the coming days.
He said he would be talking with gardaí and with Dublin City Council to ensure that "this very much-needed development" goes ahead.
Head of the Dublin Simon Community Sam McGuinness said that not enough has been done to end homelessness since Mr Corrie died.
Mr McGuinness said the real issue was the shortage of housing.
Almost 5,000 people were in emergency accommodation in September. Last winter 168 people were sleeping rough.
By spring it was down to 105. The number this winter is expected to be known shortly.
Sinn Féin debates homelessness bill in Dáil
Sinn Féin housing spokesperson Dessie Ellis has called for support for the Rent Certainty and Prevention of Homelessness Bill 2015.
Opening this week's Dáil Private Members' business debate in the Dáil he said: "At present under housing legislation there is no definition for a person who is at risk of homelessness and so preventative measures are limited by this.
This means measures to address homelessness are focused exclusively on those who have already lost their homes.
This leads to a cycle of people coming in and out of homelessness without any effective measures to reduce overall numbers through preventative measures."
In response, Minister Kelly severely criticised Sinn Féin's bill saying the wording was so "loose" it could result in a Government "bankrolling unpaid mortgages".
He said he found it curious that the bill suggests housing authorities should judge who is at risk at becoming homeless.
"What's being suggested is a potential and I'm shocked by this", he said, "a privatisation as means to determine viability and financial assistance without a means criteria".
He said the bill was not thought through and was being put through the Dáil in an "opportunistic" fashion by the Opposition party.
Fianna Fáil's Environment Spokesperson Barry Cowen defended Sinn Féin who were criticised by Minister Kelly for the "flawed" bill.
He said if Sinn Féin felt the need to address the in action of Government they had every right to do so.