Hundreds of thousands of people from Dublin to Sydney have joined one of the biggest days of climate change activism today, telling world leaders gathering for a summit in Paris there is "No Planet B" in the fight against global warming.
Thousands of people took part in climate change protests in Dublin, Cork, Belfast and Galway today.
In the capital, people from all parts of the country marched from Custom House Quay to the gates of the Dáil calling on the Taoiseach to show leadership when he addresses the opening stages of the UN climate conference in Paris tomorrow.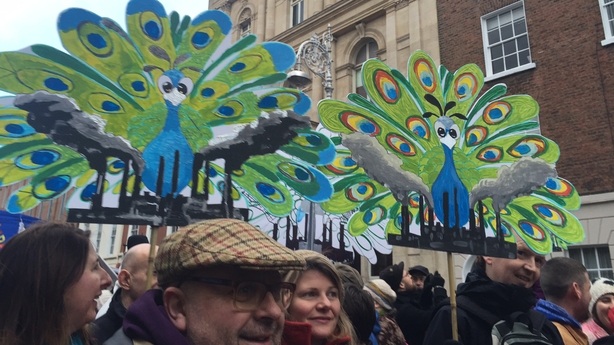 Oisin Coughlan of Stop Climate Chaos told the crowd that we are the first generation to feel the effects of climate change and the last that can stop it.
In Paris, where demonstrations were banned by the authorities after attacks by the so-called Islamic State militants killed 130 people on 13 November, activists laid out more than 20,000 pairs of shoes in the Place de la Republique to symbolise absent marchers.
Among the high heels and sandals were a pair of plain black shoes sent by Pope Francis, who has been a vocal advocate for action to prevent dangerous climate change, and a pair of trainers from UN Secretary-General Ban Ki-moon.
About 10,000 people also joined arms to form a human chain through Paris along the 3km route of the banned march, organisers said.
"This is a moment for the whole world to join hands," said Iain Keith, campaign director for Avaaz, one of the organisers.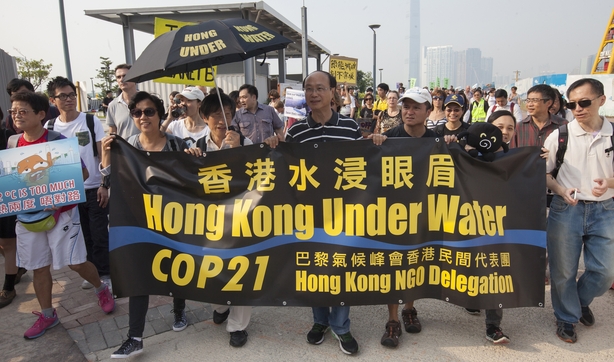 Elsewhere, more than 2,000 events were being held in cities including London, Sao Paulo and New York, making it perhaps the biggest day of climate action in history on the eve of the Paris summit which runs from tomorrow until 11 December and will be attended by about 150 heads of government.
Around the world, activists marched, dressed as polar bears or penguins at risk from melting ice, or chanted slogans such as "climate justice".
In Sydney, about 45,000 people are estimated to have marched through the central business district towards the Opera House.   
Protesters held placards reading: "There is no Planet B," and "Say no to burning national forests for electricity".
Thousands gather at the gates of the Dail for #IRLClimateMarch pic.twitter.com/WaTlSVxtnJ

— Samantha Libreri (@SamanthaLibreri) November 29, 2015
US President Barack Obama and China's Xi Jinping will be among the leaders attending the start of the summit, which organisers hope will produce a first legally binding agreement to commit both rich and developing nations to curbing emissions of greenhouse gases, blamed for warming the planet, beyond 2020.
Hopes are high that the Paris summit will not fail like the previous such meeting six years ago in Copenhagen.
Almost all the demonstrations were peaceful but, after the human chain protest in Paris, riot police fired tear gas and clashed with about 200 protesters, some wearing masks, in the Place de la Republique.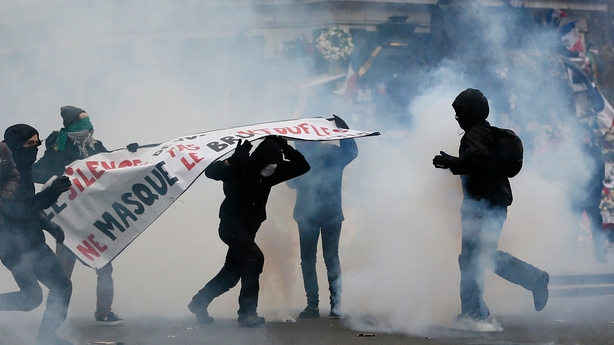 Demonstrators carried banners calling for the defence of the climate and democracy. The square has been a gathering place for Parisians since the 13 November attacks.
In Berlin, about 5,000 people marched with some dressed as penguins. One carried a huge "There is no planet B for penguins," banner.
In London, hundreds of marchers were joined by fashion designer Vivienne Westwood and actress Emma Thompson.
"This is our planet and we are in deep, grave danger," Ms Thompson told Sky television.