Dissident republicans are being blamed for a gun attack on the PSNI in the Rosnareen Avenue area of west Belfast last night.
The police believed that up to eight shots were fired at two officers, who were described as "not injured but badly shaken" after the incident.
Earlier this month, a man sitting in a car in the Rosnareen area of west Belfast, was shot in the head and badly injured.
The PSNI officers attacked last night as they sat in an unmarked vehicle, were part of the police reaction to that crime.
PSNI Chief Superintendent Nigel Grimshaw described the shooting as reckless and said the car's armoured plating and bulletproof saved the lives of the two officers.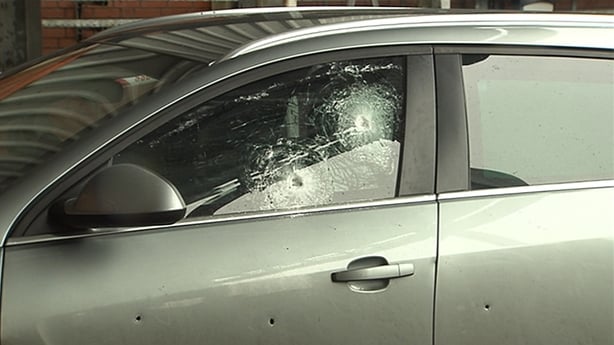 It is believed heavy weaponry was used in the attack.
Chief Supt Grimshaw said: "What is very clear is that it was significant weaponry to bring into what is a very residential area, lots of housing, people trying to go about their business trying to prepare for Christmas. Anything could have happened; not just police officers injured or killed but children walking about the street.
"Had a round gone through a window anything could have happened.
"This was totally reckless. No consequences thought about by those who perpetrated it."
He added: "This will not deter these officers or their colleague in providing a much-needed and increasingly valued police service in West Belfast.
"Those who believe that trying to kill officers will achieve anything are deluded."
Northern Ireland's First Minister Peter Robinson described the attack as "futile".
He said on Twitter: "My thoughts are with the officers targeted in Belfast. A futile act which could have resulted in carnage for anyone in the vicinity."
Justice Minister David Ford described the attack as "appalling".
He said: "This was clearly an attempt to kill police officers serving the community.
"Those responsible for this cowardly act have shown absolutely no regard for local residents. I am very thankful that no one was injured."
Minister for Foreign Affairs Charlie Flanagan condemned the attack and said the PSNI protects and serves everyone in the community.
"The two police services on our island work together as one. Those who attack them attack us all".