The suspected mastermind of the attacks that killed 129 in Paris was among those killed in a police raid in a suburb of the French capital yesterday, the Paris prosecutor said in a statement.
Abdelhamid Abaaoud, a 28-year-old Belgian militant, who had boasted of mounting attacks in Europe for the so-called Islamic State, was accused of orchestrating Friday's coordinated bombings and shootings.
Police originally thought he was in Syria, but their investigations led them to an apartment in St-Denis.
Heavily armed officers stormed the building, triggering a massive shoot-out and multiple explosions.
"Abdel Hamid Abaaoud has just been formally identified, after comparing fingerprints, as having been killed during the [police] raid," the statement said.
"It was the body we had discovered in the building, riddled with bullets."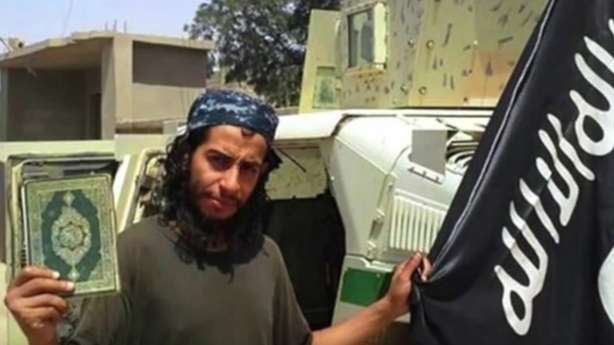 French Interior Minister Bernard Cazeneuve said Abaaoud was implicated in four out of six foiled attacks in France this year.
Prime Minister Manuel Valls broke the news of Abaaoud's death in Parliament to applause from MPs.
"We know today ... that the mastermind of the attacks – or one of them, let's remain cautious - was among those dead," Mr Valls said.
A suicide bomber also blew herself up in the police raid with a source closed to the investigation saying she might have been Abaaoud's cousin, Hasna Aitboulahcen.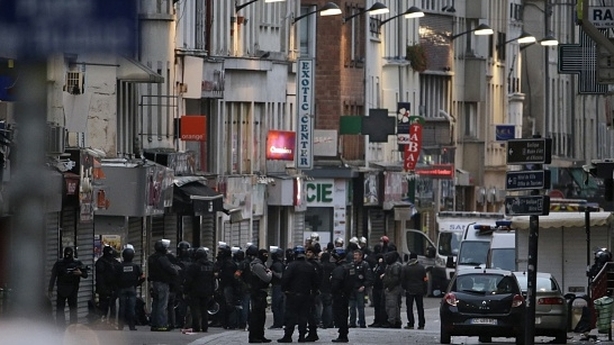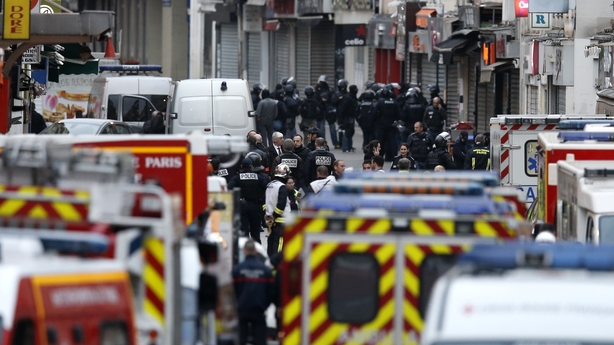 Sources said the raid also foiled a planned attack on the La Defense district of Paris, home to major banks and businesses, and on Charles de Gaulle airport.
Salah Abdeslam, one of the suspected gunmen who is now the focus of an international manhunt, was not among those arrested, the prosecutor added.
France does not know if Abdeslam is in France or Belgium, or whether there are more groups linked directly to the gunmen still at large, Prime Minister Manuel Valls said today.
              
"The threat is there. We don't know at this point in the investigation if there are groups, individuals, who are directly linked to the attack on Friday evening, in Paris, in Saint-Denis," Mr Valls said.
              
"We don't know yet, one can imagine. That's why the threat is still there," he said.
Earlier, the French National Assembly voted to extend the state of emergency for three months following the attacks.
The government initially imposed the state of emergency on Saturday, giving police extended powers to search and detain suspects.
MPs also voted to allow the government to block websites and social media under emergency powers.
The French Senate is expected to debate and approve the extension tomorrow, after which it can go into effect.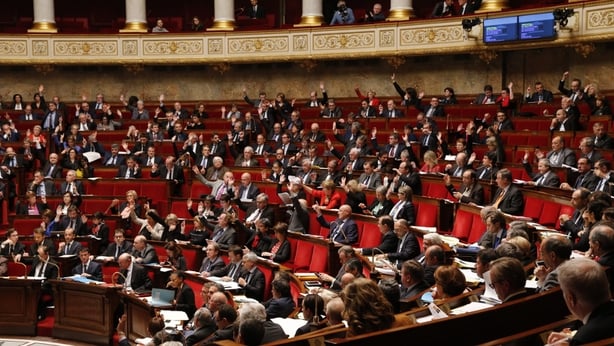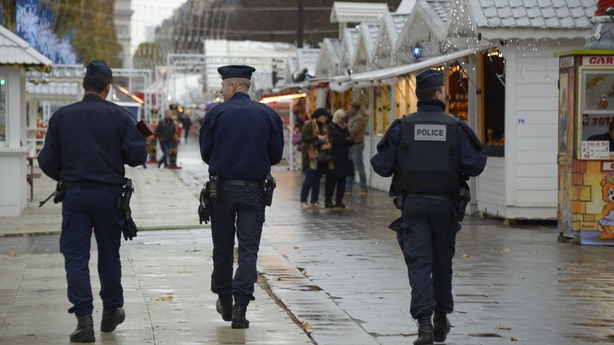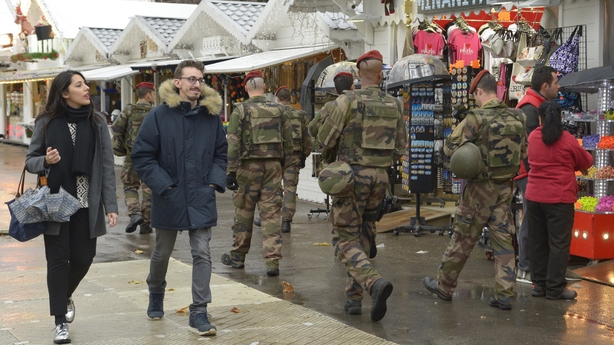 Nine arrests following Belgian police raids over Paris attacks
Meanwhile, Belgian police arrested nine people during six raids staged this morning in the Brussels area, which were linked to a suicide bomber who blew himself up outside the French national stadium last week during the Paris attacks.
The prosecutor's office told AFP the raids targeted places "linked to Bilal Hadfi," the 20-year-old who died when he set off his explosives on Friday, in Brussels as well as the suburbs of Uccle, Jette and Molenbeek, which is dubbed a haven for extremists.
Belgian officials say they have detained 9 people following 9 raids in Brussels related to suicide bomber Bilal Hadfi #ParisAttacks

— Tony Connelly (@tconnellyRTE) November 19, 2015
Seven people were "taken in for further investigation" while the other two arrests were also linked to last Friday's terror attacks.
The prosecutor added that the raids targeted places involving Hadfi's family, friends and other people directly linked to him.
Hadfi was one of three assailants who blew themselves up outside the French national stadium, killing one person, as France was playing Germany in a football friendly attended by 80,000 fans, including French President Francois Hollande.
Investigators say Hadfi was a French national who was living in Belgium and had spent time in Syria.
"It's a case which has already existed in 2015, following Mr Hadfi's departure for Syria," a source in the prosecutor's office said.
Police also detained one person in a separate raid in Laeken, a suburb northwest of Brussels, in connection with the Paris attacks but not with Hadfi, the source added.
The person's role in the attacks "remains to be seen," the source said.
Belgian Prime Minister Charles Michel has pledged a security crackdown and an extra €400m to fight Islamist violence, while rejecting criticism of Belgium's security services in the wake of the Paris attacks.
Mr Michel said in a speech to parliament that the government would introduce laws to jail jihadists returning from Syria, ban hate preachers and close down unregistered places of worship in response to last week's attacks.
Abaaoud flagged by US in May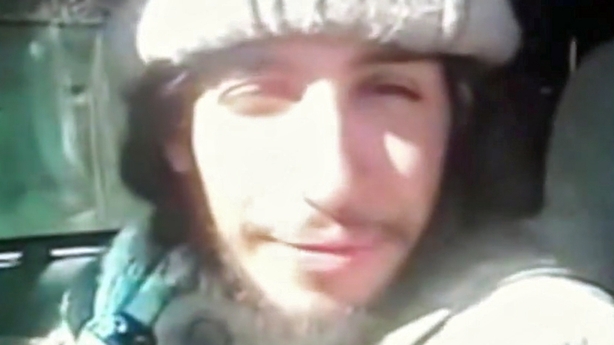 US intelligence warned in May that the so-called Islamic State militant group had developed the capability to carry out the kind of attack claimed by the extremist group in Paris and explicitly picked out the alleged mastermind.
An assessment published by the Office of Intelligence and Analysis, in coordination with the FBI, makes reference to and pictures Abaaoud.
The report focuses on the lesson learned from a plot disrupted by Belgian authorities in January in several cities and called it "the first instance in which a large group of terrorists possibly operating under ISIL [another name for IS] direction has been discovered".
It added that the plot "may indicate that the group has developed the capability to launch more complex operations in the west", as opposed to so-called "lone-wolf" attacks or assaults by smaller or less sophisticated groups.
The threat was more acute in Europe than the United States, the assessment said, but cautioned that "we cannot discount the possibility for potential complex attacks here in the Homeland".
The report, citing European media, called Abaaoud the purported leader of the Belgian plotters and said he directed operations from a safe house in Athens using a cell phone, possibly in a bid to hide his involvement.
Investigations into the group's activities spanned several European countries, including France, it said.
'No specific threat to the US'
The Director of the FBI today said there was no specific threat to the United States of a Paris-style terror attack and played down warning.
A new IS propaganda video has emerged threatening New York, in which a man prepares a suicide vest and is seen fingering its trigger, interlaced with footage of Times and Herald Squares.
But FBI Director James Comey, speaking in Washington, said: "We are not aware of any credible threat here of a Paris-type attack. And we have seen no connection at all between the Paris attackers and the United States.
"ISIL and its supporters put out all kinds of propaganda like videos and magazines, but that is not credible intelligence," he said, using an alternate acronym for IS.
"Of course we investigate all of those propaganda threats. But instead the threat here focuses primarily on troubled souls in America who are being inspired or enabled online to do something violent for ISIL," he added.