The girlfriend of the Irishman who was shot in the Paris terror attacks and survived has said they are lucky to be alive.
Katie Healy was in the Bataclan concert hall with her boyfriend David Nolan when so-called Islamic State militants killed 89 people there.
Mr Nolan was shot in the leg and later treated in hospital.
Speaking on RTÉ's Nine O'Clock News, Ms Healy said that her boyfriend protected her while gunmen starting firing at the crowd.
She said Mr Nolan threw himself on top of her twice and covered her to make sure her head and chest were covered as best he could.
She said: "People we stood and danced with died and we watched them die as we lay down and played dead. We are beyond lucky."
Ms Healy said they would never forget the people who died.
She said both her and her boyfriend were standing by the door at the Batacalan where the gunmen entered.
She said: "We then heard gunfire and sparks, flashing. We realised what was happening and the crowd fell to the side.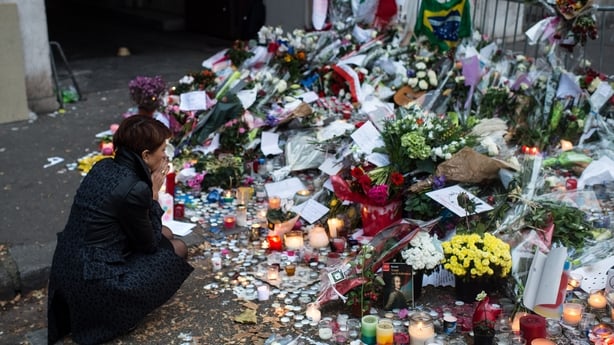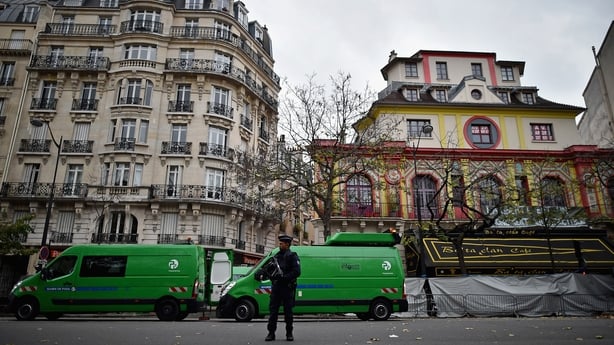 "Everybody got up to run and the gunshots started again, so we lay on the ground among the bodies of everybody who stayed with us and just played dead."
She said they lay on the ground among the bodies of everyone who had stood with them and they played dead.
Ms Healy said they were not sure at what point that David was shot.
She said: "It became quiet and you could hear everybody moaning, then single shots started to fire, and we realised the gunmen were walking around killing everyone who laid with us.
"We saw the foot of a gunman who walked past us, and we said our goodbyes, and we realised what was about to happen to us. Someone opened the door somewhere and we just ran."
She said that David was not able to run - he had not told her he had been shot. She thought he was just in shock.
She said she dragged him for as long as she could until she found a group of French people who helped them. She said at that point they ran together.
Ms Healy said they managed to get out onto the street and found people who could help.
"Eventually, a kind girl let us into a gated apartment and she started to tend to David's wounds. Eventually we found safety by getting into a lift up to a high floor."
They went up to an apartment where there was a doctor. The doctor was then able to treat David as best he could with limited supplies.
Ms Healy said David has now had surgery and he is doing as well as can be expected. He now needs further surgery which he will have when he arrives home in Ireland.
She said: "David took me to Paris, a beautiful city and that's how I'll remember it. We had a great time at the concert before this happened.
"That's what we'll try and hold onto but we will never forget the people who died."
Katie Healy tells RTÉ News both her and her boyfriend are 'beyond lucky' to survive Paris terror attacks https://t.co/j7pwAjCcHT

— RTÉ News (@rtenews) November 16, 2015