The UK and the United States have both said there is a possibility that Saturday's plane crash in Egypt was caused by an explosive device on board the aircraft.
A specialist British team has been sent to assess security arrangements at Sharm el-Sheikh after fresh intelligence led Downing Street to declare that the Airbus plane "may well have been brought down by an explosive device".
All 224 people on board - mostly Russian tourists - were killed when the Metrojet flight bound for St Petersburg from Sharm el-Sheikh came down in the Sinai desert 23 minutes after take-off.
Flights due to leave the resort for the UK were suspended this evening.
The nature of the crash and the lack of an SOS call have fuelled speculation that it was caused by a bomb or missile.
A US official said it is "highly possible" that a bomb exploded on board the plane.
"A bomb is a highly possible scenario," the official told AFP. "It would be something that ISIL would want to do," he added, using an alternate acronym for the so-called Islamic State group.
But the official cautioned: "I am not saying it's a definitive statement of what happened."
The Egypt branch of IS has claimed responsibility for bringing down the airliner, without saying how it did so.
The Irish Aviation Authority has instructed Irish airline operators not to operate to or from Sharm el-Sheikh airport or in the Egyptian Sinai Peninsula airspace until further notice.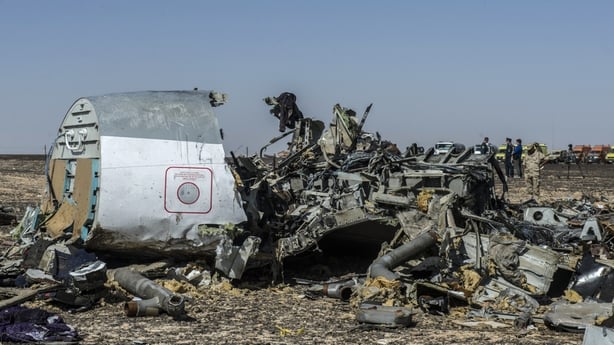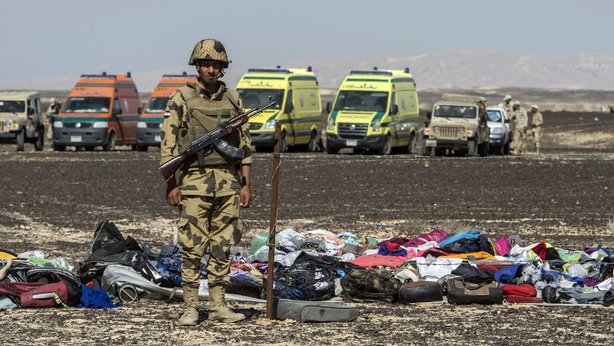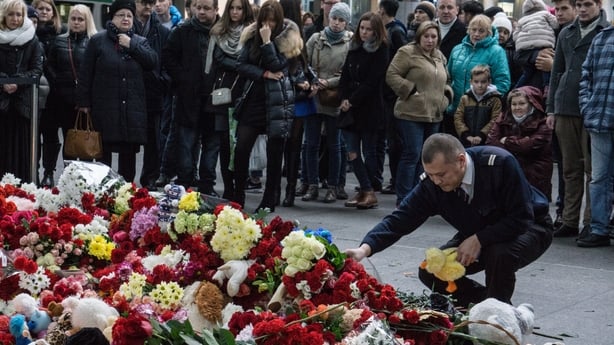 It said an update will be issued when further information becomes available.
There are no Irish flights leaving for Sharm el-Sheikh until Christmas.
The Department of Foreign Affairs urged Irish citizens in Sharm el-Sheikh to exercise a high degree of caution and avoid travelling outside the resort.
Earlier, the department said said Irish people due to travel to Sharm el-Sheikh should make contact with their tour operator and be aware of the direction issued by the IAA.
It also said people should be aware that other aviation authorities may issue similar instructions, which may affect scheduled flights.
British Prime Minister David Cameron spoke to Egyptian President Abdel Fatah al-Sisi last night to discuss security measures at Sharm el-Sheikh's airport.
British Foreign Secretary Philip Hammond said the government is advising against all but essential travel through Sharm el-Sheikh airport.
Mr Hammond said the decision to close down flights to the airport had been taken "very reluctantly" and praised Egyptian authorities for "moving heaven and earth to meet our demands on the ground".
Stranded passengers would be returned to the UK, he said, but reassured others out there that the popular Red Sea resort itself was still considered safe.
Mr Hammond said the emergency Cobra meeting of senior ministers and security officials "reviewed all the information that we have available from a range of sources" about the plane crash.
"As a result of that review we have concluded there is a significant possibility that that crash was caused by an explosive device on board the aircraft."
Earlier, investigators from Ireland's Air Accident Investigations Unit said data from the Flight Data Recorder has been extracted and will be now analysed.
However, the Cockpit Voice Recorder was partially damaged in the crash and a "lot of work is required in order to extract the data from it".
Egypt is leading the investigation into the crash with assistance from Russia, Ireland, France and Germany.
Thomson Airways confirmed it has cancelled all outbound flights to Sharm el-Sheikh up to and including 12 November.
British Airways said flights to and from the resort would probably be delayed by 24 hours.
A spokesman said: "The safety and security of our customers and crew is always our top priority. We would never operate a flight unless it was safe to do so."
EasyJet said it had cancelled its flights to and from Sharm el-Sheikh tomorrow and would keep future flights "under review, pending further advice from the government.