Web Summit co-founder Daire Hickey has said that comments made by Paddy Cosgrave earlier today were borne out of "some frustration".
Speaking on RTÉ's Six One News, Mr Hickey said Mr Cosgrave is an entrepreneur who cares about his product and his experience and that delegates have had difficult experiences over the years.
He said the Taoiseach had offered to mediate on behalf of the Government, but ultimately "it came to nothing".
Mr Hickey said it was never intentional for the Web Summit to leave Dublin and that organisers would have been happy to forgo money "on the table" from the Portuguese government if the Government was happy to help with hotel prices and traffic management.
Speaking on RTÉ's Morning Ireland, Mr Cosgrave said the event "got too big" for Dublin city and organisers needed to find a bigger home for it.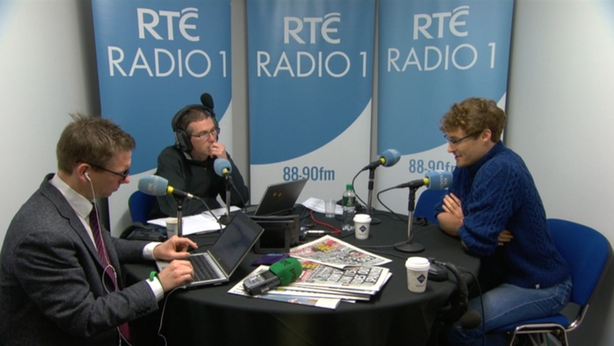 There have been tensions between him and the Department of the Taoiseach which centred around a number of requests Mr Cosgrave made which he felt were not delivered satisfactorily.
Mr Cosgrave said he believes the Government has used the controversy around the Web Summit as a convenient way to distract attention from other negative press such as homelessness.
He said that in past years, ministers from other countries had flown into Ireland voluntarily to attend the summit for trade opportunities.
However, he said that he had no record of any Irish minister ever meeting with a high-level delegate and that the Government had never taken advantage of the opportunities the Web Summit provided for small businesses.
Mr Cosgrave said he believed State funding given to the summit was nothing more than "hush money" to make sure organisers gave the Government positive press coverage.
He added that he believed Dublin was a great city to hold the summit in and believed it could be held again there again in the future.
This year's Web Summit is expected to attract 42,000 attendees to the RDS over the course of the next three days, with delegates coming from 134 countries.
Watch: Web Summit Interviews by RTÉ's Will Goodbody
400 people attended the first Web Summit in Dublin in 2010 and since then it has grown massively.
30,000 delegates from 134 countries are coming to the main event this year, with a further 12,000 expected at free public events in the evenings.
1,000 speakers will take part, including founders of and representatives from global companies including Instagram, Tinder, Pixar, Stripe and Ford.
They will address 21 summits across a variety of topics, including sport, health tech, fashion, money and marketing.
They will be joined by 1,000 investors and 1,200 media personnel from around the world, all looking for the next big thing among the 2,000 start-ups.
But overshadowing this year's event is the reality that this is the last in Dublin for the foreseeable future.
The Web Summit is moving to Lisbon from next year for three years.
Handy secures €50m in new funding
Irish entrepreneur Oisin Hanrahan has secured a $50m funding deal for his US-based start-up company Handy.
Handy is a website which connects people looking for household services, including home cleaning and handyman services, with pre-screened independent service professionals.
In Dublin for the Web Summit, Mr Hanrahan said the new funds funds will be used to expand the company's presence around the world. It currently has operations in 33 cities in the US, Canada and the UK.
"With this recent funding round, we will continue to increase our presence in each of our cities, offer more home services and improve the platform to continue to deliver the experience that the hundreds of thousands of people using the platform have come to expect of us," he stated.
The new funding comes from Fidelity, which joins Handy's existing investors - TPG Ventures, General Catalyst, Highland Capital and Revolution Growth.
Earlier this year the company said it had surpassed one million bookings worldwide, 80% of which were by repeat customers booking with Handy on a regular basis.
The company was set up by Mr Hanrahan along with co-founder Umang Dua in 2012.