President Michael D Higgins and Taoiseach Enda Kenny joined thousands of mourners and gardaí in Blackrock, Co Louth for the State funeral of Garda Tony Golden this afternoon.
Garda Golden, a father-of-three, was shot dead on Sunday evening as he went to the aid of a woman who was the victim of domestic violence.
Among the thousands paying their respects were 4,000 serving and retired gardaí, over 2,000 in uniform.
Garda Golden was remembered as a happy man, proud to serve, a role model for the community - and by his brother Patrick as a "big gentle giant".
In his homily, chief celebrant parish priest Father Pádraig Keenan told the congregation that the killing of Garda Golden was "cold-blooded murder".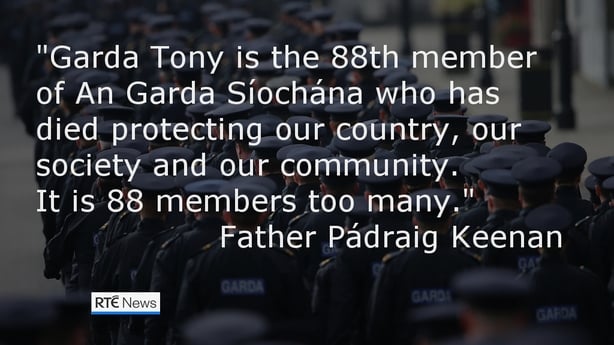 He reminded the mourners that Garda Golden was the 88th garda to die in the line of duty.
He said: "It is 88 members too many. He like all the others is mourned by the entire nation.
"His murder brings to mind once again all the families and communities that have been affected on our island."
Fr Keenan said: "Garda Tony's death once again reflects how north Louth and the Cooley Peninsula have been affected by the tragic history of the Troubles on the island of Ireland, and especially the murder of Detective Garda Adrian Donohoe, three years ago at Lordship Credit Union in Bellurgan."
He said that too many hearts have been broken and too many lives shattered.
There is no place for violence in our society, violence is wrong, always wrong, he said.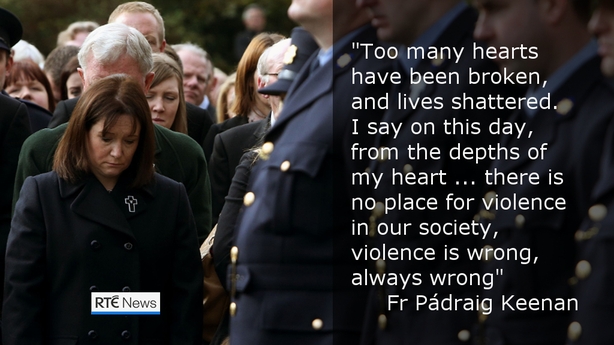 Fr Padraig Keenan pays tribute to Garda Tony Golden at his State funeral https://t.co/8PCzuDzpVd

— RTÉ News (@rtenews) October 15, 2015
He referred to Garda Golden as one of life's gentlemen.
Fr Keenan began the funeral mass by saying that Garda Golden quietly let "his light shine in so many ways through his life in a very humble way".
"Amidst our sadness may we be thankful for the charisma of his beautiful but too short life."
The stillness of the water across from the churchyard in Dundalk Bay mirrored the silence and sadness that has unfolded on everyone since the weekend, he told the congregation.
"Tony was so proud to serve the community of Omeath," he said.
"As one person from Omeath put it to me in recent days, he was 'our garda', and to a person amongst his family and colleagues, all are immensely proud of Garda Tony and his selfless nature.
"Proud of everything he lived for, worked for and stood for. Tony Golden was a much-loved role model in our community."
Symbols including a family photograph were taken to the altar in memory of Garda Golden.
A club jersey and hurley from the Stephenites GAA club in his native Ballina, Co Mayo, represented his roots and love of sport.
A television remote control, a soft drink, a bar of chocolate and packet of crisps were offered to recall his cherished "time out".
Garda Golden began his final journey this morning from the home in the village of Blackrock he shared with his wife Nicola and their three young children Lucy, Alex and Andrew.
The funeral cortège was led by the Garda Commissioner, while thousands of gardaí escorted their colleague into his parish church, St Oliver Plunkett's for the funeral mass at 12pm.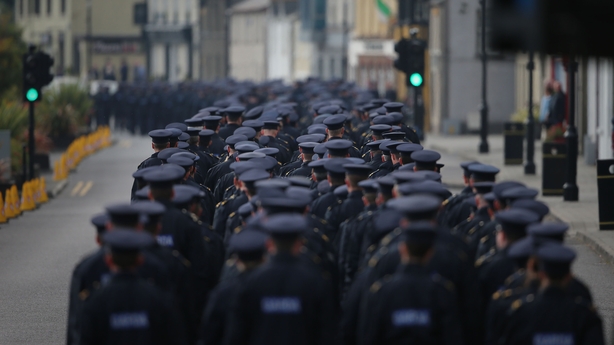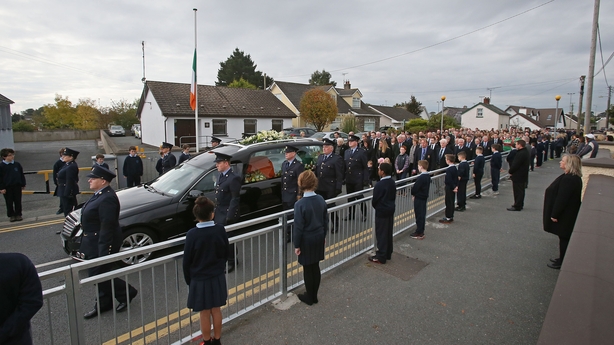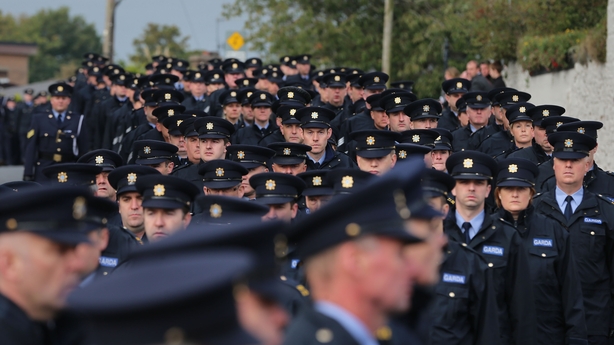 Images: State funeral of Garda Tony Golden
Other dignitaries attending Garda Golden's funeral were Garda Commissioner Nóirín O'Sullivan and PSNI Chief Constable George Hamilton, as well as political representatives from all parties.
Fr Keenan was joined on the altar by the vicar general of the Armagh diocese Dean Colum Curry, who represented the Primate of All Ireland, Bishop Eamon Martin.
As well as the chaplains to the Garda and the Defence Forces, Bishop John Fleming and Father Gerard O Hora travelled to the funeral from Mr Golden's home county of Mayo.
Screens had been erected in the grounds and the village to relay the service to those outside.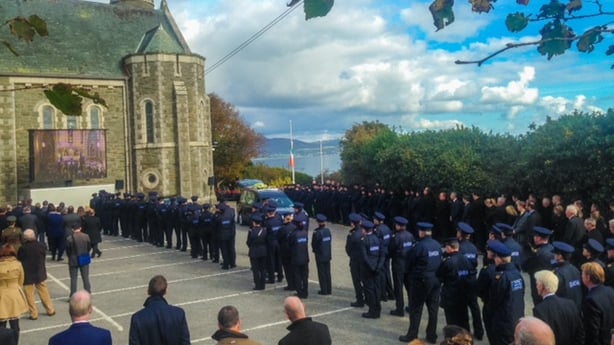 Businesses shut down along the route as a mark of respect during the funeral. Roads around the village were sealed off for several hours.
Garda Golden will be laid to rest at St Paul's Cemetery Heynestown.
He was killed as he was bringing Siobhan Phillips to her home to retrieve her personal possessions.
Ms Phillips was also shot in the incident and remains in a critical condition in hospital with her family at her bedside.
Gardaí grief-stricken and numb - GRA
President of the Garda Representative Association Dermot O'Brien has said members of the gardaí from all corners of Ireland were travelling to Co Louth to pay their respects to a former colleague today.
He said they were grief-stricken and numb.
Mr O'Brien said everyone will reflect in their own way and that the realisation has struck that Garda Golden was murdered doing "a bread and butter type call".
"They are going to ask themselves, those that attended the same type of call on Sunday that it could have been them. These are very similar calls that a lot of members did on Sunday and they will sit back and reflect on what happened to Tony as they responded to a similar call."
Mr O'Brien said he has been talking to Garda Golden's unit in the last few days and while they are coping, they are not well.
"They are angry, grieving and disillusioned because today they have to bury a second friend, a murdered friend, a second murdered colleague."
Father Michael Cusack also spoke of the pain and anger expressed by members of the garda force he met following Garda Golden's death.
Speaking on RTÉ's Sean O'Rourke, Fr Cusack said it was a very difficult day and week for gardaí.
He said a lot of care needs to be offered to the members of the force and that there needs to be appropriate follow-up care given.