It is understood the State funeral of Garda Anthony Golden, shot dead while on duty in Co Louth yesterday, will take place on Thursday.
The 36-year-old father of three was shot and fatally injured while responding to a domestic abuse case at a house near Omeath yesterday evening.
The gunman then took his own life.
The deaths are being treated as a murder suicide.
A woman was also shot during the incident, she is in a critical condition at Beaumont Hospital in Dublin.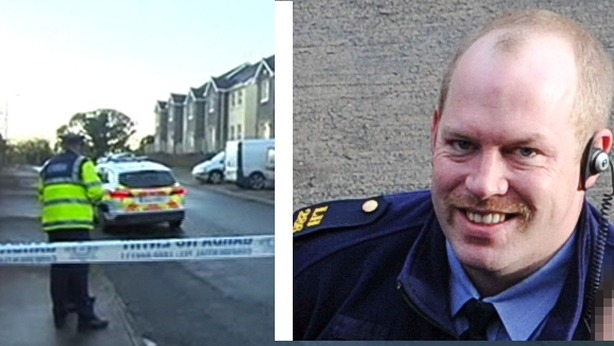 The Garda Commissioner, Nóirín O'Sullivan, visited the community garda's home and Omeath Garda Station this evening.
She was accompanied by the Garda Chaplin Fr Joe Kennedy.
Community in mourning over the murder of Garda Anthony Golden
Meanwhile a local councillor has said that the people of Omeath are devastated by the murder of Garda Golden.
Mark Deary, a Green Party councillor from the village, told RTÉ's Six One News that people's hearts go out to Garda Golden's wife and children, as well as the wider community in his native Co Mayo.
Cllr Deary said his personal thoughts are with the woman who was injured in the incident, and said his family would like to express their profound sense of gratitude at the actions of Garda Anthony Golden and his support for her.
When asked about whether border counties are still dealing with the legacy of the Troubles that has not been addressed, Cllr Deary said that he believes that to be the case.
He said it is the bitter fruit of those times and that a new generation has been affected by a cult of futile violence that achieves nothing, and the consequences are here to be seen.
He said it is important to discuss what has happened in terms of the troubles challenging that myth that something can be gained out of this, adding that politicans and republican leaders need to be involved in that conversation until there is an end to violence. 
Louth Fine Gael Councillor and former Special Branch detective Richie Culhane told the same programme that while gardaí go to domestic violence scenes on a daily basis, this shooting has been an absolute tragedy.
Cllr Culhane said both the local community and members of the force are traumatised following the murder.
The councillor said it is hard to say whether such incidents can be avoided, because it is hard to legislate for someone producing a firearm when an unarmed member of the force arrives at the scene.
However, he added questions will be asked about whether Garda Golden should have attended the scene on his own and whether he knew the gunman was dangerous and volatile. 
He said that the Louth area remains very dangerous for gardaí to work in and members of the force need to be protected when carrying out their job, saying extra resources need to be looked at. 
President of the Garda Representative Organisation Dermot O'Brien has said the force has descended into "a darkness" following the murder of Garda Golden.
Speaking on RTÉ's Morning Ireland, Mr O'Brien paid tribute to Garda Golden saying: "He was a fine member of An Garda Síochana but besides that he was also a husband, a father and a son."
The gunman, who has been named locally as Adrian Crevan Mackin, 24, was known to gardaí as a dissident republican who was facing charges before the Special Criminal Court and was out on bail.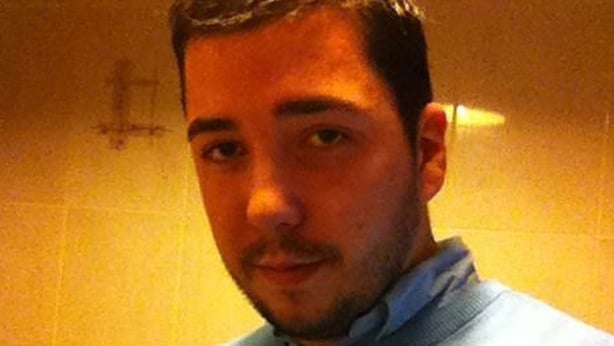 Garda Golden was stationed at Omeath and lived in Blackrock in Co Louth. 
The scene of the shooting remains sealed off this evening as the investigation continues.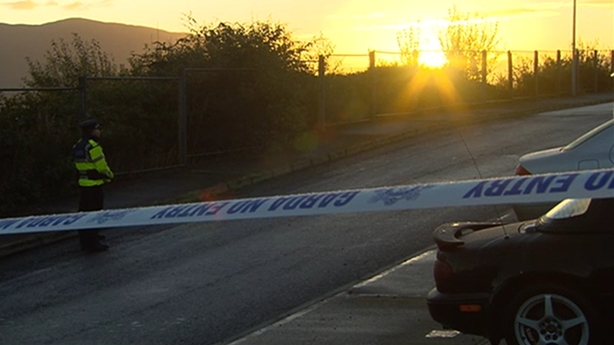 Mr O'Brien said the same unit that responded to Adrian Donohoe's killing responded to the scene last night. 
He said: "It is very difficult to attend the scene of a murder. But (to attend) one where your colleague has been killed in a cold blooded murder because you still have to continue on with your job. You have to preserve the scene, you have to inform the family.
Mr O'Brien said being a garda was a hugely dangerous job. He said issues would be urgently put to Minister for Justice Frances Fitzgerald. 
The shooting, the second such incident in Co Louth in the last three years, has according to the Government, gardaí, and some Opposition politicians, once again highlighted the dangers gardaí face in the course of their duty.
Flowers outside Omeath Garda station. Garda colleagues are gathered inside. A book of condolence has been opened. pic.twitter.com/fyfYQUk4WB

— Sinéad Hussey (@SineadHus) October 12, 2015
The Association of Garda Superintendents has extended its deepest sympathies to "the wife, children, family and colleagues" of Garda Golden.
In a statement, AGS General Secretary Denis Ferry said "out thoughts and sympathies are with everyone affected by this tragic incident over the coming days."
The Association of Garda Sergeants and Inspectors also offered condolences to the family of the deceased garda.
Deputy General Secretary of the AGSI John Jacob described the events as "the ultimate sacrifice in the line of duty". 
"We are reminded that our colleague left his home to do his job. There are no words to describe the loss felt among the garda family," he said. A local Councillor and former Special Branch Detective said the death of Mr Golden was "absolutely tragic".
Vice President of the AGSI Antoinette Cunningham, who trains young recruits at the Garda college, said the feeling of sadness, despair and shock there today is unbelievable.
Speaking on RTÉ's Drivetime, she said that upon talking to one young recruit, he said: "The stars fall out of your eyes very quickly when something like this happens. This is the reality."
Garda Commissioner Nóirín O'Sullivan reacts to the fatal shooting of Garda Tony Golden in Omeath yesterday https://t.co/AR6jlsX3n5

— RTÉ News (@rtenews) October 12, 2015
Speaking on RTÉ's Morning Ireland earlier, Mr Culhane said the killing points "to the fact that the Louth division still remains a very dangerous place to work for members of the force."
He said: "the force will be reeling today from the murder of another one of their colleagues" and I know there will be questions asked in relation to how a Garda can go to a house "on his own, unarmed to a house" where "a suspected terrorist" was residing.
Mr Culhane said: "With the knowledge that this individual had been before the Special Criminal Court, charged with membership of the IRA, this would have been an indication to members that you would not go there on your own for obvious reasons".
---
Further reporting from Paul Reynolds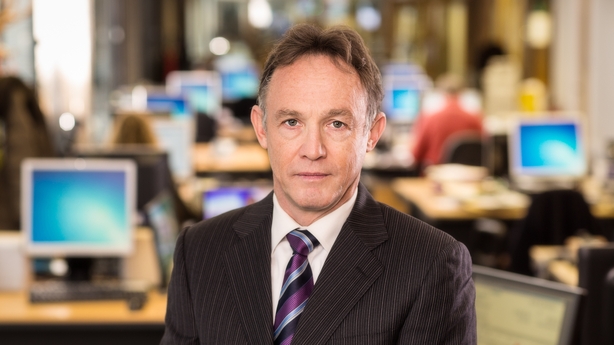 Garda Anthony Golden was one of three gardaí attached to Omeath garda station and had been stationed there for five to six years.
Garda Golden was 36 years of age and a father of three – all under the age of eight. Originally from Co Mayo he served for a time in Cabinteely in Dublin before he transferred to Louth.
He was an active, popular garda in the local community and he was active in raising money for good causes – particularly raising money for cancer.
His death has had a devastating impact not just on his immediate family and friends but on the local community in Omeath and the gardaí in Co Louth, coming so soon after the shooting of Adrian Donohoe in January 2013.