President Michael D Higgins has led tributes to the playwright Brian Friel, who has died at the age of 86.
Speaking on RTÉ's Today with Sean O'Rourke, the President said that he heard of Friel's passing with enormous sadness.
He said that his contribution to Ireland was immense, that he was a giant of theatre and Irish literature and thought.
"I found him to be warm, a great friend, full of generosity and care ... very, very good company."
The President said that Friel was at the heart of huge cultural debate and will be missed everywhere and that he was central to Irish artistic life.
He extended his sympathy to the writer's wife, Anne, and said that he leaves such a big, big gap.
He said that he will never be forgotten and his works will go on and on.
President Higgins said that Translations was one of his favourite plays, but that there were many great plays.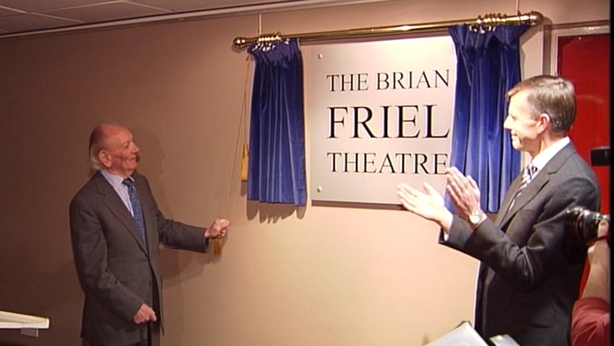 Theatre director Noel Pearson described Friel as "extraordinary". The two worked frequently together and their best known collaboration was Dancing at Lughnasa.
Also speaking on RTÉ's Today with Sean O'Rourke, Mr Pearson paid tribute to the man he described as "one of his oldest friends".
"He was extraordinary. Once you were loyal to the script that's all he cared about. He was such a gentle man, he loved the theatre, he lived for the theatre.
"I tried to get him to write a screen play, he wasn't interested. It's hard to explain, a man from this little village in Donegal, he produced work that had such an attraction all over the world."
"It's a terrible day, I was up there a couple of weeks ago, four or five weeks ago and he wouldn't take the chemo because he said he was too far gone and he said: 'What the hell' and he lit up a cigar.
"We had a great lunch and a chat about this, that and the other and I said I'd see him in a couple of weeks and now I won't see him in a couple of weeks."
Friel 'remade himself two or three times' during course of his career
Irish poet, novelist, and critic, Seamus Deane has said Friel was a "great playwright" and a "great friend". 
He told RTÉ's News At One that Friel was unique in that he remade himself two or three times during the course of his career as a particular kind of dramatist. 
Mr Deane said he was extremely private and almost contemptuous of those who sought the limelight.
He said that he was happiest smoking his cigar, drinking whiskey and talking to his friends and he went to considerable trouble not to be interviewed and not to become a talking-head.
Mr Deane said the stage was his arena, not the radio, not the television. 
He said Friel always had a discounting attitude to almost everything: "'Success today is failure tomorrow. Success is only the postponement of failure', you know that kind of remark was associated with him and something which he genuinely believed".
Recognised by peers as a 'giant of Irish literature' 
Aosdána, the State-funded artist's association of which Friel was a member, said it was deeply saddened to learn of his passing.
It said: "As a playwright and prose writer of genius his scope was enormously wide: he probed the great national, political and cultural dilemmas of our time unflinchingly and with intense passion but he always did so with tenderness for, and from the standpoint of, the embattled individual.
"His colleagues in Aosdána recognised his stature as a giant of Irish literature by electing him to be a Saoi in 2006, an honour limited to only seven artists in the country.
"Music was important to Brian personally; his art aspired to the condition of music. Now that he has died we can begin to see his work as one huge but intimate symphony. As an artist he is irreplaceable.
"Ní bheidh a leithéid arís ann."
Friel's work - 'the extraordinary within the ordinary'
Theatre director Patrick Mason, who also worked with Friel, described the playwright's death as "a huge loss".
"He was a master playwright and his scripts were things of extraordinary beauty. He wrote extraordinarily complex and beautiful plays."
Director of the Abbey Theatre Fiach Mac Conghail said "the Irish nation and world theatre community is grieving the loss of an extraordinary and major playwright of our times".
Mr Mac Conghail said he considers "Brian Friel to be one of Ireland's greatest nation builders who forensically interrogated and challenged the establishment of the Republic of Ireland".
He "understood the power and ambiguity of memory in developing a sense of who we are as a people," he said.
Artistic Director of the Gate Theatre Michael Colgan said the death of Friel "marks the end of an era". 
Also speaking on Today with Séan O'Rourke, Mr Colgan praised Friel for his accomplished career.
"We can say with our hands on our hearts that we'll never see his like again, and more clichés but they're all true on this occasion, it is the end of an era.
"He was the master playwright. I think unquestionably he was the greatest playwright of the 20th Century. I think Faith Healer was probably the greatest play of the 20th Century, and as Noel [Pearson] was saying, he was an extraordinary man.
"The critic Philip Arthur said about Brian once: 'the extraordinary within the ordinary'."
Speaking on RTÉ's Six One Mr Colgan said Friel was a "brave, courageous, lovely, lovely man and he was one of my best friends. We will all miss him, but the great thing is he left us these gifts - plays that will be seen by generations to come."
Friel's work 'spoke to each of us with humour, emotion and authenticity'
Taoiseach Enda Kenny said: "The nation and the world have lost one of the giants of theatre.
"His mythical stories from Ballybeg reached all corners of the world from Dublin to London to Broadway and onto the silver screen.  
"The consummate Irish storyteller, his work spoke to each of us with humour, emotion and authenticity."
Tánaiste Joan Burton said: "He will be remembered internationally as a leading playwright and at home as one of our truly great writers who brought Irish theatre and arts community to the international stage.
"In Philadelphia, Here I Come! the central character's alter-ego famously warns him about collecting miserable memories and images and impressions. In stark contrast, Brian Friel has left us with a life's work of the most remarkable memories and images and impressions."
Minister for Arts, Heritage and the Gaeltacht Heather Humphreys expressed her sympathy.
"Brian was one of our truly great playwrights and was a household name, not only here at home but on the international stage as well.
"Through his writing he brought Ireland, and particularly Donegal, to the world."
Fianna Fáil leader Micheál Martin said: "Today is a truly sad day for Irish cultural life. We have lost an iconic figure and tremendous artistic craftsman.
"Brian Friel's plays have been read and loved by generations of Irish people and relished by audiences across the world. His contribution went beyond the arts, having served in the Seanad from 1987-1989." 
Sinn Féin's Gerry Adams said: "Much of Brian's work dealt with societal change in Ireland, culture, language and Irish identity.
"A humble man, he was also a national treasure and a truly unique individual."
The Arts Council said that since his international breakthrough with Philadelphia, Here I Come! in 1964, "Friel has earned himself a deserved place at the top table of world playwrights". 
Chair of the Council Sheila Pratschke said: "Brian was an inspiration to Irish playwrights, actors, directors and theatre makers.
"It is the mark of the man and his achievement as a writer that his work is conjured by use of his surname only. His legacy is a truly remarkable canon of work - work which has already achieved classic status in his lifetime, and which will go on to be produced for many years to come."
The Irish Writers Centre released a statement saying Friel's "impact has extended beyond the realm of writing, both at home and abroad." "The loss of this unrivalled playwright will reverberate across nations and down through the generations" it said.
Noel Curran, Director-General of RTÉ, also paid tribute to the late playwright. In a statement this afternoon Mr Curran said: "Brian Friel's contribution to the arts, in Ireland and beyond, was inestimable. His plays shone a penetrating light into our identity and culture, and his connection with his audience was always powerful and real."
"His work was frequently adapted by RTÉ Radio 1's Drama on One, and screened on RTÉ television. The man, and his work, were a constant source of discussion, analysis and review across RTÉ's arts output - the scale of his enduring legacy will undoubtedly be in evidence in the coming days" he said.
Irish writer Seamus Deane also paid tribue to Brian Friel: