Tánaiste Joan Burton has said she is confident Labour will find a political pathway to deal with the Eighth Amendment, if they are returned to government with Fine Gael.
She said her party will include repealing the amendment in its election manifesto.
Asked if she will be able to persuade the Taoiseach to hold such a vote, she said there was no particular commitment on the X Case legislation four-and-a-half years ago and there were not many public advocates in Fine Gael or other parties in respect of marriage equality or the ABC case.
She added that Labour had found a pathway and that has been their contribution to Irish politics.
She said she would be totally confident they will be able to address the Eighth Amendment issue as well.
She was speaking as thousands of people took part in a march in Dublin City Centre organised by the Abortion Rights Campaign.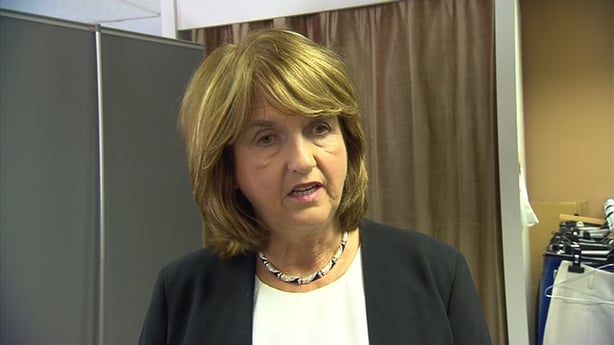 The Life Institute, which opposes abortion, said only a minority of people support abortion on demand.
The fourth annual march organised by the Abortion Rights Campaign called for free, safe and legal abortion in Ireland and for the repeal of the Eight Amendment.
Thousands assembled at the Garden of Remembrance and marched down O'Connell Street to Liberty Hall and on to Merrion Square.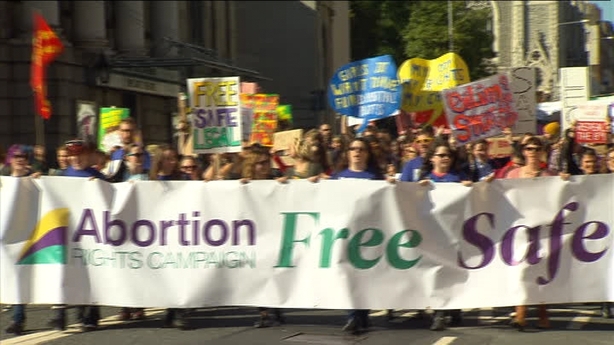 The rally was supported by Amnesty Ireland, a number of trade unions and thousands of women and men.
Separately, Taoiseach Enda Kenny has said Fine Gael will not commit to holding a referendum to repeal the Eighth Amendment, if returned to government, without considering what would replace it.
March moving down Parnell Street #rtenews pic.twitter.com/h2lf66Zpap

— Joe Mag Raollaigh (@joemagraollaigh) September 26, 2015
A spokesperson for the Pro Life Campaign said organisers of the march are in "absolute denial regarding the hurt and heartbreak caused by abortion for many women".
Dr Ruth Cullen said: "The pro-choice side are behaving as though they have a monopoly when it comes to the experiences of women who have had abortions.
"Sadly, there will be no time set aside at today's march for the stories of the thousands of Irish women who travelled abroad for abortion and deeply regret their decision.
"Nor will there be any mention of the thousands of Irish women who came very close to taking the advice of pro-choice counsellors to opt for abortion only to change their minds at the last minute.
"These stories about the lives saved as a result of Ireland's legal protection for the unborn deserve to be heard as do the stories of abortion regret.
"It's very easy to attack the Eighth Amendment if you also purposely block out all the positive effects of this life protecting provision."