United Nations Secretary-General Ban Ki-moon has urged European leaders to ensure refugees and migrants are treated properly as many of them have endured arduous journeys to flee persecution, conflict and human rights abuses.
His spokesman said Mr Ban has "followed with increasing concern the closing of some borders in Europe, as well as the lack of proper reception facilities".
He has also raised concerns about the "increased use of detention and criminalisation of irregular migrants and asylum seekers," Stephane Dujarric, said.
Mr Ban has appealed to all European leaders to show leadership and compassion.
He will hold a meeting on 30 September on the challenges of the increased movements of refugees and migrants while world leaders are gathered at the United Nations.
His call comes as Hungary's parliament has approved giving the army and police sweeping new powers to prevent illegal migrants crossing the border, including giving troops the right to use weapons.
The legislation allows the army to take part in border controls, to restrict personal liberties and to use weapons as long as no loss of life ensues.
It follows new laws earlier this month making illegal border-crossing a crime punishable by jail.
European leaders will seek to find a credible response to the continent's worst migration crisis since World War II at an emergency summit this week.
German Chancellor Angela Merkel called on her peers yesterday to accept joint responsibility.
"Germany is willing to help. But it is not just a German challenge, but one for all of Europe," Ms Merkel told a gathering of trade unionists.
"Europe must act together and take on responsibility. Germany can't shoulder this task alone."
Striking a more sceptical tone on migration than in previous weeks, Ms Merkel also warned that Germany could not shelter those who were moving for economic reasons rather than to flee war or persecution.
"We are a big country. We are a strong country. But to make out as if we alone can solve all the social problems of the world would not be realistic," she told a gathering of the Verditrade union.
European Council President Donald Tusk, who chairs European Union summits, said on Twitter yesterday following a weekend visit to Jordan and Egypt that the EU needed to help Syrian refugees find a better life closer to home.
That will be one of the topics of discussion for Wednesday's summit in Brussels as hundreds of thousands of refugees and migrants brave the seas and trek across the impoverished Balkan peninsula to reach more affluent countries in northern Europe.
The 28-member bloc has struggled to find a unified response to the crisis, which has tested many of its newer members in the East that are unaccustomed to large-scale immigration.
Hungary has erected a steel gate and fence posts at a border crossing with Croatia, the EU's newest member state.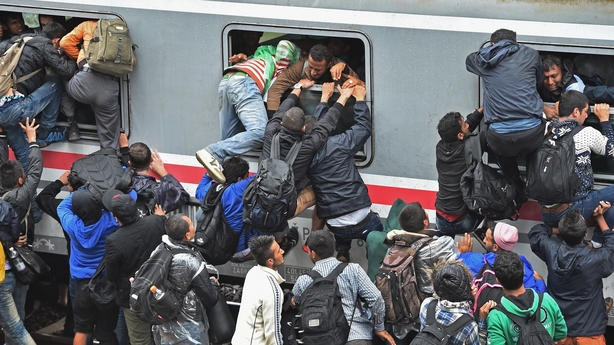 Overwhelmed by an influx of 25,000 migrants this week, Croatia has been sending them north by bus and train to Hungary, which has waved them on to Austria.
Around 10,700 people walked into Austria from Hungary yesterday, 200 more than on Saturday.
The influx of refugees, most of them fleeing war and poverty in the Middle East, Africa and Asia, has led to bitter recriminations between European governments while the temporary closure of national borders has undermined one of the most tangible achievements of the Union.
"If you don't cope with this crisis, then I think the EU will fall apart," said a senior EU official.
The official said European leaders would discuss longer-term strategies for dealing with the crisis, particularly increasing cooperation with Turkey and the countries bordering Syria to keep the millions of refugees at home.
Mr Tusk said more aid to the World Food Programme and the United Nations High Commissioner for Refugees would also be on the agenda.
EU interior ministers, meeting tomorrow, are expected to agree on a voluntary relocation scheme to redistribute 160,000 refugees from frontline states across the EU, a fraction of the total entering Europe.
French President Francois Hollande said he wanted the interior ministers to address the most difficult aspects of the migration crisis by tomorrow so that EU leaders could focus exclusively on financing at Wednesday's summit.
"I really wish all these issues to be solved by the ministers' reunion," Mr Hollande said during a state visit to Morocco yesterday.
EU ambassadors met yesterday to try to hammer out compromises ahead of tomorrow's meeting but several issues still needed to be solved and work would continue until then, said a spokeswoman for the EU presidency.
Mr Gabriel warned that the country could be overwhelmed by the 800,000 refugees and asylum seekers it expects to receive this year. Most of the migrants hope to reach prosperous Germany or Sweden.
US Secretary of State John Kerry said yesterday the United States would take in 15,000 more refugees from around the world next year, increasing the current level to 85,000, and to 100,000 in 2017.
Meanwhile, UN Secretary-General Ban Ki-moon said today he was "extremely concerned" about the treatment of migrants and refugees in Europe and called for compassion ahead of a European Union summit on the crisis.
Mr Ban appealed "to all EU leaders to show leadership and compassion" when they meet on Wednesday.
Turkish police block migrant march to border
A new march by migrants trying to reach Europe overland from Turkey was blocked by police outside Istanbul today.
Around 700 mostly Syrian men, women and children from a group that had been blocked for the past week at Istanbul's main bus station set out overnight on foot for the northwestern city of Edirne, 250km away.
After spending the night camped on the hard shoulder of the motorway, some of the refugees, who carried bags over their shoulders, managed to clamber on board buses or private vehicles.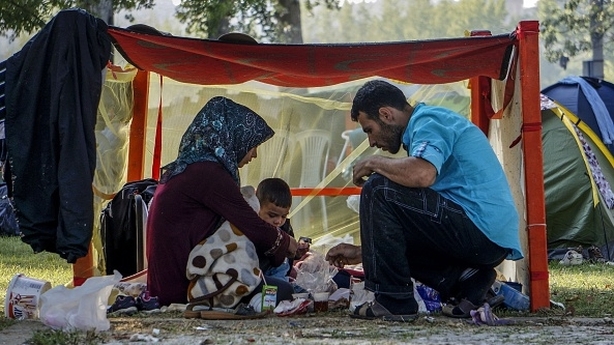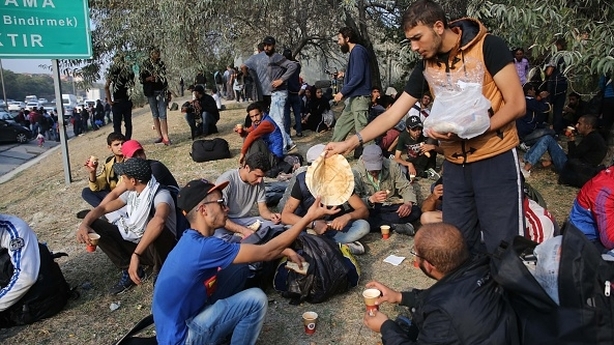 But a few hundred continued to walk along the emergency lane, in the midst of morning traffic, before being brought to a halt by police about 50km from Istanbul, an AFP photographer witnessed.
Situated around 10km from the Greek border and 20km from the Bulgarian frontier, Edirne has become a new rallying point for people trying to reach Europe.
Hundreds more who attempted to follow in their path found themselves stuck in Istanbul after bus operators, acting on orders from the authorities, refused to sell them tickets for the journey.
Edirne's governor has warned that any migrants trying to smuggle illegally into Europe through his province will be returned to refugee camps in southern Turkey.