The number of homeless families has risen by 76% since the start of the year, according to new figures from the Department of the Environment.
It comes ahead of a meeting tomorrow to be chaired by Taoiseach Enda Kenny that is due to look at the homeless issue.
Just over 400 families were homeless in Ireland at the start of the year and by August that figure had increased to just over 700, a 76% rise in just eight months.
Almost 1,500 children are now homeless, a 73% rise since the start of 2015.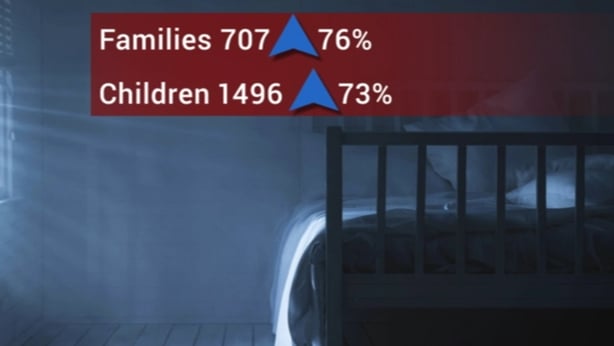 The vast majority these homeless families are in the Dublin region and more than half of them are living in hotel accommodation in the capital.
The Sub-Cabinet Committee on Social Policy tomorrow is having its first meeting since the summer recess and homelessness is due a be a key item on the agenda.
The Simon Communities in Ireland has described the figures as "disturbing".
They have called on the Taoiseach, who is chairing that meeting, to make an emergency intervention to turn the crisis around.
The Department of the Environment said it will continue to work with local authorities to deal with the challenging homeless situation.
In a statement, it said Minister Alan Kelly will be bringing proposals on rent controls to Government in the near future but warned that it raises many complex economic and legal issues.
The department said there must be a sustained and co-ordinated approach from all Government to prevent the numbers increasing further.
It said that there will be about 1,000 additional housing units for homeless people in the capital by the end of the year and the majority of those will be for families.
It said Dublin City Council is looking at commercial and industrial properties that could be converted to emergency accommodation and the potential of prefabricated housing units that were unveiled in Dublin earlier this week continues to be explored.