Pope Francis celebrated Mass in Havana's Revolution Square today and met with former leader Fidel Castro but warned Cubans against the dangers of ideology as their country enters a new era of closer ties with the United States.
Tens of thousands of people were in the square where Cubans celebrate May Day beneath massive portraits of revolutionary leaders Ernesto "Che" Guevara and Camilo Cienfuegos built into the facades of state buildings.
To welcome the pope, who helped bring about the recent rapprochement between Cuba and the United States, a similarly giant poster of Jesus Christ was hung nearby.
The 78-year-old Argentine pontiff read a mostly religious homily but sprinkled it with criticism of "elitism" and ideology.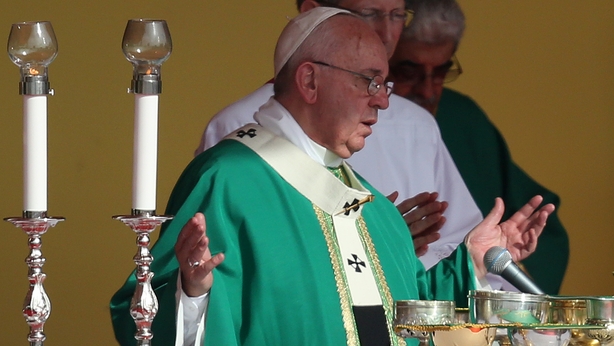 "Service is never ideological for we do not serve ideas, we serve people," he said in his homily of the Mass, which was attended by President Raul Castro and top members of the communist government.
Francis later met with Fidel Castro, who led Cuba's 1959 revolution and then built a one-party state that improved health and education services for Cubans but also limits democratic freedoms and represses dissent.
Cuban police kept some dissidents from attending the pope's Mass this morning and pounced on others apparently attempting to hand out flyers near the plaza.
In what government opponents could see as a criticism of party bureaucracy, he said Jesus' apostles foolishly argued about their rank and Pope Francis compared it to "those who climb the ladder most quickly to take the jobs which carry certain benefits".    
Pope Francis also appeared to appeal to Cubans to look after each other as the country faces social changes and economic openings.
The sun is not fully up & already there's a large crowd awaiting @Pontifex at Havana's Revolution Square @rtenews pic.twitter.com/1B7guNS6ew

— Caitriona Perry (@CaitrionaPerry) September 20, 2015
Yesterday the pontiff described the resumption of US-Cuban relations as an "example of reconciliation for the whole world" and called on political leaders to persevere.
He was speaking as he arrived in Havana last night.
Arriving at the airport in Havana, Pope Francis said he had been filled with hope to witness the normalisation of Cuban-US relations "following years of estrangement" describing it as "an example of reconciliation for the whole world".
He urged political leaders in both countries to persevere with the process.
The pope was met by the President of Cuba Raul Castro who thanked him for his support in the US -Cuba dialogue.
However he said the ongoing blockade was "cruel, immoral and illegal" and that the land occupied by the US at Guantanamo Bay should be returned to Cuba.
Mr Castro said the current international system was "unfair and immoral", adding that what "immigrants and the poor" throughout the world were currently going through was "an offence to human conscience".