Hundreds of people attended a demonstration in solidarity with refugees, which took place in Dublin City Centre.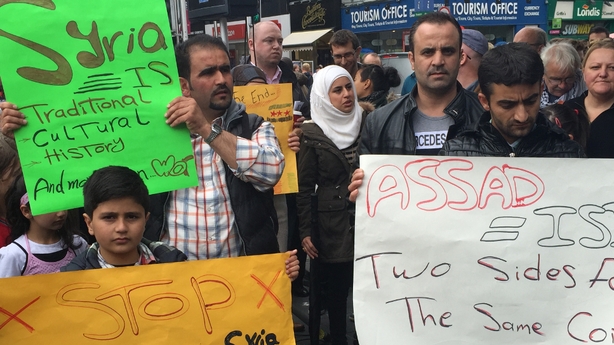 The demonstration was organised by United Against Racism and took place at the Spire on O'Connell Street.
The gathering heard from speakers from campaign groups, from the Irish Muslim Peace & Integration Council, as well as from Syrian people living in Ireland.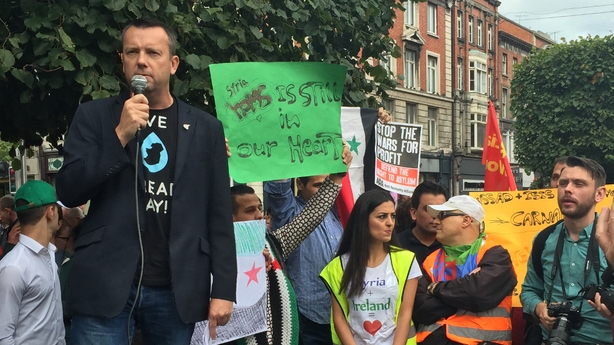 Meanwhile, in Britain, The new Labour Party leader Jeremy Corbyn addressed tens of thousands of people at a rally supporting the rights of refugees in his first act as Labour leader.
Protesters gathered throughout the day in London's Parliament Square where the newly-elected Labour leader appeared to give a speech about the refugee crisis.
Cheered on by the crowds he told the Government: "Recognise your obligations in law, that would be good. Recognise your obligations to help people which you're required to do by law, that would be good.
"But above all, open your hearts and open your minds and open your attitude towards supporting people who are desperate, who need somewhere safe to live, want to contribute to our society, and are human beings just like all of us.
"Together in peace, together in justice, together in humanity, that surely must be our way forward."
Separately, 30,000 people joined a rally in Copenhagen in favour of taking in thousands of refugees seeking shelter in Europe, police said.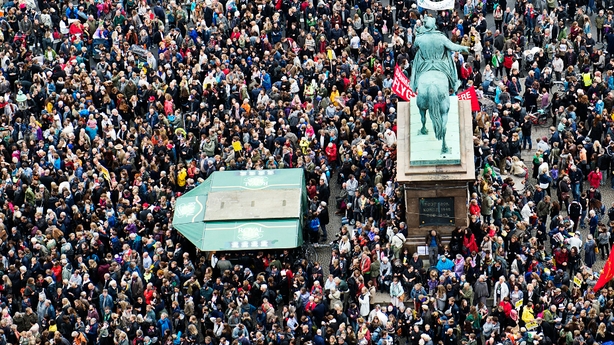 "Everything is taking place in a calm and orderly way," said a post on the official Twitter feed of Copenhagen police, indicating that roughly 30,000 people had gathered for the demonstration.
Demonstrators held up signs reading "Refugees Welcome" and "Europe is the closest neighbourhood to Syria", local media reported.
Another smaller rally took place in Padborg, a village on the German border through which many refugees have passed, where some 400 people gathered to show their support.
At the same time, a counter-demonstration in the same village drew around 150 people who called for the borders to be closed, local police said.
After briefly suspending rail links between Denmark and Germany to prevent refugees from entering, Danish police on Thursday allowed services to resume, saying they would allow people to travel without registering if they were not planning on lodging an asylum claim.
Many newcomers are hoping to reach Sweden which is seen as more welcoming and has a more generous asylum policy. For the past two years, Sweden has automatically granted a permit to stay to Syrians filing an asylum claim.
Also in Stockholm, around a thousand people gathered to express support for a more generous policy of welcoming refugees.
"Sweden can do much more, not only because it has the capacity to do so but also because it, along with the European Union, bears some responsibility for the conflict in Syria," said a 38-year-old demonstrator called Joakim, who came long with his two children.
Elsewhere, Thousands of people joined anti-migrant protests in three central European capitals after leaders from the Czech Republic, Poland and Slovakia opposed an EU scheme to fix refugee quotas.
In the Polish capital Warsaw, nearly 5,000 people, many chanting anti-Islamic slogans, marched through the city, an AFP correspondent said.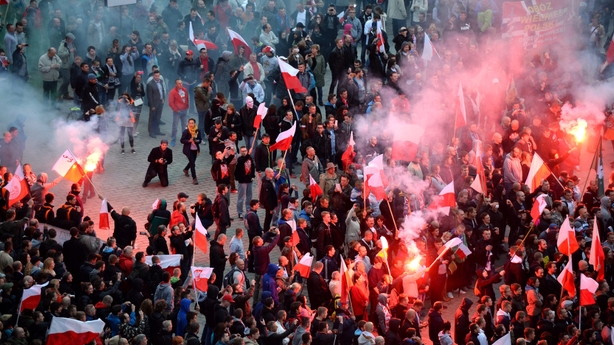 "Islam will be the death of Europe", one of the banners said.
Organisers claimed the demonstration drew 10,000 people but police refused to confirm the figure.
"We're here so that the government hears our voice and abandons any plans to welcome Muslims," one of the organisers told the crowd after starting the march with prayers which identified the participants as Roman Catholics.
Another thousand or so joined a counter-demonstration in favour of welcoming migrants to Poland, a strongly Catholic EU member state which has a population of 38 million and has seen virtually no migrants arriving, despite Europe experiencing its biggest movement of people since World War II.
Around 1,500 anti-migrant protestors also rallied in the Slovak capital Bratislava, some holding up banners reading: "You're not welcome here so go home", an AFP correspondent said.
Another said: "Multiculturalism is a utopia, don't open the borders".
The rally was organised by the far-right "Our Slovakia" party, led by Marian Kotleba.
Unlike neighbouring Austria and Hungary, Slovakia -- a eurozone member of 5.4 million people -- has seen few migrant arrivals this summer.
Police in the Czech capital Prague said some 800 people protested against the arrival of refugees and migrants, holding up banners saying: "Send them back!" and "Protect the borders".
Demonstrators called on the Czech government to resign and for a withdrawal from the European Union which it joined in 2004.
Separately, another 200 people staged a counter-demonstration in support of welcoming refugees in the Czech Republic, which has a population of 10.5 million and has seen few new arrivals in recent months.
All poorer members of the EU, Hungary, Poland, Slovakia and the Czech Republic on Friday ruled out accepting refugees under a compulsory quota system outlined by the European Commission, rejecting German pleas for European solidarity in tackling the crisis.
The European Union's 28 interior ministers are to meet on Monday to discuss a the EC plan which involves a quota system for distributing 160,000 refugees around the bloc.