Disturbing footage has emerged of the way migrants are being treated inside Hungary's main refugee camp on the border with Serbia, with images showing families fed "like animals in a pen".
The video, shot secretly by an Austrian volunteer who visited the flashpoint Roszke camp on Wednesday, shows 150 people wildly scrambling for bags of sandwiches thrown at them by Hungarian police wearing helmets and hygiene masks in a fenced-in enclosure inside a big hall.
Women and children were caught in the chaotic scrum as hungry people frantically tried to catch the bread flying through the air.
Many people too far back in the crowd climbed onto the fence, waving and shouting to get the officers' attention.
"It was like animals being fed in a pen." Secret footage from Hungarian refugee camp http://t.co/PYV9xjZBi3 https://t.co/fUTX71hsj9

— RTÉ News (@rtenews) September 11, 2015
"It was like animals being fed in a pen, like Guantanamo in Europe," said Alexander Spritzendorfer, whose wife, Michaela filmed the scenes, referring to the prison camp where the US is accused of torturing inmates.
He told AFP they had driven to Roszke to bring food, clothes and medication to help the thousands of refugees pouring over the border.
While Mr Spritzendorfer, a Vienna councillor with Austria's Green Party, was talking to a Red Cross worker, his wife watched the scene unfold and decided to film it.
"It was inhumane and it really speaks for these people that they didn't fight over the food despite being clearly very hungry," Ms Spritzendorfer-Ehrenhauser said.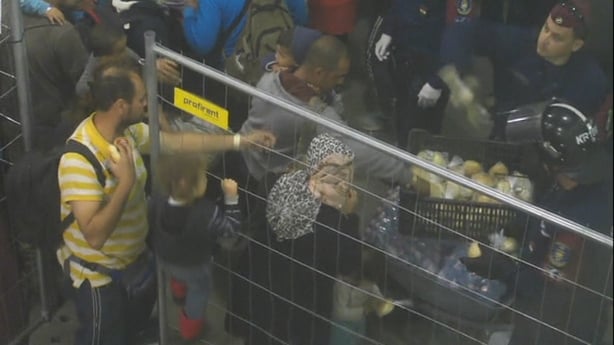 The footage, which was uploaded on YouTube late yesterday and widely shared on social media networks, had more than 20,000 views by this morning.
Hungarian police have begun an investigation.
In an e-mailed response to questions from Reuters, police said they had launched an "emergency inquiry" into the matter, describing it as a fact-finding investigation, without elaborating.
Government spokesman Zoltan Kovacs said the footage showed a detention centre where people spend only a few hours in an "optimal case" but can also remain there for up to two days in a procedure sanctioned by the European Union.
"I can see policemen who have been performing their duties for months, trying to take care of 23,000 migrants arriving continuously day by day while there is no co-operation whatsoever on their part," Mr Kovacs said in an emailed response.
"I can see they are trying to maintain order among those who are unable to line up for food," he said.
There have been growing signs this week of Hungary's inability to handle the flood of more than 170,000 people this year seeking sanctuary in Europe from war and poverty in the Middle East and Africa.
Yesterday alone, police captured a record 3,601 migrants on the border, according to data on the police website.
Refugees stranded at the border have waited days to be registered, while conditions at makeshift frontier camps are basic.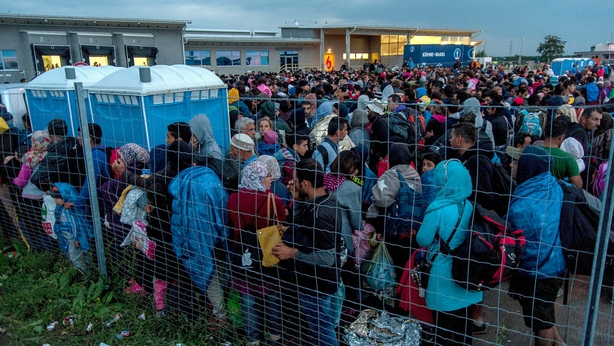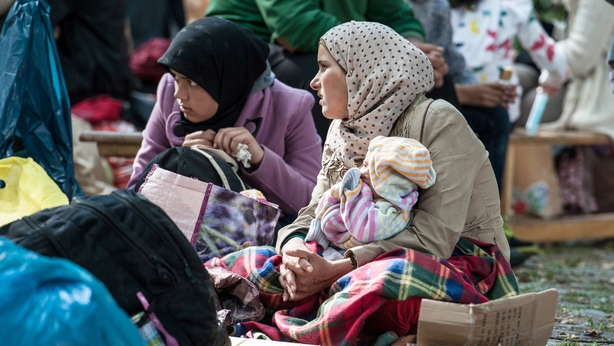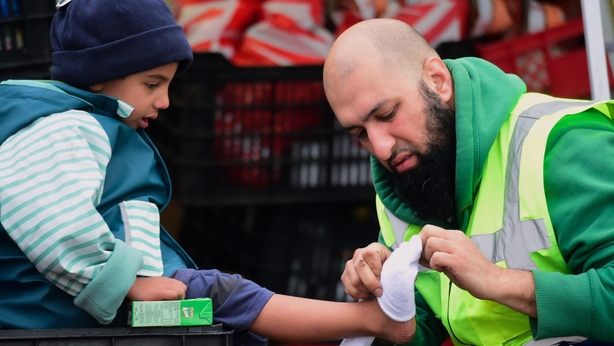 Medical care for the crowds at Budapest's railway stations has been provided entirely by volunteers.
Ms Spritzendorfer-Ehrenhauser, who works for the Austrian Catholic diocese of Sankt Poelten, told Reuters she took the footage while delivering sanitary supplies to the camp, which Reuters has not been able to enter, with the Hungarian Red Cross.
"It was around 8 o'clock and they were giving dinner to people," she said.
"There were maybe 100 people trying to catch these plastic bags with sausages ... They were not able to organise a camp and treat them like human beings."
While the United Nations High Commission for Refugees has praised the Hungarian police's handling of the crisis, police themselves have complained of being forced to work very long hours in impossible conditions.
"It is not easy at the border, it was tense at the railway station and there is no quick fix because people sometimes are angry, they are sometimes are aggressive, sometimes for good reason, sometimes for bad reason," UNHCR's Regional Refugee Coordinator Vincent Cochetel said on Tuesday.
Hungary's right-wing government in late August completed a razor-wire barrier along its 175km border with Serbia but it is not proving to be much of an obstacle for desperate people fleeing war in Syria and Iraq.
Prime Minister Viktor Orban has however ordered the building of an additional 4m high fence that he wants completed by the end of October.