A former special advisor to the late minister for finance Brian Lenihan from 2009 to 2011 has told the banking inquiry that Mr Lenihan was aware that the upfront cost of recapitalising the banks was high by international standards, but was hopeful these costs would be recouped.
In his opening statement, Alan Ahearne said NAMA played a critical role in restoring financial stability in Ireland.
Mr Ahearne, an economist and professor and Head of Economics at the National University of Ireland, played an advisory role in relation to three critical budgets that saw adjustments of €15bn at an annual rate.
In response to a question from Fianna Fáil's Michael McGrath in relation to Anglo Irish Bank and its splitting into a good and bad bank, he said he was sceptical about the "good bank" aspect.
He said that Mr Lenihan was open minded about the proposals that had been put forward by the management of the bank but was not convinced one way or the other.
Mr Ahearne said he did not see how the bank could continue on even under a new name as proposed by the management.
In relation to the wind down of the bank, he said the minister was conscious that it had to be done over a long period of time as it would have been too costly to do it over a shorter timeframe.
Mr Ahearne said the European Central Bank and European Commission were both against the burning of bondholders.
Ultimately, he said, the Troika's decision was that there would be no bailout programme available if Ireland had decided to burn senior bonds.
Mr Ahearne said the minister had no intention of burning bondholders while the bank guarantee was in place, but that he was aware that after it ran out some bonds would be exposed.
He said discussions did take place then about the burning of some bondholders, which Mr Lenihan initially saw a problem with, but he came round to the idea that in principle there could be some 'haircuts'.
He said the minister then came up with numbers that bond holders would have to take a haircut. The focus was on Anglo in relation to this.
He said the minister did not give an order to burn bondholders, but said if the opportunity arose, that it could happen.
The issue of junior bondholders was seen as a separate issue to senior bondholders. Mr Ahearne said it was seen as much easier to put subordinated debt on juniors.
In relation to the structure of promissory notes, Mr Ahearne said it was much cheaper to give Anglo government debt, whether it be regular government debt or promissory notes, as it still meant Anglo could go to ECB and borrow on the back of it.
He said the cost to the Irish State of that recapitalisation was the cost of bonds to the Irish Central Bank borrowing from the euro system, which was very low.
In response to questions from Fine Gael TD Eoghan Murphy, in relation to the purchase of loans by NAMA, Mr Ahearne said the EU had set down rules as to how loans should be priced and transferred.
He added that by doing it this way, loan by loan, it meant that pricing was much more accurate and allowed the State to see the full picture.
In relation to discussions in 2010 about a possible bailout for Ireland, Mr Ahearne said he was not aware and was not part of the discussions around a precautionary credit line for Ireland .
He said there was the risk that the country might not be able to fund itself.
He said he did not have that conversation with the minister but said the minister was aware that it was a real possibility.
Mr Ahearne said there were signs of stabilisation and it was hoped that the banks would be able to raise funding. He said if this continued it was hoped the banks would be able to get over this cliff.
Ireland's bailout could have been avoided - Ahearne
Alan Ahearne also said that a bailout for Ireland was not inevitable and could have been avoided, in his opinion, if the ECB had announced its bond buyback programme sooner.
Mr Lenihan's former advisor said when the programme, known as Outright Money Transactions (OMT), was announced in 2012, bond yields fell.
The programme would have calmed markets and yields would have fallen if it had been announced in the months before Ireland's bailout.
Mr Ahearne said Mr Lenihan never mentioned to him that ECB chief Jean-Claude Trichet had agreed to burn some bondholders, as relayed by Ray MacSharry in the book of essays about the former minister.
He said Ireland played a big part in stemming contagion in Europe and it did mean that Ireland paid a higher cost for systemic reasons.
In response to a question from Chairman Ciarán Lynch, as it whether the Troika was the material motivator in the merger and the resulting deposit transfers, Mr Ahearne said it was something that they wanted to do.
He said it made sense to him but that there were not huge benefits to it in that it put the two banks that were being wound down together and created a separation between them and the other banks.
Mr Ahearne said that was probably helpful. He said the funds needed to be in the banks that were going to continue and not in banks that were being wound down.
He said the benefits of transferring Anglo deposits to AIB in 2009 was that he did not see a future for Anglo.
He said in relation to the merger of banks, namely EBS, it provided assurance to depositors.
Mr Aheane said it did not cost a great deal nor did it have any huge benefits but there was a benefit for having a bigger bank, like AIB, behind the deposits.
He said he discussed the winding down of Anglo with the minister many times and that his opinion would have been known to Mr Lenihan, but that the minister took advice from a lot of different people.
He said the minister was open minded about it and was giving the management a chance to make their case that "you could get a good bank out of it".
Consultants defend poor estimations at inquiry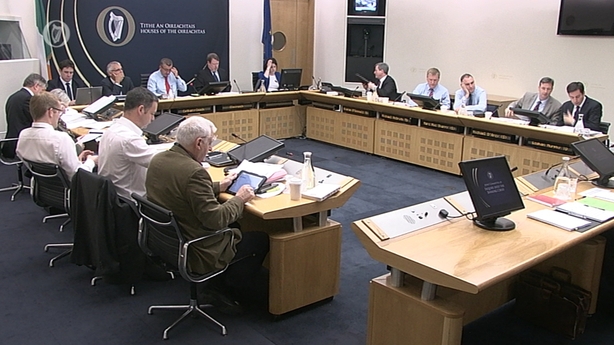 Meanwhile, consultants who vastly underestimated the eventual losses at Irish financial institutions have defended their valuations at the banking inquiry.
PricewaterhouseCoopers were engaged by the Financial Regulator two weeks before the bank guarantee to evaluate loan quality.
Former taoiseach Brian Cowen has previously told the inquiry that PwC's valuations were "hopelessly optimistic".
Independent Senator Sean Barrett asked why PwC's top estimations of losses of €10bn per year proved to be far short of the €64bn final figure.
PwC partner Denis O'Connor said personal guarantees proved not to be of any value, and that equity was not really equity and was actually borrowed from elsewhere.
He also said the estimations were done before increases in capital ratios and before the establishing of NAMA.
PwC initially looked at liquidity and their work was later broadened to an examination of the top 50 loans across the six banks covered by the guarantee.
The company was paid €2.4m for all the work across three projects.
The company found that the top ten loans across the country's six banks amounted to €17.7bn.
Everyone was very surprised by this, he said, and it was very significant information. It was also news to the Financial Regulator, he said.
Mr O'Connor said they accepted management information and were not able to carry out independent verification.
He said the quality of information relating to developer loans was "not strong" and if a PLC borrowed €20bn there would be lots of documentation, but not so for developers.
Economist says Cowen told guarantee should be limited
An economist has told the inquiry that Mr Cowen called him on the night of the guarantee to ask him what he thought of the option of guaranteeing all six banks and what the likely market reaction would be.
Alan Gray said his view was the guarantee should be time limited and the banks should be required to pay a fee.
Mr Gray is an economist with Indecon Consultants and was a board member at the Central Bank from Jnauary 2007 to 2008.
He also said banking was not discussed at a meeting in Druids Glen in July 2008 attended by Anglo Irish Bank's chairman and Mr Cowen. He added that the meeting was a mistake.
He said unemployment was certainly discussed, but banking in general or in specifics was not discussed.
He added he did not draw up an agenda. He was invited by the taoiseach to outline views on unemployment and the economy.
Mr Gray has supplied the inquiry with the notes of the presentation he says he gave on the economy.
Fine Gael TD John Paul Phelan put it to him that Fintan Drury told the inquiry nobody needed to raise unemployment at the meeting.
He said that he did not initially favour a guarantee for all six banks but as liquidity pressures increased, he viewed it as the "least worst" option.
He also outlined an approach from David Drumm and Sean FitzPatrick of Anglo Irish Bank who called at his office was 29 September 2008, just hours before the guarantee decision, to tell him the bank would not open the next day.
He said they did not ask him for anything and he told them to approach the Central Bank. He did not know why they came.
They expressed something which he said was blatantly obvious, that they were facing a major crisis.
A former head of lending at Anglo Irish Bank this evening told the inquiry that the risk function of the bank was on top of the loan book.
Tom Browne said the department was on top of its game and staffed by high quality people.
Mr Browne was MD lending Ireland until September 2007.
He said he did not see any threat to the long-term viability of the bank.
He said the mistake made was continuing to support bigger clients as they brought more projects to the bank.
All loans were subject to personal guarantees, one of the key tenets of the lending, he said.
He added that the bank looked for full transparency from bigger clients on total bank obligations.