Sinn Féin President Gerry Adams has said he is gravely concerned at developments surrounding the murder of Kevin McGuigan.
He was speaking following the arrest of three men, including the party's northern chairman Bobby Storey, in Belfast this morning.
The two other men arrested are well-known republicans Eddie Copeland and Brian Gillen.
Mr Adams said the PSNI must be allowed to carry out its investigation and described Mr Storey as a valued member of the party's leadership and a person of great integrity, adding that he had not been charged with anything.
Speaking on RTÉ's News at One, Mr Adams said the IRA, as we understand it to be, is gone and there is no rationale, logic or evidence to suggest there is any organisation in mainstream republicanism, except for Sinn Féin.

He said there is no reason why he would be telling any untruths about the "going away of the IRA".
He also said the murders of Mr McGuigan and that of Gerard 'Jock' Davison in May are being used in a contrived way in an attempt to exclude Sinn Féin, but mostly as part of the battle between the UUP and the DUP, describing it as wrong and reprehensible and politics of the lowest kind.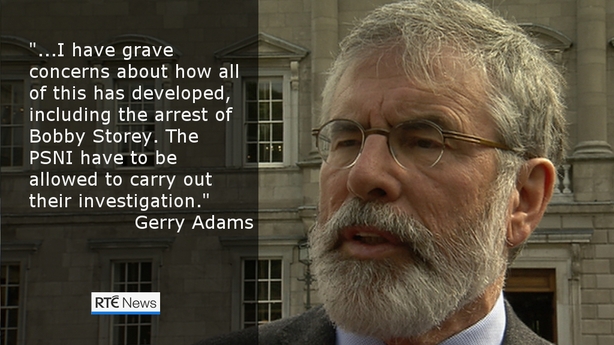 He added: "At this stage I don't want to go any further than saying I have grave concerns about how all this has developed, including the arrest of Bobby Storey."
Sinn Féin said it was its understanding that DUP leader Peter Robinson had given Northern Ireland Secretary Theresa Villiers "an ultimatum" to suspend the Stormont institutions or the party's ministers would be withdrawn following Mr Storey's arrest.
Subsequently the DUP sought an adjournment of Assembly business.
Police have questioned 13 people in relation to the murder of Mr McGuigan, a 53-year-old father-of-nine at his home in Comber Court last month, but nobody has been charged.
Sinn Féin's Justice spokesman has said that he's gravely concerned about the arrest of Bobby Storey.
Pádraig Mac Lochlainn told RTÉ's Drivetime that he personally knows Mr Storey and described him as one of the key leaders in the North in taking Irish republicans from violence to embracing the peace process.
He said that he would be shocked if Mr Storey had information in connection with the murder of Mr McGuigan.
He described those who killed Mr Davison and Mr McGuigan as enemies of the peace process.
Sinn Féin MLA Martin McGuinness said he was surprised to learn of Mr Storey's arrest and described him as a valued member of Sinn Féin's core leadership.
"He has played a leading role in the development of Sinn Féin's peace strategy and is a long standing and loyal supporter, defender and advocate of the peace and political processes.
"We look forward with confidence to his early release," Mr McGuinness said.
A Government spokesperson said the Taoiseach had contacted Mr McGuinness and emphasised the requirement and responsibility of all parties in Northern Ireland to support the institutions and engage in the current talks process.
Mr Storey is a former IRA prisoner who in recent years has been a prominent presence at Sinn Féin events and much of his party work is done from Stormont.
In the past efforts were made to link him to two crimes that embarrassed the authorities - a break-in at Castlereagh Police Station and the Northern Bank robbery.
However, Mr Storey was never charged or convicted in relation to those crimes.
Democratic Unionist Party leader Peter Robinson gave his reaction to the arrests via Twitter, saying: "These events were predicted in my statement on Monday.
"No one can be above the law. That is why we sought adjournment of the Assembly.
"We will do so again. Hopefully the UUP will support us this time rather than voting with SF for business as usual."