Hungary's government will offer to transport thousands of migrants by bus to the Austrian border in the next few hours, Prime Minister Viktor Orban's chief of staff Janos Lazar has said.
The buses will be sent to pick up the thousands of migrants at Budapest's main railway terminus and 1,200 who are walking along the main westward motorway towards Austria, he told a news conference.
"This does not automatically mean that they can leave thecountry," he added. "We are waiting for the Austriangovernment's response." 
Earlier, a group of around 500 refugees and migrants, marching on a Hungarian motorway towards the Austrian border, broke through a police barricade and continued on the main highway connecting Budapest and Vienna.
The group, mostly from Syria and Afghanistan, left Budapest's Keleti railway station this morning after authorities refused to let them travel to Austria on trains.
Many of the people in the column held up pictures of German Chancellor Angela Merkel and chanted "Germany, Germany."
The crowd included people in wheelchairs and on crutches, as well as parents carrying children on their shoulders.
"We are very happy that something is happening at last, The next stop is Austria. The children are very tired, Hungary is very bad, we have to go somehow," one man from Syria told AFP
They were part of an estimated 2,000 migrants stuck in makeshift refugee camps at Keleti station.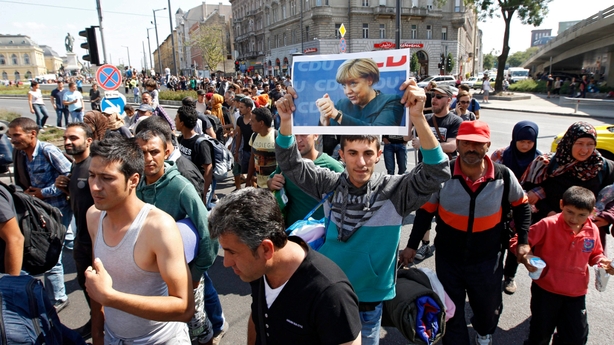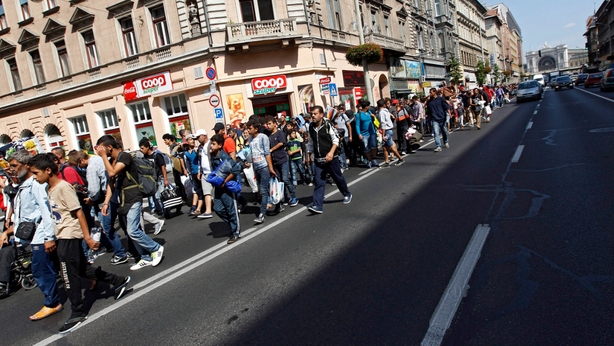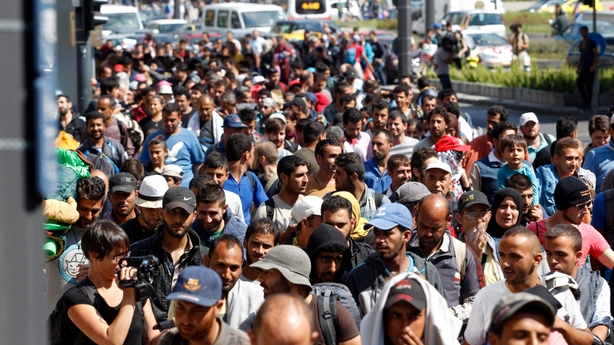 Separately, 300 people broke out of a Hungarian reception camp near the Serbian border, fleeing towards a motorway that connects southern Hungary with Budapest.
Hungarian police said they had temporarily shut the Roszke border crossing with Serbia.
"In the interest of preventing accidents, the police have temporarily closed the Roszke motorway border crossing to incoming traffic and are redirecting traffic to (a national road)," police said in statement.
Police said around 2,300 people are still in the camp and are threatening to break out if their demands, which are not clear, are not met.
Meanwhile, state news agency MTI says dozens of people have broken out of a second camp near the town of Bicske, where hundreds have spent the night on a train after refusing to go to camp to process asylum seekers.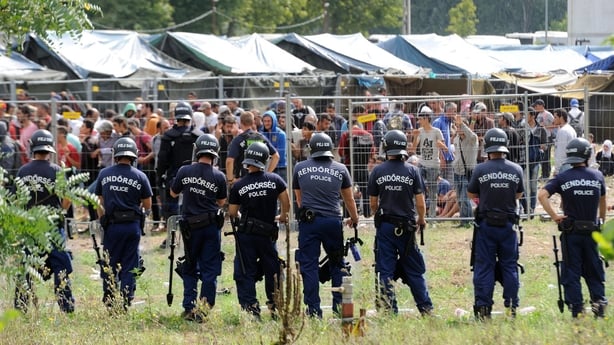 Hungary's prime minister has said Europeans risk becoming a minority on their own continent.
"The reality is that Europe is threatened by a mass inflow of people, many tens of millions of people could come to Europe," Viktor Orban told public radio in a regular interview.
"Now we talk about hundreds of thousands but next year we will talk about millions and there is no end to this," he said.
"All of a sudden we will see that we are in minority in our own continent."
Migrants had wrestled with police yesterday after being ordered off the train at Bicske, some throwing themselves on the tracks insisting they be allowed to remain on the train bound for a border town near Austria.
The train had left Budapest after a two-day standoff at the city's main railway station as police barred entry to some 2,000 migrants.
Hungary says they must be registered, as per European Union rules, but many refuse, fearing they will be sent back to Hungary if caught later in western and northern Europe.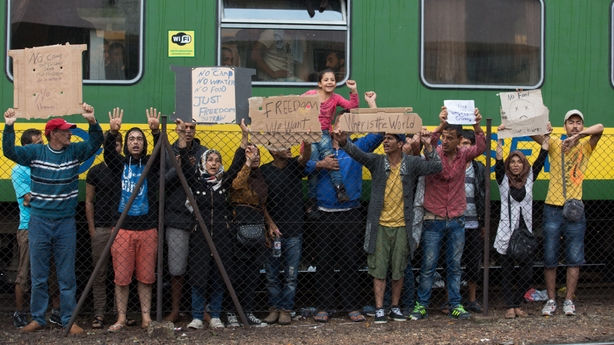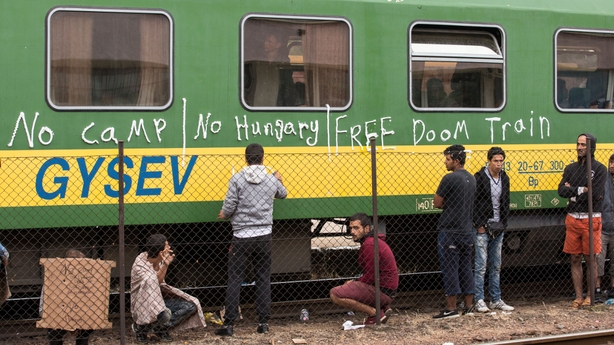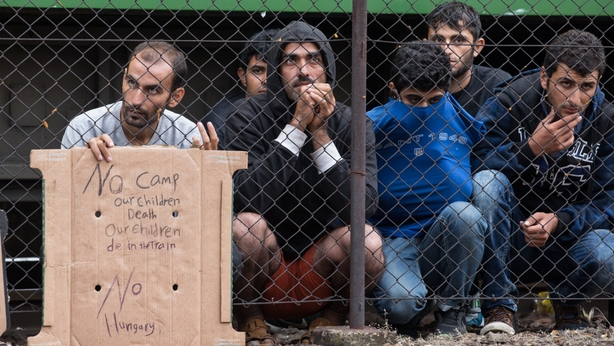 Taoiseach says Ireland may accept more than 1,800 refugees
Drowned Syrian brothers buried in Kobane
UK to take 'thousands' more refugees - Cameron
Hungary has hit out at Germany, the most popular destination among migrants and asylum-seekers, for saying it would accept asylum requests from Syria regardless of where they entered the EU. 
Parliament in Budapest is expected to endorse today a raft of measures to effectively seal Hungary's southern border with Serbia to migrants, creating holding zones on the frontier where migrants will be held while their papers are processed and potentially sent back into Serbia.
"Hungary cannot ignore Schengen rules in its procedures," said Mr Orban, referring to Europe's zone of passport-free travel.
"Migrants must cooperate with Hungarian authorities, with the German authorities and if Germany wants to admit Syrians, it should issue permission for them to go into Germany."
Mr Orban said the new measures passed by parliament would be implemented from 15 September.
"Everyone should be prepared for this: Serbia, Macedonia, the immigrants, the human traffickers. We ourselves will prepare for this, and a different era will start from 15 September."
Hungary is constructing a fence along its border with Serbia hoping to stem the flow of people into the country and new laws will make it a criminal offence to cross or damage the fence. Illegal border crossings will be punishable by up to three years in jail.
The new laws will also make it possible to submit asylum requests at border crossing points and allow for expedited processing of requests.
Irish PM Enda Kenny criticises Viktor Orban's remarks that Europe's Christian roots under threat by Muslim refugees.

— Tony Connelly (@tconnellyRTE) September 4, 2015
RTÉ's Robert Shortt reports from Hungary on the migrant crisis https://t.co/6qELRuCpZv

— RTÉ News (@rtenews) September 3, 2015

Speaking on RTÉ's News at One, Director at Amnesty International Hungary Orsolya Jeney described the atmosphere refugees are encountering in Hungary.
"There have been very hate generating incidents happening against refugees and migrants in the past few months in Hungary.
"There was a national consultation on migration and terrorism, its title leading the mindset of the people in one direction.
"Then there were also very outrageous billboard campaigns against refugees in Hungary saying for example in Hungarian 'If you come to Hungary, you should not take the jobs of Hungarians.' It has clearly generated an atmosphere where a lot of Hungarians are becoming xenophobic now."
Ms Jeney said there are also massive number of volunteers in Hungary who are providing a humanitarian service to refugees.
She said some refugees she spoke to told her that the government there was very bad but the Hungarian people were lovely.
Syrians, Iraqis and Afghans among Austrian truck dead
Among the 71 dead migrants found last week in an abandoned truck on an Austrian motorway were Syrian, Iraqi and Afghan nationals but not a single one of them has been identified, Austrian police said.
Two of the children found dead in the truck - a baby girl and a young boy - belonged to the same family.
Hans Peter Doskozil, police chief for the province of Burgenland, told a news conference that the migrants had likely died from suffocation on Hungarian territory shortly after entering the truck, whose refrigeration system was not working.
"We found a total of 17 travel documents. Based on these we have been able to determine that this was a mixed group of people. Syrian nationals, Iraqis and also Afghans are likely to have been on board," Chief Doskozil said.
He said 40 phones had also been found and there had been contact with people who claimed to be relatives of the victims.