The Minister of State for the Gaeltacht has said nothing is signed nor sealed in relation to the awarding of a four year contract to a helicopter company.
Minister Joe McHugh was speaking in Connemara where over 800 people turned out to protest at the loss of the contract to Aer Arann.
Aer Arann has operated a service to the Aran Islands for over four decades but from October Executive Helicopters will begin offering daily return flights from Galway Airport.
Minister for Transport Paschal Donohoe has said he hopes the way the new Aran Island air service will operate "will be made clearer to residents" from the islands at today's meeting.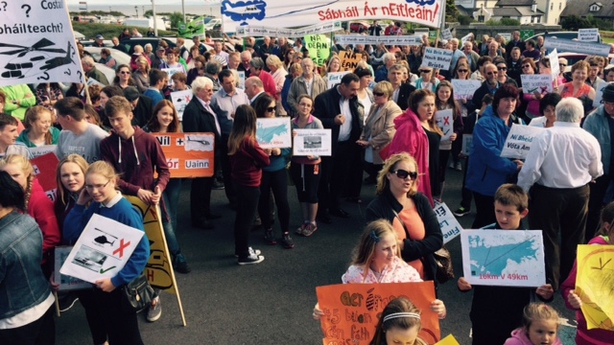 Mr Donohoe said the decision to replace the current Aer Arann service with a helicopter service was made as a result of "a tendering process that everyone participated in."
He said the tendering process was overseen by another Government department and Minister of State at the Department of Arts, Heritage and Gaeltacht affairs Joe McHugh.
As Minister for Transport, he said, he has responsibility for "the viability and services that are in place in our regional airports" and he said he "absolutely understands that when you make a decision people have concerns."
Islanders have expressed concern about the suitability of a helicopter service in adverse weather conditions.
The location of Galway Airport instead of the airport at Connemara has also been criticised.
@rtenews Delegation mtg Minister Joe McHugh 4pm pic.twitter.com/NXE3CAeMBQ

— TERESA MANNION (@MANNIOT) September 1, 2015