Flight operations at Dublin Airport have resumed after they were suspended this morning when a fire broke out in a hangar.
The fire has been contained and there are no reports of any injuries.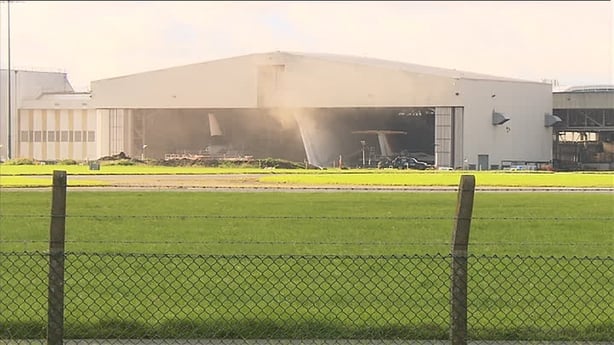 Daa said that due to the disruption passengers should expect some knock-on delays and are advised to check with their airline for the latest flight information.
Maintenance staff returning to hangars and delays being cleared after #dublinairport fire. pic.twitter.com/S6kBOKMgxX

— Ray Kennedy (@RayKennedyHack) August 26, 2015
Our fire crews have a response time of less than 3 minutes to incidents on the airfield and train constantly to deal with emergencies.

— Dublin Airport (@DublinAirport) August 26, 2015
Staff were evacuated from Hangar 3 after the fire broke out at around 7.15am.
Daa Communications Manager Siobhan O'Donnell said all people had been accounted for.
Thick smoke was seen billowing from the building by hundreds of passengers arriving for morning flights.
Daa said flights in and out of the airport were suspended for about 90 minutes at one of the busiest times of the day.
Air traffic controllers are hoping to clear the backlogs as soon as possible after flight operations resumed at around 8.45am.
Flight operations have now resumed following this morning's fire. Please check with your airline for your flight status.

— Dublin Airport (@DublinAirport) August 26, 2015
Evacuated staff at Dublin Airport hangar complex. Fire contained, flights still suspended. Aircraft inside hangar. pic.twitter.com/002SfiXa83

— Ray Kennedy (@RayKennedyHack) August 26, 2015
Flights to/from @DublinAirport have resumed. Please check the status of your flight here: http://t.co/wcgLFZGgUC

— Ryanair (@Ryanair) August 26, 2015
Flight Radar 24 showed a number of planes circling the skies above Dublin this morning during the suspension.
Ten arriving flights were diverted, six to Shannon and four to Belfast, with around 40 flights affected overall.
Daa said its own crews were first on scene with other units from Dublin dispatched.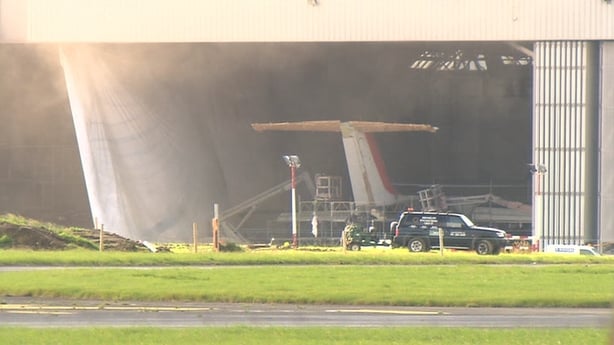 Ms O'Donnell said two whisper jets were in the hangar, but it is understood there was no damage to either aircraft, and said they would be fully inspected.
It is understood one of the short-haul 146 aircraft was operated by CityJet.
Confirmed fire in a hanger Dublin Airport.we have 4 pumps , environmental unit & TTL and incident commander IA

— Dublin Fire Brigade (@DubFireBrigade) August 26, 2015
Ms O'Donnell said: "All flight operations were suspended because all emergency services have been brought to fight the fire and as a result if something happens on the airfield the fire cover is not available.
"This is standard procedure."
A taxi driver captured footage of the Dublin Airport fire on his dash cam https://t.co/QPOziLYXQo

— RTÉ News (@rtenews) August 26, 2015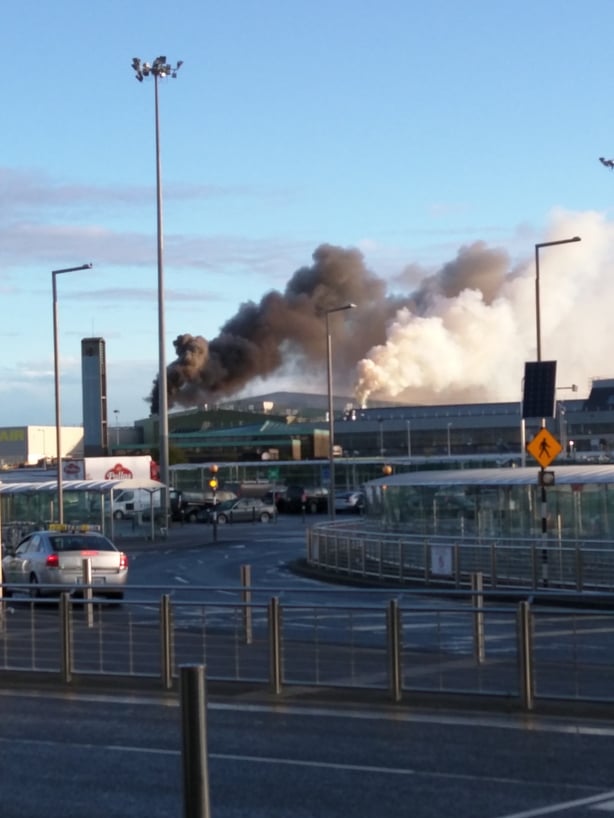 Pic courtesy of Paul Mitchell
A spokesperson for Cork Airport said there had been no diversions there due to the disruption at Dublin.
Flights into Dublin are obliged to nominate a secondary airport, normally Belfast and in the case of transatlantic flights, Shannon.