The Government is to provide new and upgraded equipment for the Army, Naval Service and Air Corps, including new aircraft, naval ships and armoured personnel carriers.
The White Paper on Defence is being published today and will outline the Government's policy on defence for the next ten years.
It will set out the role of the Defence Forces nationally and internationally.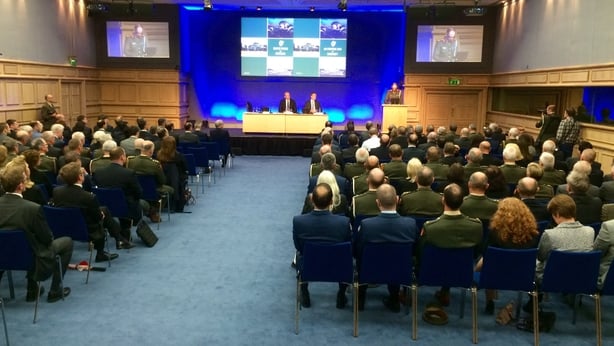 The plan also commits to doubling the number of women in the Defence Forces, increasing the strength of the Army Ranger wing and establishing new units to travel to conflict zones where gender-based violence is part of warfare.
A new Institute for Peace and Support and Leadership Training is also to be set up at the Curragh and a new employment support scheme is to be established for young people from disadvantaged areas.
A new process of fixed-cycle defence reviews is to be established and the strength of the permanent Defence Forces is to be brought up to and maintained at 9,500.
Running to almost 200 pages, the document commits to new and upgraded equipment including new armoured personnel carriers for the Army, the replacement of the Cessna and Casa aircraft for the Air Corps and three new ships for the navy, at least one with the increased capacity to carry a helicopter.
It includes a plan to develop specialist units in conjunction with gardaí to work in countries where gender based violence such as rape and physical and sexual intimidation are used as weapons of warfare.
Minister for Defence Simon Coveney has said Ireland has been under-investing in security for some time and that our expenditure in this area is the second lowest in Europe.
Speaking on RTÉ's  Morning Ireland, the minister said the White Paper on Defence, will set out how spending is to be increased and how the defence forces will expand and grow over time.
Mr Coveney said Ireland now faces much more complex defence challenges than in previous times, such as international terrorism, radicalisation, mass migration internationally, cyber security and the threats of rapidly changing technologies. 
"Traditionally Ireland has taken a view that everybody likes the Irish, so therefore there's no military threat to Ireland.
"And I think traditionally, our focus on defence has been related to Northern Ireland and the troubles there and international peace keeping."
The minister said there is also the need for the defence capacity to be increased here and abroad.
He added that there is an active recruitment program in place which is specifically aimed at trying to attract more women into the force.
Security Analyst Tom Clonan said a "brain drain" from the Defence Forces needs to be addressed.
Speaking on the same programme, the former Army officer said there has been a difficulty in retaining officers in the recent past, due to pension erosion, and some staff being asked to retire in their 40s and 50s.
He said there is a difficulty in retaining staff in the Army and that it is losing very special skill sets such as bomb disposal personnel at a very high rate.