Gerry Adams has hit out at those who "opportunistically and cynical" used the killing of Kevin McGuigan to criticise Sinn Féin.
The Sinn Féin President said the IRA was not involved in what he called the brutal murder of the 53-year-old in Belfast last week. 
He also called those who were involved "criminals who do not represent republicanism" and said anyone with information should bring it forward to the PSNI.
The statement comes after a PSNI Detective Superintendent said one line of inquiry is that Provisional IRA members were involved in the crime, but there was no indication as to whether the crime was sanctioned at command level.
Mr Adams said the IRA left the stage in 2005 and was not involved in the killing.
He added that those who threaten to take action against Sinn Féin at a political level have no basis for doing so.
The four main political parties in Northern Ireland, including Sinn Féin, are all seeking clarification from the PSNI's chief constable about the investigation into the murder.
A 60-year-old man has been arrested in east Belfast this morning.
Northern Ireland Justice Minister David Ford said there are "major concerns if there is currently an active Provisional IRA".
Speaking on RTÉ's News at One, he said police have made it clear they are following lines of inquiry and while they do not have firm evidence that PIRA exists, they are seeking to establish that.
Mr Ford said this is the first time that the PSNI has said clearly and openly that there is potential for the IRA still existing and members are still involved, but did say police do not believe Mr Guigan's murder was sanctioned by "any kind of higher authority".
Two men shot and killed the former IRA member at his home in Belfast's Short Strand last Wednesday.
He was one of several people questioned and released about the murder of former IRA leader Gerard 'Jock' Davison, in May.
Detective Superintendent Kevin Geddes said one line of investigation was that Mr McGuigan was murdered by individuals seeking revenge for Mr Davison's murder.
He also said it is suspected that members of a group calling itself Action Against Drugs were involved.
He said the PSNI assessment is that the group is not part of the Provisional IRA.
But he said another line of inquiry is that members of the IRA were involved in the murder although there is no information at this stage as to whether or not the crime was sanctioned at command level.
The Police Federation for Northern Ireland described the development as "worrying".
PFNI chairman Mark Lindsay said: "This was a deliberate and measured assessment by the PSNI, conscious that every syllable would be placed under the microscope and weighed and analysed.
"It is a very worrying development if a command structure can be activated at will. Our members view developments with great and justifiable concern."
The DUP, the Ulster Unionists, the SDLP and Sinn Féin want clarification from PSNI Chief Constable George Hamilton.
When the DUP entered power-sharing with Sinn Féin in 2007, it did so on the basis that the IRA had decommissioned its weapons and, in a phrase used at the time, left the stage.
The possibility raised by that PSNI detective that members of the Provisional IRA might have been involved in murder and that a command structure exists that might or might not sanction such a crime has created what is, at the very least, a temporary political conundrum.
To date nobody has been charged with the murder of Mr McGuigan or Mr Davison.
Sinn Féin has rejected any suggestion the IRA had a role in Mr McGuigan's death.
Sinn Féin Gerry Kelly MLA and spokesman on policing and justice has said there is only one IRA and that the organisation no longer exists. 
He was responding to a question on RTÉ's News at One about whether he believed that there are still provisional members of the IRA operating.
Mr Kelly said there was no evidence that provisional IRA members were still in operation. 
"The provisional IRA made a statement in 2005 that they were leaving the stage so they have gone full stop.
"If you want further evidence I would point you towards the IMC statement of 2008, and their last statement in 2009 which states they are gone and their structures are gone."
He added that there are many ex-IRA members, like him, who work hard for the peace process. 
"That is what we do now and what we will continue to do."
He said that the information given by Detective Superintendent Geddes yesterday was contradictory and confusing. 
 "He has named a group Action against Drugs. If he is pursuing the line also that the IRA is some way involved then I think he is pursuing the wrong line."
Mr Kelly said an investigation on evidence needs to go ahead.
"I am not trying to hinder it. I will help it if I can. What political parties should be doing is assisting this investigation."
DUP leader Peter Robinson said: "The basis upon which the DUP entered government with republicans was a commitment to exclusively peaceful and democratic means through support for the police, the courts and the rule of law as well as the dismantling of the structures of their terrorist organisation. That remains the basis upon which parties serve in the Executive.
"To ensure that dealing with this issue is pursued in a manner which attracts the widest possible consensus we will have discussions with other parties about tabling the necessary exclusion motion in the Assembly and asking the Secretary of State to intervene in circumstances where the evidence points to the IRA being involved."
Meanwhile, DUP MP Gregory Campbell said if the IRA is still operating, Sinn Féin cannot be in government.
"If they feel that they can do that and that their political affiliates don't suffer any sanction then they will repeat the offence, they will do it again and again.
"There can't be any sustenance whatever, of any kind, of a continuing place in government for a party that isn't explicitly opposed to criminality, terror, and murder," he added.
Analysis: Tommie Gorman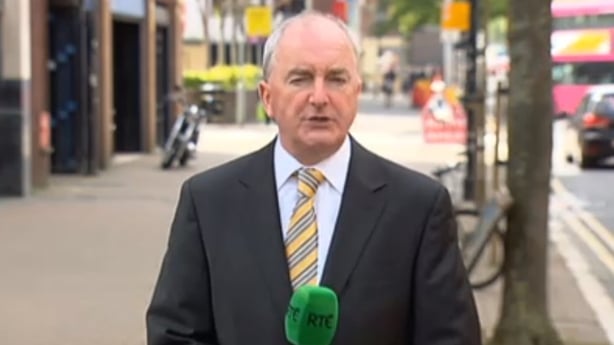 The key reality is that nobody has been charged or convicted in relation to this murder. Until the actual murderer is charged and convicted, this is all supposition. 
Stormont is closed at the moment, but you can see the difficulty for Unionist parties. If there is a possibility that police think there is a command structure for the IRA it could become impossible for them to share power. 

On the other hand if one of the Unionist parties was to pull out of government in a situation where no one had been charged or convicted in relation to a murder, you could see how within the support base of Sinn Féin, you would have a sense of grievance, you would have a sense of discrimination, and a sense of unfairness and that would play into the hands of Sinn Féin in some respects.