The Central Application's Office has said that over 60,000 applicants to the system have been offered a place on the course of their choice.
A total of 52,000 individuals were today offered a place in the first general round of CAO offers.
The CAO has issued more than 75,000 offers in its first round with some candidates offered more than one course. The offers cover courses at levels six, seven and eight.
Almost 24,000 candidates have accepted places on courses by this evening.
40,000 received the offer of a Level 8 course, and more than half of those will be for the course that was the applicant's top choice.
35,000 Level 6 and 7 course places are being offered, with one in five matching the student's first preference.
This year sees a rise in the points requirement for many courses in the areas of engineering, technology, commerce and law.
Engineering at University College Dublin is up 15 points, at Trinity it is up 25 points, at NUI Galway it is up 50.
Commerce is up ten at UCD and up 20 at University College Cork.
The points for arts courses have remained much the same as last year or just fluctuated slightly.
Maths courses have also seen their points rise, up by 45 at the University of Limerick, and by 30 at Trinity College Dublin.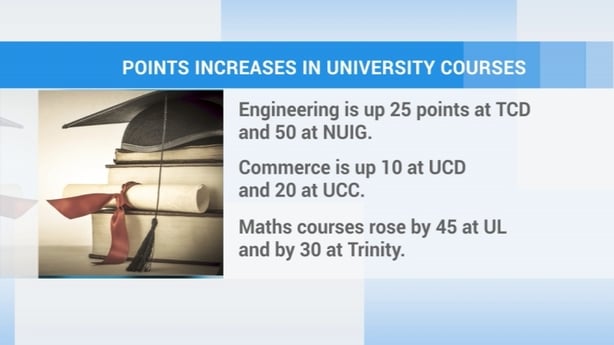 Visit the CAO website here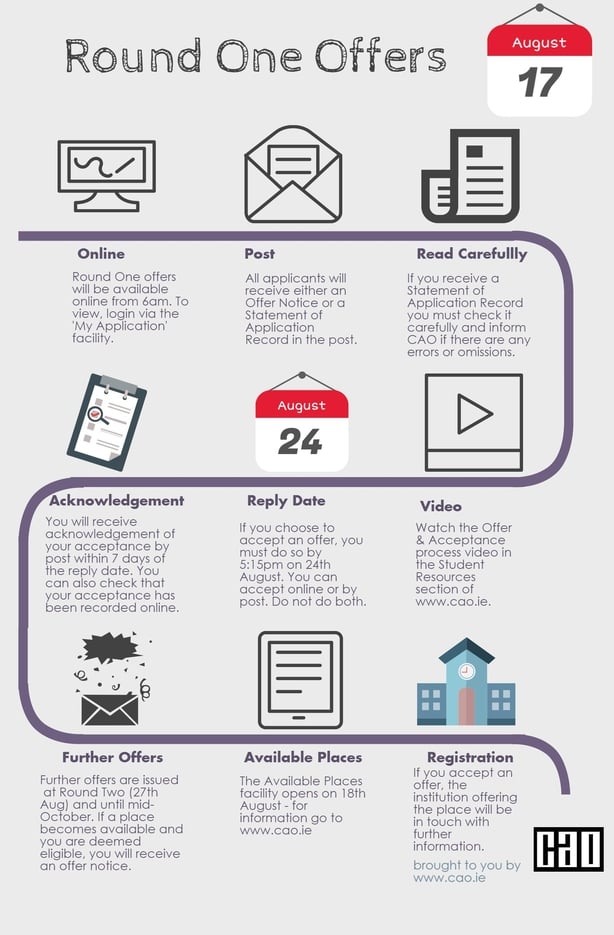 The points for primary school teaching have stayed close to last year's levels, with just some small rises or falls on some courses.
The points for many nursing courses have also remained unchanged.
The rise in the points requirement for engineering and technology courses and for courses in some other areas was expected.
Data released in March showed a strong rise in the number of students applying for such courses, with applications for science and technology courses rising by 14%.
This, and increased demand for law, business and other courses, is seen to be connected to the economic recovery as students see renewed employment opportunities in these areas.
CAO General Manager Joe O'Grady said more than 5,000 offers were accepted within the first hour.
He also said the closing date for to accept first round offers is next Monday at 5.15pm and more than 99% of applicants accepted their offer online last year.
Mr O'Grady said there was no need to panic for students who did not receive an offer as last year more than 2,000 applicants received an offer after the first round.
He added that the available place facility will be available from noon tomorrow.
He said most applicants who would be in a position to compete for a place have been offered a place.
Mr O'Grady said most applicants who have not been offered a course would have known they did not have the entry requirements when they received their results.
When asked whether there were too many courses, Mr O'Grady said he understood that higher education institutions are looking into reducing the amount of courses and by 2017 there is hoped to be "fairly substantial decreases" in the the total number of courses on offer.
Concern over points race
The Higher Education Authority this morning said students and parents should not be overly alarmed by concerns about the way colleges manipulate points requirements.
Speaking on RTÉ's Morning Ireland, HEA Chief Executive Tom Boland said there were two main issues involved.
"One issue is where a college does not actually offer the number of places it has, and that is of very limited application.
"Of far greater concern to the Higher Education Authority is the proliferation of very specialised courses over the last number of years and the impact of that specialiation is that the points for the individual courses go up and that feeds back into the Leaving Certificate and into the so-called points race."
Mr Boland said he was concerned that another consequence was that students were being asked to specialise too soon.
He said all of the universities had agreed to move to a much broader approach since this issue was identified by a working group in 2012.
Mr Boland said the pace at which this was happening varied across the sector and it will take a couple of years to "unwind the level of specialisation" that has happened.
Yesterday, Maynooth University's president said that colleges have been manipulating the admissions system to maintain their number of high-points courses.
Professor Philip Nolan said colleges are limiting the number of students being admitted to such courses to keep the points requirements high.
The President of Dublin Institute of Technology has said the big advantages of the CAO is its fairness and transparency, citing the fact applicants are accepted based on scores and not on who they know.
Speaking on RTÉ's News at One, Professor Brian Norton said DIT would have no problem publishing the number of students in courses.