The cost of playing the National Lottery is to go up and two more numbers are to be added to the selection grid, lessening the chances of winning the jackpot.
The cost of buying two lines will increase from €3 to €4. 
The current odds of selecting the six winning numbers is just over eight million to one. 
However, under the changes, players will now have to choose from 47 instead of 45 numbers, lengthening the odds of winning the jackpot to almost 11 million to one. 
The changes are due to be introduced next month.
Premier Lotteries Ireland, which took over running the franchise ten months ago, said the changes were long overdue with the last price increase nine years ago.
It said there would be an increased pay-out for smaller prizes including €100,000 for matching five numbers and the bonus ball.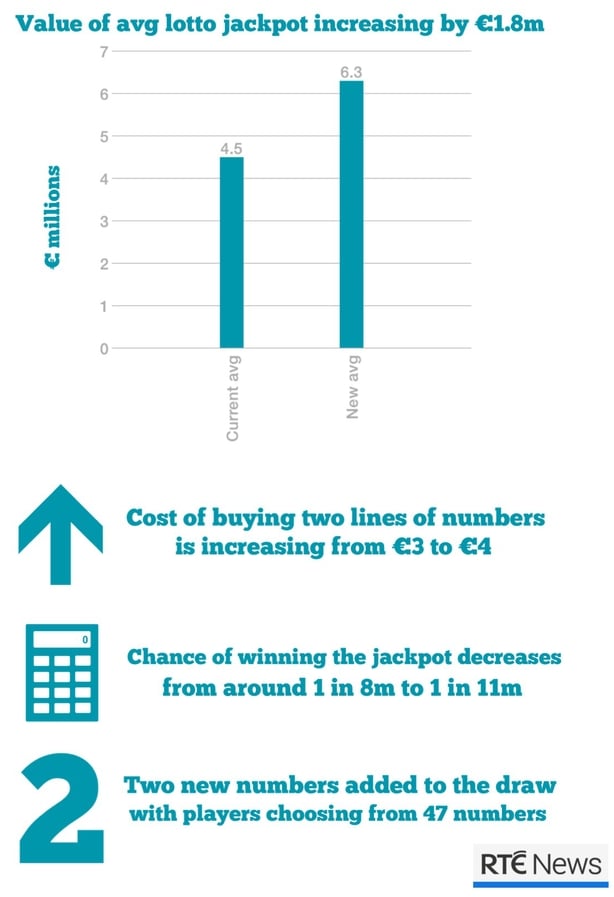 The operator - which is a joint venture between An Post and Canada's Ontario Teachers' Pension Plan- contends that the changes would result in bigger jackpots, better sales for retailers and more money for good causes.
The Chief Executive Officer of the Convenience Stores and Newsagents' Association has called the change "a great move."
Speaking on RTÉ's Morning Ireland, Vincent Jennings said while there can be a fall off when prices increase he does not think it will turn people away from the game.
Mr Jennings said the changes will increase average payouts and the number of winners.
"With the existing formula one in 42 people were winners, this formula will now bring it down to one in 29 people and they will be significant winners," he said.
Eamonn Toland, Founder of TheMathsTutor.ie, has said the odds of winning the lottery have gone up to more than 10,000,000 to one.
He said the "odds have changed right down the line; on match five, match four, and match three," and described the change as a marketing exercise to get more people to play.
Premier Lotteries CEO Dermot Griffin said the changes are built around giving the player a better game and that the prize percentage of 52% will stay the same.
"We haven't changed the game in nine years and we feel now is the right time to introduce changes. So it is bigger, it is better and there's more prizes," he said.
Mr Griffin also said the overall chances of winning a prize have dropped from one-in-42 down to one-in-29, with bigger jackpots.
He said the average jackpot value will rise from €4.5m up to more than €6.3m
However, Mr Griffin acknowledged admitted that were lotto sales to go down due to the increased prices then the money going to good causes would also be reduced.