An evangelical preacher has appeared in court in Belfast accused of causing gross offence after he described Islam as satanic and heathen.
A solicitor for Pastor James McConnell said his client would be strongly denying the charges.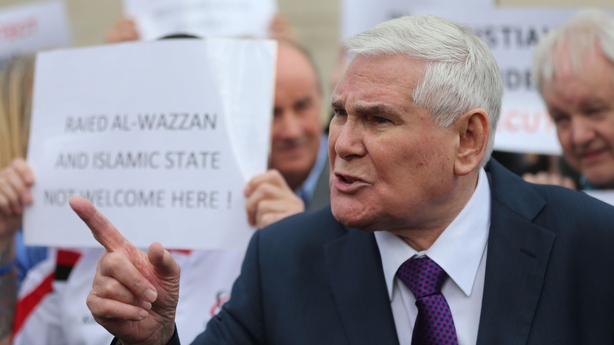 A crowd of about 1,000 hymn-singing and placard-waving supporters of the preacher were inside and around Belfast Magistrates Court as he appeared before it, accused of causing a grossly offensive message to be sent.
The charge related to a sermon the 78-year-old gave at the Whitewell Metropolitan Tabernacle in north Belfast last year where he called Islam satanic and heathen, and said it had been spawned in hell.
Remarks from his sermon were streamed online.
The speech caused a public outcry but in court defence solicitor Joe Rice told District Judge Amanda Henderson his client was strenuously contesting the case.
He said: "We are pleading not guilty. Very candidly not guilty."
Mr Rice added: "This is one of the most bizarre and peculiar cases I have ever seen before the court."
The court also heard how Pastor McConnell had rejected a lesser punishment and was taking a "principled stance" on the issue of freedom of expression.
He "strenuously denied" any moral or legal culpability, it was claimed.
Mr Rice said: "The Pastor has waited a long time for this to come to court. He did not incite hatred or encourage violence against Muslims.
"He expressed views about another religion, not in a personalised manner but in a generalised way.
"He has every right to criticise Islam, as Islamic clerics have the right to entice him.
"This is a principled stance that the pastor has taken."
The defence team also criticised prosecutors for an apparent lack of action on disclosure.
"This is not the PPS's finest hour, this case," Mr Rice said.
The case has been adjourned until 3 September.