The LÉ Niamh has arrived in the Sicilian port of Palermo, Italy with the 367 migrants who were rescued from the sea yesterday after the overcrowded fishing vessel in which they were travelling capsized.
It is feared up to 200 migrants may have drowned in the disaster, the worst since 850 people were drowned in a similar incident in April.
Hundreds of migrants were escorted off the LÉ Niamh and into the hands of the Italian Red Cross and other relief agencies in Palermo port.
They are currently received medical and psychological attention.
It was around midday local time yesterday when two inflatable survey vessels were launched from the LÉ Niamh to assess the state of the boat in which up to 600 people had been crammed by human traffickers.
As they approached the fishing boat on both sides there was a surge from the migrants and the boat capsized. Commander Ken Minihane of the Irish Navy said the boat sank within 30 seconds. 
Naval Service releases photos of overloaded trawler before it capsized #rtenews @defenceforces pic.twitter.com/p3JyQnWoQE

— Joe Mag Raollaigh (@joemagraollaigh) August 6, 2015
In the chaotic operation that followed, some 367 people were rescued. However, 25 bodies were later taken from the water.
The tragedy brings to over 2,000 the number of migrants lost at sea this year.  Just under 190,000 migrants have risked their lives to enter the EU this year alone.
Coffins with simple flowers https://t.co/WDUTC1BkAF

— RTÉ News (@rtenews) August 6, 2015
Earlier, Minister for Defence Simon Coveney said the rescue operation is a testament to the Irish naval service.
UN refugee agency UNHCR said 400 people were rescued -  among them a one-year-old girl from Palestine whose father pulled her from the water after the boat capsized - and 25 bodies have been recovered so far.
A Médecins Sans Frontières vessel - Dignity One - also assisted in yesterday's operation.
Coffins being loaded onto hearses next to LE Niamh. At least 3 children among the deceased brought on board to Sicily pic.twitter.com/oQu3GWusIe

— Tony Connelly (@tconnellyRTE) August 6, 2015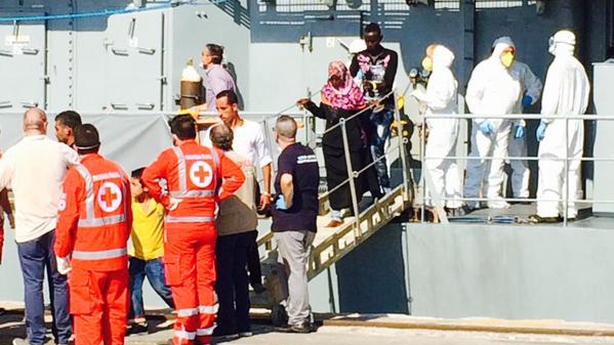 Speaking on RTÉ's Morning Ireland, Mr Coveney said the LÉ Niamh was first on the scene and the crew had saved 367 people.
He said 13 children and 12 women were among those rescued and are being supported on board the Irish navy vessel.
"Unfortunately there are also 25 bodies on board, four of them are bodies of children who drowned in the incident yesterday.
"Many of these vessels are very old. The holes which would have previously carried fish boxes would have had people crammed into them.
"These people would have been under deck and when this vessel sank in a short space of time, they would have sunk with it," he said.
Mr Coveney said that due to the speed at which the boat capsized and sank, the crew of the LÉ Niamh did not get a chance to search for people who may have been trapped in the fishing boat.
"It was a very difficult rescue operation and they did as much as they could. It is a scene that will scar people for some time."
The minister also defended Ireland's response to the migrant issue.
He said: "The European Union collectively needs to share the burden with Italy and Greece and Ireland is playing its part. But I expect there will continue to be further discussions.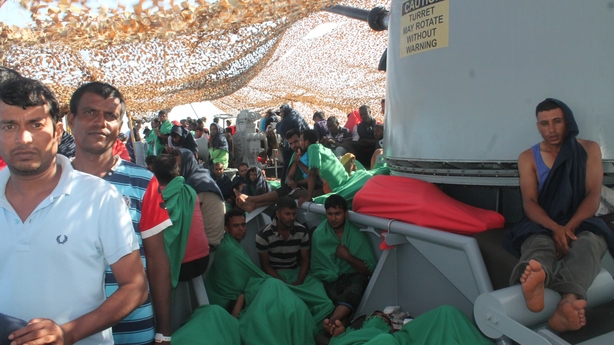 "There are no simple answers to these numbers of people transiting across the Mediterranean being facilitated by people traffickers who are herding people on to vessels that are not seaworthy."
International Organization for Migration spokesman Leonard Doyle told RTÉ's Today with Keelin Shanley that Europe has obligations under international law and as a community to protect people in fear of their lives who are fleeing well-known oppression.
Mr Doyle said it was distressing to hear widespread discussion on illegal migration, when many of the migrants have genuine reasons for seeking asylum.
"The kind of hysteria about the increase in migrant flows - we think that's completely misplaced.
"I mean these are people fleeing war, fleeing persecution."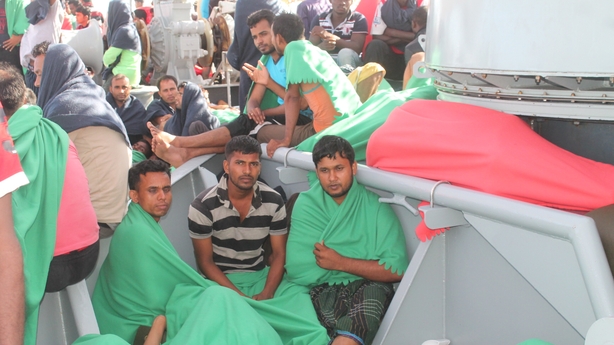 He said that gay people are being thrown off buildings by Islamic State militants in Syria, people are being attacked and murdered by Boko Haram, there are wars and destruction in Libya, and problems in Iraq.
"Is there any surprise that people are leaving? I mean, the idea that it's all about little old Europe and we need to protect ourselves from migrants, I think, is completely misplaced."
Commander Brian Fitzgerald of the Naval Service has said the LÉ Niamh will return to duty within a day of dropping the 367 rescued migrants in Palermo.
Commander Fitzgerald told RTÉ's Today with Keelin Shanley that yesterday's rescue operation was the most extraordinary, challenging situation to date.
He said the crew are providing warmth, food and first aid, and as a new development dealing with people who are bereaved.
He said the operation has broken new boundaries in terms of the scale of challenge.
He said the level of desperation from migrants has increased, as well as the level of ruthlessness from traffickers.