Turkish police have used water cannon to disperse a demonstration in Ankara condemning violence by self-styled Islamic State jihadists, making several arrests.
Hundreds of people turned out in Ankara to condemn Monday's suicide bombing blamed on IS militants that left 32 dead on Syrian border, as well as denouncing the government of President Recep Tayyip Erdogan.
The police, who well outnumbered the demonstrators, intervened with water cannon and pepper spray to disperse the demonstration.

Turkish media reports said that over 30 people were arrested.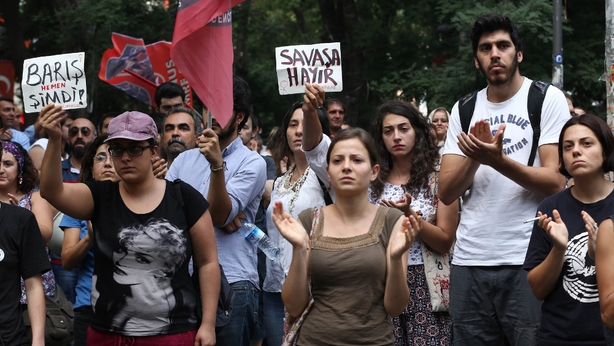 Earlier, Turkish forces unleashed a third wave of air strikes and ground attacks on targets of the Islamic State group in Syria and Kurdish militants in northern Iraq.
Prime Minister Ahmet Davutoglu said: "We have given instructions for a third series of strikes in Syria and Iraq. Air and ground operations are under way.
"No one should doubt our determination," he added. "We will not allow Turkey to be turned into a lawless country."
Turkey had already carried out a second wave of the air strikes it says are aimed at extinguishing terror threats, this time hitting not just IS targets in Syria but also Kurdistan Workers Party targets in northern Iraq.
Its ground forces had also carried out artillery strikes on PKK targets in northern Iraq and IS targets in Syria.
Mr Davutoglu said he had earlier today spoken to Massud Barzani, the president of the Kurdish-ruled autonomous region in northern Iraq, to explain the attacks on the PKK.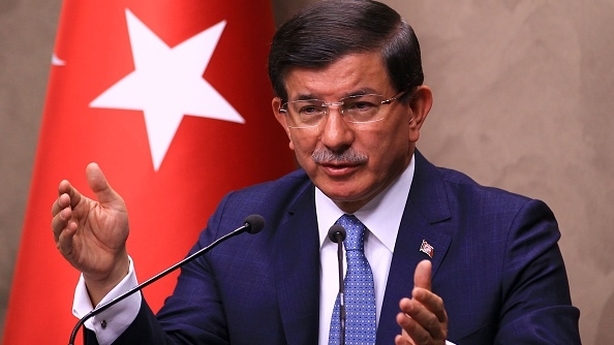 He said that Mr Barzani had agreed Turkey had a right to undertake an operation against the PKK and had expressed his "solidarity".
Mr Davutoglu said a total 590 suspected members of IS, PKK and other militant groups had also been arrested in raids across Turkey that began yesterday morning and continued today.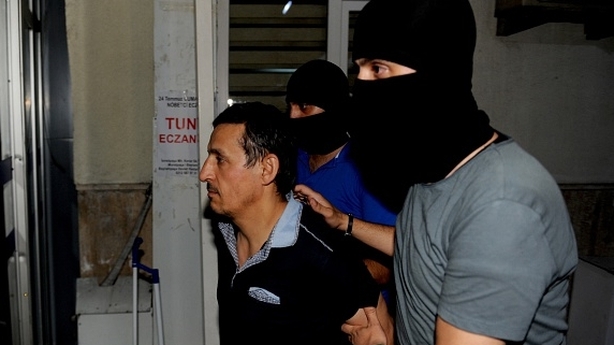 He said they were being held in custody on the grounds of links to terror groups and presenting a threat to the state.
Earlier, new footage showed the first night of air strikes against Islamic State and Kurdish militants.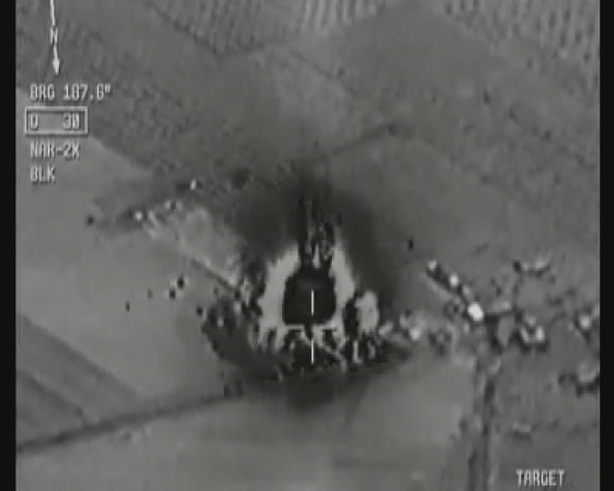 "Strikes were carried out on targets of the Daesh (IS) terror group in Syria and the PKK terror group in northern Iraq," the Turkish prime minister's office said in a statement.
It also said shelters and warehouses containing PKK weapons were hit in the northern Iraq operation.
It listed seven locations in northern Iraq where the strikes had been carried out, including Mount Kandil where the PKK's military leadership is based.
In addition to the air raids, Turkish ground forces also carried out artillery strikes against IS in Syria and the PKK in northern Iraq, the statement said.
Prime Minister Davutoglu convened a meeting of top ministers and security officials early today at around 2am local time in Ankara to discuss the cross-border operations, it added.
"Additional measures were agreed for the fight against terrorism and instructions given to the relevant authorities."
The military operations come after a week of violence in Turkey, including a suicide bombing blamed on IS and attacks on Turkish police claimed by the PKK.
The bombing raids against IS were the first such actions against the group by Turkey, which has long been accused of taking an overly conciliatory line on the jihadists.
Yesterday, Turkish police used tear gas and rubber bullets to disperse a protest by hundreds of people in Istanbul to denounce violence by Islamic State group jihadists.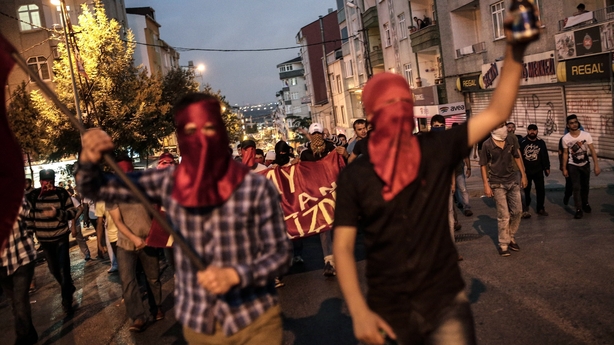 Some 500 people turned out for the protest in the Kadikoy district on the Asian side of Istanbul to condemn Monday's suicide bombing in Suruc blamed on IS that killed 32 pro-Kurdish activists close to the Syrian border.
The protesters also denounced the government, who they accuse of allowing IS jihadists inside Turkish territory.