The Taoiseach and Tánaiste have said resources have not yet been agreed for the childcare package in the upcoming budget.
Enda Kenny and Joan Burton also said they have not yet made a decision on the measures to deal with childcare costs.
Both said the issue was a priority and was discussed extensively at cabinet.
Mr Kenny said he did not think they would be able to do everything in the Minister for Children's report.
The report, from an interdepartmental group on the provision of childcare, has recommended significant changes to the way in which the State supports early education.
It was published by Minister James Reilly this afternoon.
It recommends that the Early Child Care Education (ECCE) scheme be extended, so that children would not have to wait until September each year before enrolling for pre-school.
This would mean that children would be able to access the scheme from the age of three or three-and-a-half and continue until they start primary school.
The report also examines the cost and implications of extending paid parental leave.
At present, State supports are available to cover six months of maternity leave.
The group says this could be extended for a further six months, with the additional time divided between both parents, as they see fit.
On the basis of present State supports, this would cost €10.5m a week or €273m over the full six months.
A third element of the report looks at the way in which subventions for childcare are organised.
The group says there is a strong argument for having one single, income-based scheme to govern funding.
This would be banded based on varying levels of income. The report does not make any recommendations as to what the upper limit for childcare subventions would be.
No timeframe for any implementation. Ball in Gov's court and dependant on funding being available. pic.twitter.com/Q1aPDVXOj2

— Pat McGrath (@patmcgrath) July 22, 2015
There is no timeframe for the introduction of any of the proposals but officials say changes to the ECCE scheme could be implemented in a relatively short time, once funding was available.
Alterations to parental leave would most likely be phased in over a number of years, if the recommendations were accepted by Government.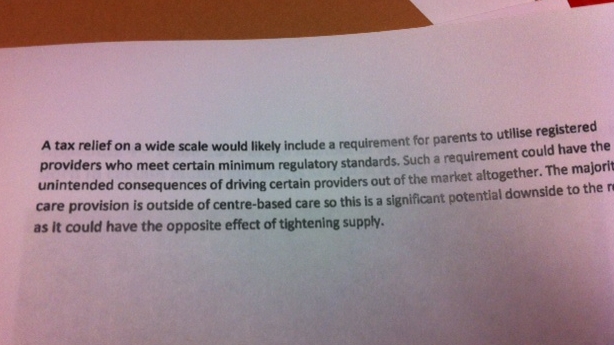 The report advises against giving parents tax credits to fund childcare costs. It said this could have a significant downside and could actually reduce the supply of childcare options.
Mr Reilly said it offered a  clear vision for the best way to invest in early years education.
He said he hoped funding would soon be made available to begin the implementation of some of the measures proposed.