Greek Prime Minister Alexis Tsipras has reshuffled his government, the day after a major mutiny in his radical left Syriza party over a draconian bailout deal.
In a bid to show international creditors he is in control of his cabinet, Mr Tsipras ditched ten members of his team.
These included ministers and deputy ministers, who voted against the measures demanded by the country's creditors.
Mr Tsipras was weakened by a revolt in his left-wing Syriza party by lawmakers who voted against the measures in parliament yesterday, forcing him to rely on opposition votes to pass the package Greece needs to stay afloat.
In exchange for funding worth up to €86bn, Greece has accepted reforms significant pension adjustments, value added tax increases, an overhaul of collective bargaining rules and tight limits on public spending.
Labour Minister Panos Skourletis will become energy minister to replace Panagiotis Lafazanis, one of the hardline rebels in the Syriza party.
Administrative Reforms Minister George Katrougalos will be the new labour minister.
Tryfon Alexiadis, a leading member of Greece's tax experts' union, was named deputy finance minister, replacing Nadia Valavani, who stepped down earlier this week.
Euclid Tsakalotos, who became finance minister on 6 July in replacement of Yanis Varoufakis, kept his portfolio.
Meanwhile, the European Union has formally approved a short-term loan of €7.16bn to Greece, while offering guarantees to non-euro nations that their taxpayers would not be at risk, according to the EU Commissioner for the euro.
"We have an agreement on bridge financing ... This agreement is backed by the 28 member states," Valdis Dombrovskis told reporters, adding that the bridge loan would allow Greece to meet a huge payment to the European Central Bank on Monday.
Earlier, Germany's parliament overwhelmingly voted to give Chancellor Angela Merkel's government a mandate to resume talks seeking a third European Union-International Monetary Fund bailout for Greece.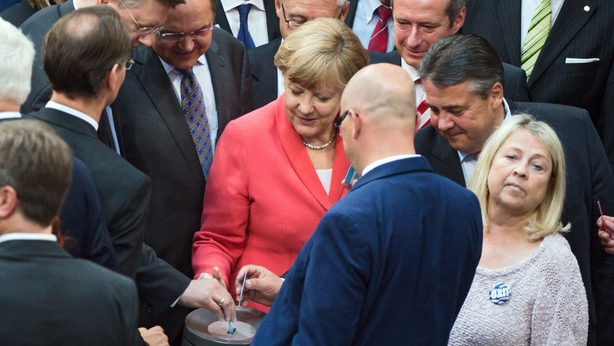 Politicians in the Bundestag lower house supported resuming negotiations for a €86 billion rescue package by 439 to 119 votes with 40 abstentions.
Ms Merkel acknowledged that the contentious deal was "hard" for all sides, as she urged the parliament to vote in favour of the agreement.
The head of the IMF has stressed the importance of easing Greece's debt burden for her institution to participate in the European rescue package for Athens.
Speaking on French radio, Christine Lagarde was asked whether the rescue plan for Greece was viable without restructuring Athens's enormous debt load.
"The answer is fairly categoric: 'no'," she insisted.
She said Greece's European partners had accepted the "principle" of easing the debt burden, but "neither the amount nor the method."
"For us to participate, we need a complete programme and from our point of view, this programme has two parts," she told Europe 1.
The first part is that the Greeks must enact fundamental reforms to free up the economy and allow it the possibility to grow.
"The second part comes from the lenders, and that consists on one hand of providing finance and on the other hand of restructuring the debt to ease the burden," she said.
She said she preferred to extend the maturity of the debt and also stretch out a grace period during which Athens is not obliged to make payments.
Ms Lagarde also said the interest payments should be reduced to the minimum amount "to make the debt sustainable."
A senior Greek banking source has said banks are ready to reopen next Monday after a three-week bank holiday, but are waiting for government approval as several technical issues remain.
Greek Deputy Finance Minister Dimitris Mardas said earlier that businesses will be facilitated regarding payment of cheques for example, but the €60 daily limit in cash withdrawals for citizens will remain when the banks reopen.
He was speaking shortly after the European Central Bank raised the Emergency Liquidity Assistance limit for Greece's banking sector.
It comes as German Finance Minister Wolfgang Schaeuble said in a letter to the president of Germany's lower house of parliament that the IMF would not be involved in the payment of a first tranche of a planned third Greek bailout.
That tranche is due to be paid in mid-August, according to the letter seen by Reuters, in which Mr Schaeuble requested that the parliament agree to open talks on a third Greek bailout.
The letter said the IMF would make its further involvement dependent on a successful conclusion of the first programme review in autumn 2015 and a confirmation of Greece's debt sustainability.
But Chancellor Merkel's chief of staff Peter Altmaier said on German television late yesterday that Ms Lagarde had "made very clear that the IMF will not withdraw" from bailing out Greece.
Mr Altmaier said Berlin had "quite clearly said that the IMF must remain on board, that the IMF must be involved".
Earlier yesterday, Eurogroup President Jeroen Dijsselbloem, who is also Dutch finance minister, told an emergency session of the Dutch parliament there was broad agreement that the IMF needed to be involved in future Greek bailouts.
The Greek parliament approved the new bailout offer in the early hours of yesterday morning.