It is expected that two more of the Irish students injured in the Berkeley balcony collapse will be able to return home to Ireland within the next week.
Six students were killed and seven injured when a balcony collapsed in an apartment block in California on 16 June.
A number of gatherings will be held in Berkeley over the coming days to mark the one month anniversary.
So far only one of the injured students has been able to return home to Ireland.
Seán Fahey was discharged from hospital in California a week after the tragedy.
Two of the other six students are awaiting medical approval so that they can return to Ireland on a commercial flight to continue their treatment and rehabilitation.
It is hoped that they will both be able to do so within the next week.
Conor Flynn was discharged from hospital a couple of weeks ago but has not been allowed to fly due to a punctured lung he sustained in the collapse.
Niall Murray and Jack Halpin are both continuing to receive specialised treatment at a San Francisco.
Clodagh Cogley and Hannah Waters are receiving treatment at a rehabilitation facility at Santa Clara.
The family of Aoife Beary, whose 21st birthday party the students were all attending, has confirmed on her Facebook page that she will soon join them there from Stanford where she is currently receiving treatment.
She awoke from an induced coma last week and is now communicating.
The Californian medical teams treating all of the students are currently liaising with their Irish counterparts to determine how best to transfer the care of the students from the US back to Dublin.
Meanwhile, a memorial mass will be held in St Philip's Parish in San Francisco later today in memory of the six students who died to mark the occasion.  It will celebrated by Fr Brendan McBride of the Irish Pastoral Centre.
Olivia Burke, 21, Eimear Walsh, 21; Eoghan Culligan, 21, Niccolai Schuster, 21 and Lorcán Miller - and Irish-American student Donohoe,  22 - died in the tragedy.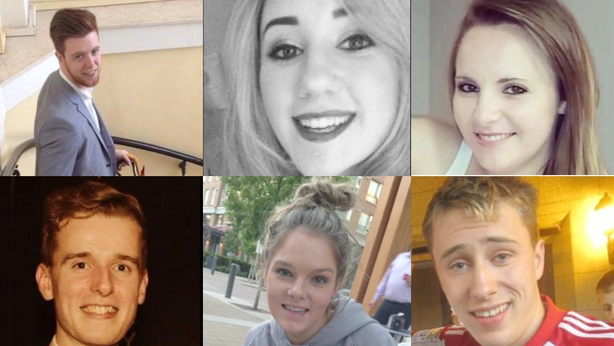 On Sunday evening there will be a special reception at Berkeley City Hall organised by the Irish Consulate in San Francisco to thank police, firefighters, city officials, airport staff, Aer Lingus staff and other volunteers to came to the assistance of the bereaved families, those who were injured and the wider community of Irish J1 students, and for those who continue to provide support.
This will be followed by a candlelight vigil in the adjacent Martin Luther King Jr park to mark the first month's anniversary, in a similar manner to the vigil that was held a couple of days after the tragedy in June.
District Attorney for Berkeley Nancy O'Malley is continuing to carry out her investigation into whether any criminal charges can be brought in relation to the balcony collapse.
A spokesperson for the DA's office said that they could not discuss the specific details of the investigation, other than to say that the team was continuing "to diligently conduct an in-depth investigation into the tragedy".
The Board of the Irish Pastoral Centre is currently administering the fund that was set up to help the families and the injured students, as more longer term governance structures are put in place.
So far the fund has been used to cover transport and accommodation costs for the family members and other friends, amongst other things. 
An estimated 10% of the Irish J1 students in the wider San Francisco Bay Area left and returned to Ireland in the aftermath of the tragedy.
The fund has been used to fly some of these back for short visits to provide emotional and psychological support to the injured students as they work on their recovery.
Most of the families have legal representation at this point and a number of big Irish firms are providing assistance to them on a pro-bono basis. 
Meanwhile companies in the San Francisco area continue to provide financial and other support to the families, including offering them a break from hospital canteen food as one food company, Munchery, has this week been providing them with delivered chef-standard meals.
Many companies with Irish operations are continuing to provide support such as Google, Facebook, AirBnB and SalesForce, amongst others.