A man has been charged with two counts of attempted murder after a car struck pedestrians during rioting by loyalists in Belfast, police said.
PSNI officers lifted the vehicle off a 16-year-old girl and gave first aid while separating missile-throwing loyalists from republicans in Ardoyne yesterday.
The teenager suffered non-life threatening injuries and another woman and police officers were also hit by the vehicle in an area tightly packed with nationalist demonstrators.
One of the officers who help the teenager was hit in the face by a bottle and lost a tooth.
At least 25 police officers were injured during violence at the sectarian interface, police have said.
They were pelted with bricks, bolts and bottles after preventing loyalists from marching from the unionist Woodvale area towards the nationalist Ardoyne area of the city.
One officer was treated for a suspected fractured skull, while another had 12 stitches to a finger after being bitten, and an inspector's ear was severed after he was hit by a missile.
The Police Federation said: "Rioters used bricks, bottles and ball bearings as their 'weapons' against our colleagues. When they had nothing else, they resorted to fists and hair pulling."
Water cannon were deployed to quell unrest which broke out at the end of a largely peaceful Twelfth of July Orange Order commemoration.
The Federation, which represents PSNI officers, has said the loyalist rioters who attacked and injured police came prepared for violence and described the disturbances as "mindless, deplorable and shameful".
Police Federation NI chairman Mark Lindsay said his members had borne the brunt of frenzied attacks.
He said: "It really is very hard to imagine what goes through the minds of people as they launch vicious attacks on officers who are upholding a lawful determination or who try to bite off the finger of an officer."
He said: "These rioters had obviously come prepared to cause disorder.
"Once again, officers demonstrated their patience and professionalism even though their lines were under attack."
He continued: "The scenes we witnessed were deplorable and shameful. The behaviour of those who viciously targeted police lines was mindless and unacceptable.
"Like others, I would appeal for calm. My thoughts are with my colleagues who were injured and those hundreds of officers who continue to work to bring order to challenging interface areas."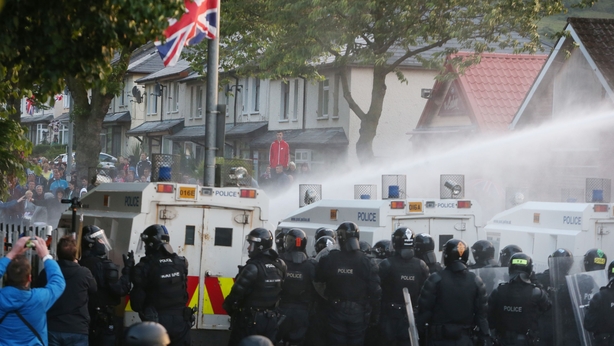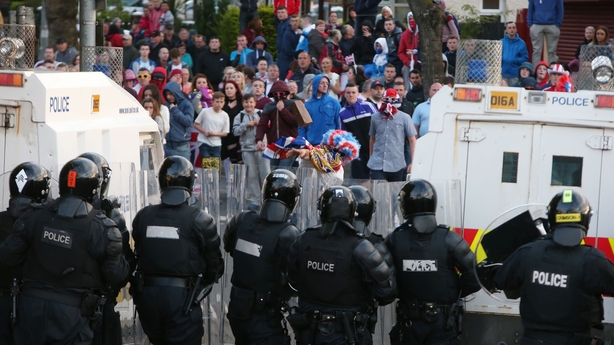 Minister for Foreign Affairs Charlie Flanagan condemned the violence and said he believes it is important "we all use our own collective effort to ensure we can influence society in Northern Ireland, particularly those who have not embraced the contents of the Good Friday Agreement and other agreements."
He told the Dáil that stability could only be achieved through the agreements.
The Orange Order also condemned the rioters.
"Those involved in violence should desist," said a spokesman for the Grand Orange Lodge of Ireland.
"It is not only counter-productive but also plain wrong. Such actions are only strengthening the hand of those who wish to further curtail our parades."
Northern Ireland Secretary of State Theresa Villiers said: "I condemn these disgraceful attacks on the police. Those responsible do nothing to further the cause they claim to promote. They damage Northern Ireland and wreck a day which should be about respectful celebration of cultural tradition.
"My thoughts are with all those injured."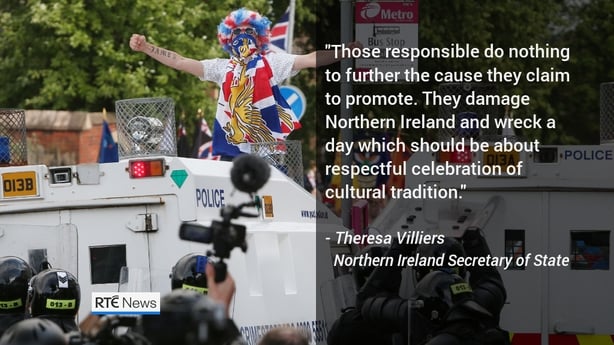 Riot squad officers from the PSNI bore the brunt of loyalist anger when they blocked access to the contested stretch of the Crumlin Road.
Within minutes of the parade reaching the police lines last night, empty bottles, bricks and metal bolts rained down on police.
At one point a number of loyalists broke through police barricades and started dancing on the bonnets of police armoured Land Rovers.
Loyalist bandsmen played the sectarian Famine Song, which is played to the same tune as the Beach Boys' Sloop John B, but with anti-Catholic lyrics. They also played well-known loyalist tune The Sash.
Women and children mixed among the bandsmen and Orange Order members in the massed crowd barracking the police lines.
The violence followed a day of largely peaceful 12 July holiday loyal order parades across Northern Ireland - the highlight of the loyalist marching season.
There was a report of a bus carrying Orangemen being stoned in Greysteel, Co Derry, and police said a female officer was assaulted in Belfast city centre earlier in the afternoon.
The 12th demonstrations happened on Monday this year as the Orange Order does not stage its main event of the calendar on a Sunday.
A massive security operation had been mounted at the Woodvale/Ardoyne sectarian interface, where dissident republicans have gathered to attack police in the past.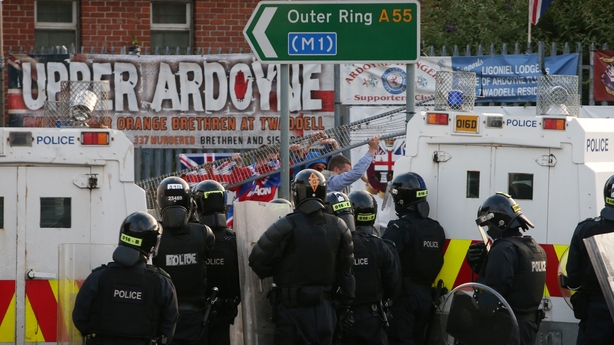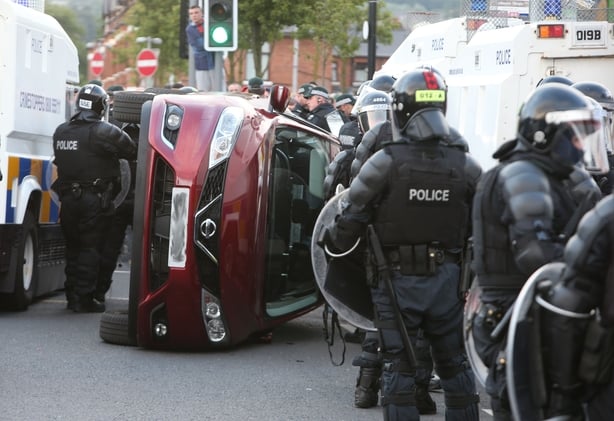 The government-appointed Parades Commission - set up to rule on contentious marches - had issued a determination barring Orangemen from a section of the Crumlin Road.
Last year there was no rioting but, in 2013 - when restrictions were first imposed on the Orange parade - mass violence erupted in the unionist Woodvale area.
Since then, loyalists have manned a protest camp and staged nightly parades at Woodvale, requiring a policing operation costing millions.
In previous years republicans rioted when the parade was allowed to pass up the road on the way back from Belfast's main 12th commemoration.
Ahead of the 12th senior police commanders expressed concern that Orange Order and other loyalist groups had withdrawn marshals who helped keep the peace last year.
Unlike last year, there was not a joint call from a broad range of unionist and loyalist political parties, including two with links to paramilitary groups, for the 12th to pass off peacefully and lawfully.
However, there were calls for calm from individual political representatives and leaders of the Orange institution.
PSNI chief constable George Hamilton said his thoughts were with the injured officers and teenage girl.
Assistant chief constable Stephen Martin noted efforts by loyalist and republican community leaders, including Sinn Féin's Gerry Kelly, to defuse tensions.