Irish citizens are being advised to avoid non-essential travel to Tunisia in light of increased security concerns.
The travel advice from the Department of Foreign Affairs has been changed from "exercise extreme caution" to "avoid non-essential travel".
Any Irish citizens in Tunisia who are not registered with the department and who plan to stay in the country are asked to register themselves "without delay".
Minister for Foreign Affairs Charlie Flanagan said the decision was taken after consultation and consideration of the security situation in Tunisia.
Mr Flanagan appealed to any Irish citizen to review whether their presence there is essential, and if not, make arrangements to leave.
Speaking on RTÉ's News at One, Mr Flanagan said while the Government did not have information on a specific threat, he believed it was essential to upgrade the department's advice for travellers.
"We are advising against any non-essential travel. I'm encouraging any Irish visitors who may be in Tunisia to review whether their presence there is essential and to make early arrangements to leave."
Mr Flanagan said he believed only a small number of Irish citizens were in Tunisia on holiday and only around 50 Irish citizens were resident there.
He advised members of the public to think long and hard about traveling to the country and if they chose to do so, to immediately register with the Department of Foreign Affairs.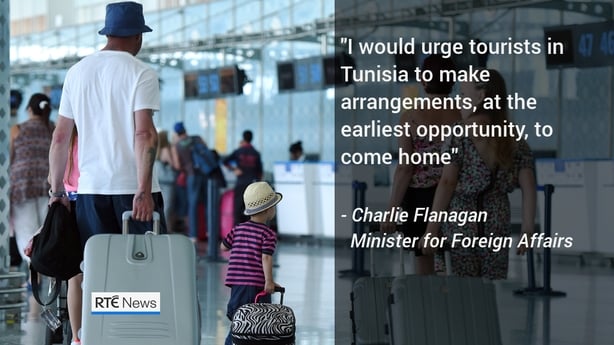 The British Foreign Office has already advised against all but essential travel to Tunisia and urged British tourists to leave the country.
It follows new intelligence that a terrorist attack was "highly likely."
Three Irish people and 30 Britons were among the 38 holidaymakers killed in a terror attack in the resort town of Sousse last month.
Westmeath couple Larry and Martina Hayes and Lorna Carty from Robinstown in Meath were killed by lone gunman Seifeddine Rezgui on Friday 26 June.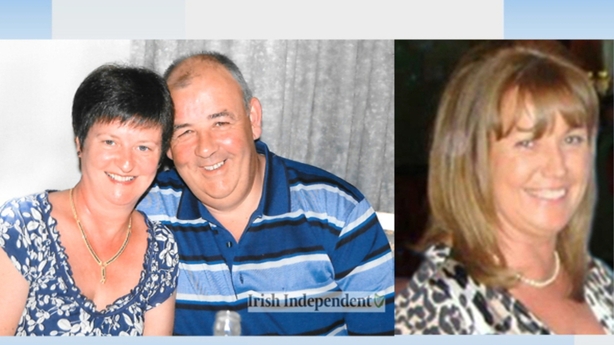 Thousands of British holidaymakers and staff are being evacuated from Tunisia following the Foreign Office advice.
All of the Britons who were killed in Sousse were customers of holiday companies Thomson and First Choice.
Both companies have now cancelled all flights to Tunisia for the summer season adding that "as a precautionary measure we have taken the decision to repatriate all British Thomson and First Choice staff currently working in Tunisia within the next 24 hours."
Thomas Cook UK and Ireland, which cancelled all future bookings to Tunisia up to 31 October, said it is putting on an extra flight today to bring its customers back to the UK.
Jet2.com and Jet2holidays said all of its travellers are out of Tunisia and that it has no plans to return there this season.
Monarch Airlines said it is currently arranging to repatriate all customers in resorts "back to the UK as soon as possible" in response to the changed advice. Flights have been organised to take them out of Tunisia by this weekend.
British Foreign Secretary Philip Hammond said: "While we do not have any information suggesting a specific or imminent threat, since the attack in Sousse the intelligence and threat picture has developed considerably leading us to the view that a further terrorist attack is highly likely."
The new advice is a further blow for the Tunisian tourist industry.
Nabil Ammar, Tunisian ambassador to the UK, said the Foreign Office's announcement was what the terrorists wanted and by "damaging the tourism, by having foreigners leaving the country, they damage the whole sector and put so many people out of work and on the streets.
"Hotels have to close and this is an important industry.
"One of the sources of terrorism is lack of hope. It is not the only motor of it but it is one of the very important origins."
Earlier this month, Sunway Holidays announced it was suspending its weekly flight schedule to Monastir from Friday 3 July.
The company said flights were being suspended until the situation in Tunisia has been clarified.
Travel Extra editor Eoghan Corry said Tunisia is essentially inaccessible to Irish tourists, via direct flights, and it will be a while before the country returns to the holiday market.
He said the two Irish operators – Sunway and Just Sunshine - that offer holidays to Tunisia, have said that anyone with a booking to Tunisia, can have their money refunded, or choose an alternative holiday.
However, he warned that if the Government changes the advisory to a "no go area" then travel insurance will not cover holidays to Tunisia.
The French foreign ministry said it was not planning on following the lead of Britain and Ireland in changing its travel advice.
It recommends tourists to be vigilant, and avoid regions of the country bordering Algeria and Libya.